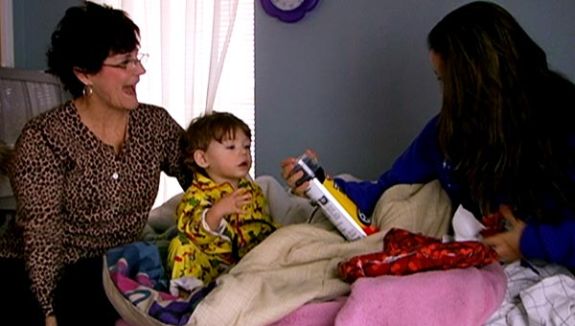 It's the holiday season once again! Much like Kail Lowry's love for Chris Lopez (or Luis' pesky case of the sex itchies), Christmas comes back every year! Naturally, during the holidays, you'll want to shower the ones you love with unique gifts purchased just for them! (This would, of course, be better than last year when you ran out to the only place open on Christmas— the car wash— and bought your holiday offerings there. Fix-a-flat for everyone!)
The Ashley is here to help you find the perfect gift for everyone on your list! If they, much like you and The Ashley, have no life and are still subjecting themselves to watching Teen Mom OG and Teen Mom 2, they will like The Ashley's unique gift suggestions!
Once again, The Ashley has scoured The Interwebs to find the funniest, most amazing (and sometimes downright creepy) 'Teen Mom' gifts for your loved ones. These selections will make the perfect gift for the MTV reality TV fan in your life–or yourself!
And, just FYI— The Ashley has received no compensation for suggesting any of the items below. She simply found these products on the Internet and thought they were a hoot!
Kieffer's Words in Blanket Form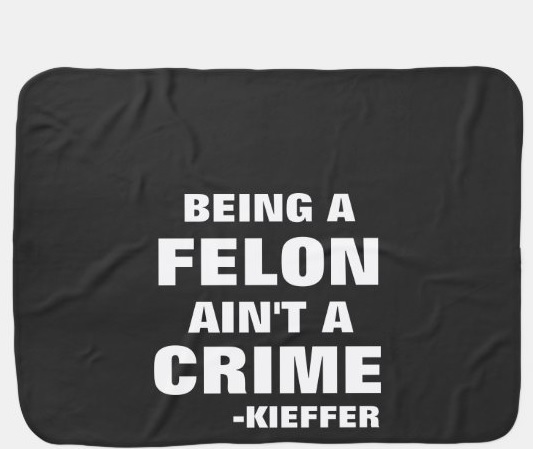 Wrap your lil' bundle of illegitimacy up in the wise words of Jenelle's former soulmate, Kieffer Delp. This baby blanket— which reads 'Being a felon ain't a crime -Kieffer'— is fuzzier than Kieffer's brain after a meth binge! (Yes, The Ashley is aware that they technically got Kieffer's quote wrong, and that it should be 'Being a felon ain't illegal' but this baby blanket was too cool not to include!) Your Oopsie Baby will stay warm and cozy all winter long!
Buy the Kieffer Baby Blanket here!
Amber's Wikipedia Page Tee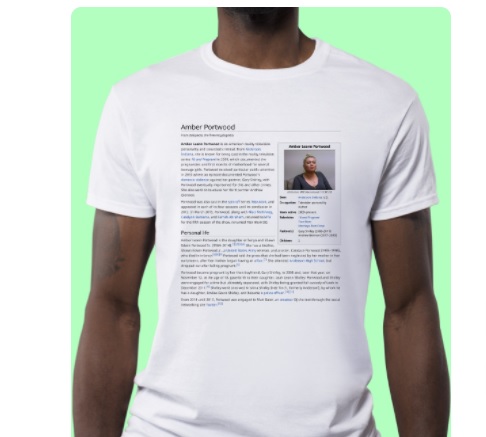 Is your "Dad Bod" shirt in the wash? Fret not, because this T-shirt makes a great gift for any Amber Portwood fan! Someone has taken Amber's Wikipedia page and transferred it right onto a T-shirt…for some unknown reason. It comes complete with a portrait of Amber sporting her signature "struggle bun" as she gives her boyfriend yet another lie-detector test (as you do)!
Buy your Amber Wikipedia Page T-shirt here!
The Farrah AF "WTF?" Face Mug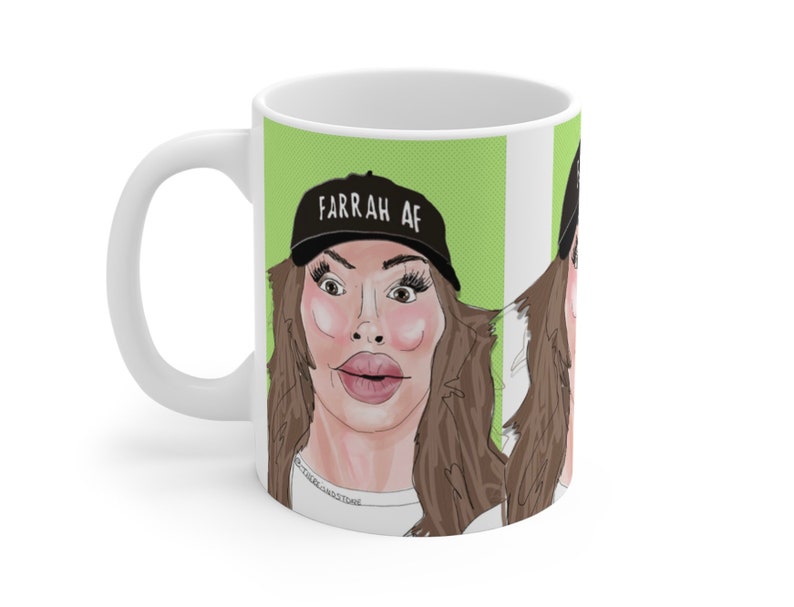 Scare yourself awake this holiday season! Nothing says "keep the f**k away from me" at the office quite like sipping out of this frightful Farrah mug! The coffee mug features a cartoon sketch of whatever face Farrah is current sporting, with cheeks that make you question just how much filler can go into a face before it actually explodes! (Please note, The Ashley does not recommend this item for children, as they may find it terrifying and have nightmares from it!)
Buy your Farrah AF "WTF?" Face Mug here!
St. Dustin Prayer Candle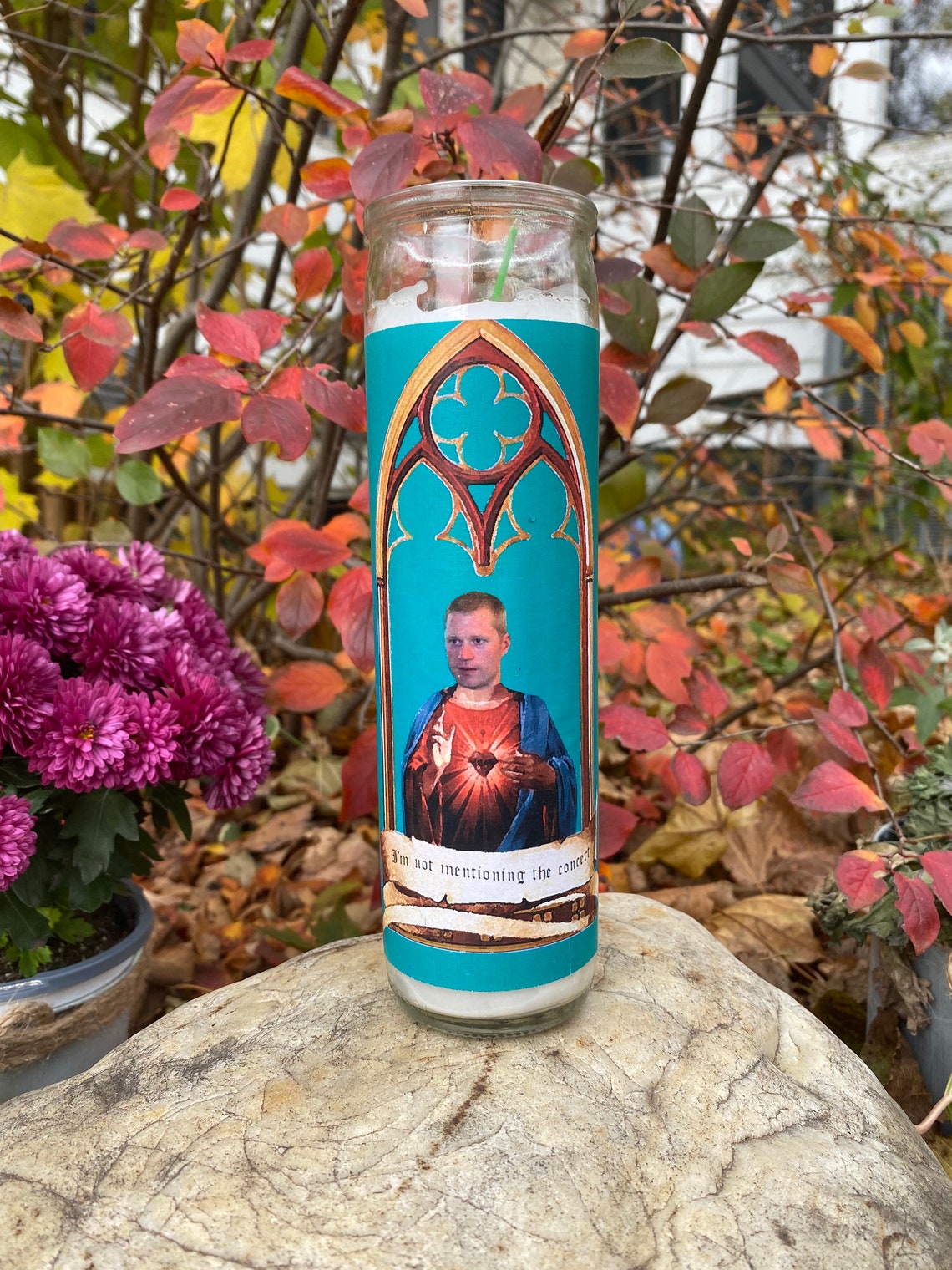 Got a friend with an upcoming jail date that conflicts with her idol's concert? Does she already have feathers in her hair and everything, and just can't miss this concert? If so, then The Ashley suggests you purchase her one of these prayer candles featuring the Patron Saint of Getting People Out of Jail, Dustin Sullivan! Light this candle and pray to the Jesus God Leah that Jenelle's trusty lawyer Dustin can work his magic just one more time.
Buy your St. Dustin Prayer Candle here!
Guess Who? 'Teen Mom' Degenerate Edition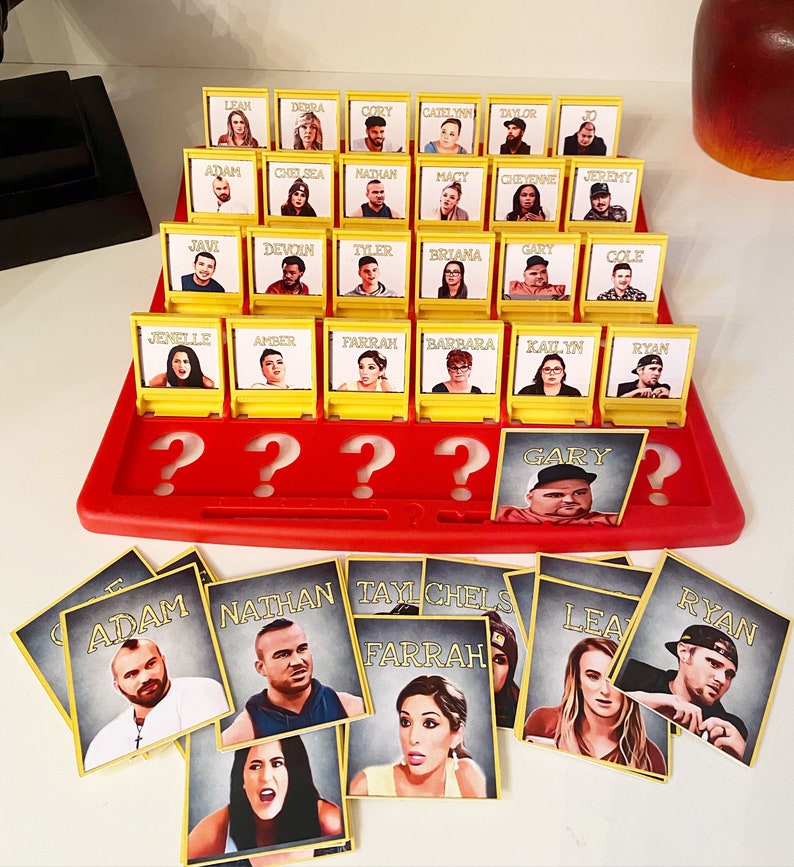 Your favorite game from childhood is back— but better! This awesome card set features the moms, dads and other degenerates from the 'Teen Mom' franchise! Simply pop the cards into a Guess Who? board and let the fun begin as you and your pal try to guess which 'Teen Mom' troglodyte you are. ("Do you have any known STDs? Have you had a Dr. Miami "mommy makeover?")
It's fun for the whole holler! (Also, someone please buy this for The Ashley, please and thank you.)
Buy your 'Teen Mom' Guess Who? Game here!
'Dramastic' Notebook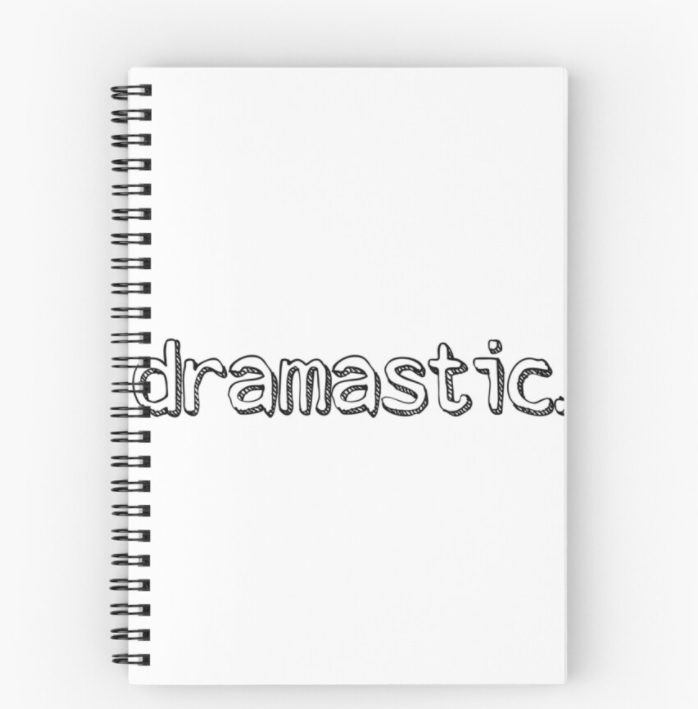 This notebook can be used for so many tasks— writing down your upcoming court dates, journaling your 'dramastic' thoughts, or even jotting down a list of all of the "electronical" things you want to buy with the money you have left after paying your husband's monthly child support bill! The spiral notebook comes complete with a handy-dandy document pocket, where you can store your latest court summons!
Buy your 'Dramastic' Notebook here!
Barbara Ganja Rollin' Tray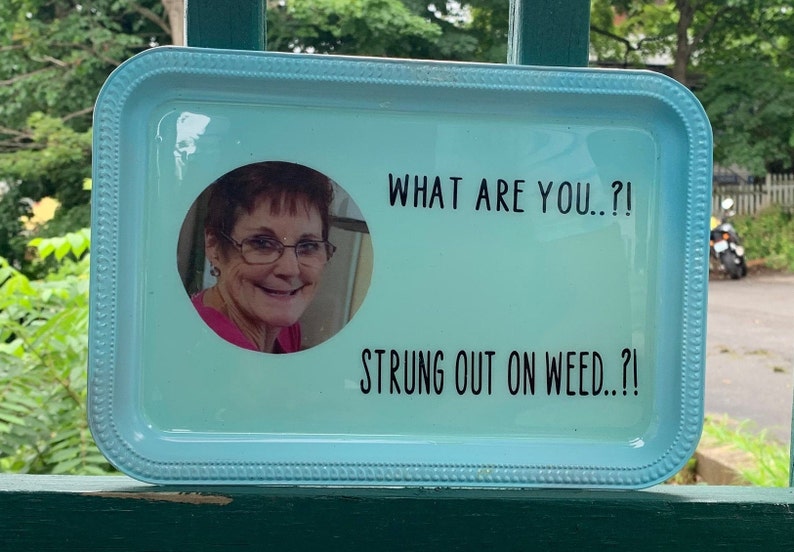 If you have a friend who plans to get HIGH! HIGH! this holiday season, what better way to say "enjoy ya kilos of weed" than by gifting them this genuine Barbara Evans rolling tray (for "tha ganja!") If your pal is planning to smoke the holiday stress away, The Ashley can assure you that they'd love to roll their joints on the face of Jenelle's mom. The only thing more fun than using this tray is going to a Kesha concert, or throwing your ex's change jar at them!
Buy your Barbara Ganja Rollin' Tray here!
Ask Farrah A Very Expensive Question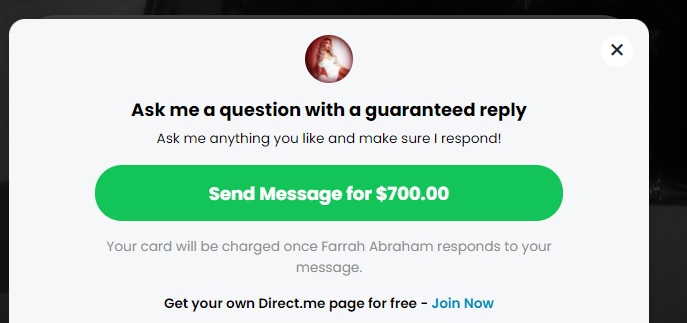 If you happen to have an extra $700 in your pocket (or driveway Porta-Potty), why not spend it to ask Farrah a question via her website? That's right– the Backdoor Teen Mom is currently charging $700 to ask her a question and get a "guaranteed reply." Farrah states that, after she receives your cash, she'll let you "ask me anything you like and make sure I respond!"
If you're a little strapped for cash to buy completely ridiculous and useless things, you can always spend $300 and have Farrah "promote you on social media." Of course, your $300 only buys you "1 FRAME ON IG STORY, this can include link & tag with your image or video for the frame."
Buy your Farrah reply here!
Amber Muggy Baby Onesie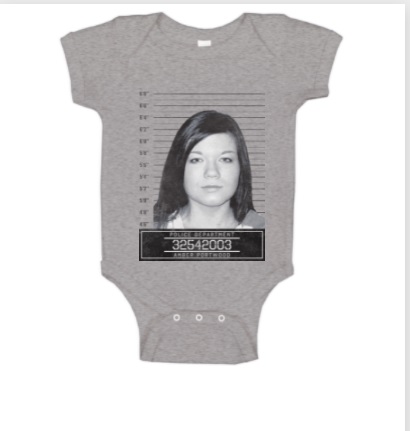 Did you pee out your IUD (like Chelsea) and now you're about to welcome another Oopsie Baby this holiday season? What better to dress your newest blessing in than this stunning onesie featuring one of Amber Portwood's many mugshots!
Sing that holiday classic, "Fa La La La Felon" to your newborn as they enjoy the snuggly softness of this super-cool shirt, straight from the "jels" of Indiana! While the onesie comes in a variety of colors, The Ashley suggests the "Prison Gray" color!
Buy your Amber Mugshot Onesie here!
Jesus God Leah Cross Stitch Pattern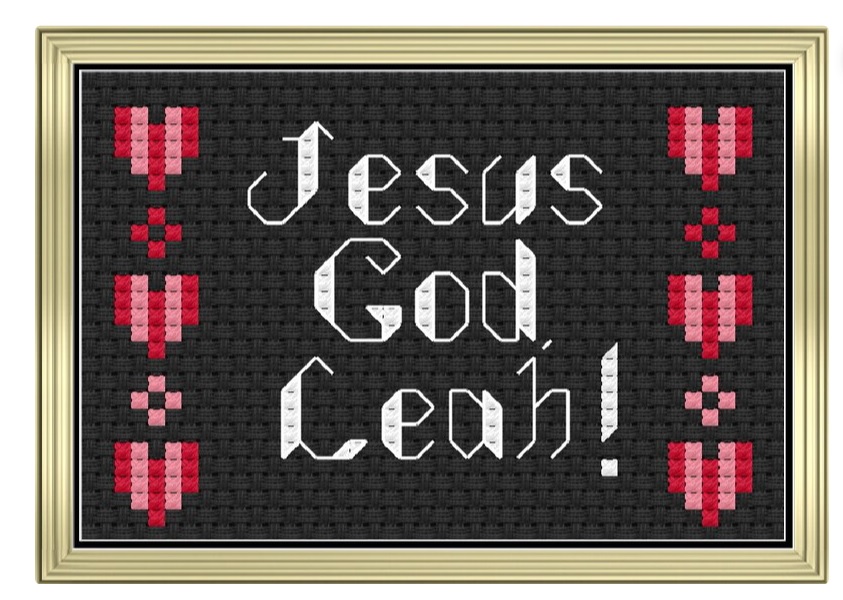 Got some time to kill while sitting on the side of the road, waiting for one of your baby daddies to arrive so they can pick up the kid? This cross-stitch pattern will instruct you exactly how to create the cross-stitched Corey Simms quote wall hang of your dreams! The "Jesus God Leah" pattern will have you stitchin' in no time!
Buy your Jesus God Leah Cross Stitch Pattern here!
To see The Ashley's list of weird 'Teen Mom'-themed gifts from 2020, click here!
To see The Ashley's list of weird 'Teen Mom'-themed gifts from 2019, click here!
(Photos: Zazzle, MTV; WikiShirt, Etsy/There Is No Store, Etsy/GingerEmoji; Etsy/HolyCrapThatIsGood; Redbubble; Etsy/AyvazCustomCreations; BJJTshirt; Etsy/SwampwitchStitchery )