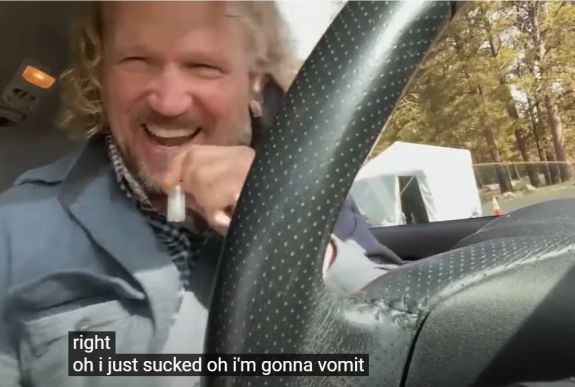 We've come to the end of what has been perhaps the most-interesting season of Sister Wives since the show began in 2010. With Kody hemorrhaging wives, Christine going all "How Stella Got Her Groove Back," Robyn turning into the polygamy Godfather, Season 16 has been wild y'all!
(I mean, we sat through season after season of the same crap: Kody failing at getting the family to Coyote Pass; Kody failing to satisfy his wives; the endless flash mobs. We have EARNED THIS SEASON GUYS!)
Anyway, the episode is ominously titled "The Beginning of the End." We don't know what's about to happen but it sounds scarier than having to share a bed with Kody and his bulging forehead vein. Is a marriage ending? Is someone dying? Is someone finally getting treatment for their cold sores?
The episode starts off with Christine shoveling snow off her porch– because she don't need no damn man to do it for her! Kody explains that the entire clan has been "COVID-careful" due to Christmas and now that it's January, Kody wants the whole family to get together to celebrate the birthday of his perfect, beautiful, sweet, Robyn-birthed daughter, Ariella.
Janelle informs us that Ari has "demanded" that the whole family get together to celebrate her birthday, including spinster wives, COVID-spewing teenagers and all! Since Ari is Robyn's kid, everyone has to do whatever she wants, so the gang has to get COVID tests, which they must pass in order to attend Princess Ari's birthday party.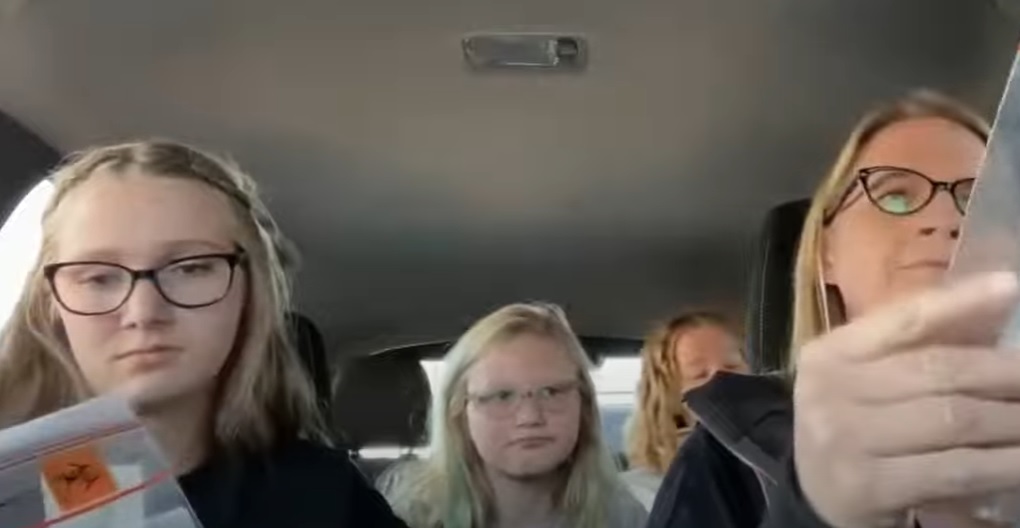 Christine assures us, though, that a negative COVID test doesn't erase all the negative feelings she has for Kody, Robyn and the rest of the people who have treated her and her kids like a leper for the past year or so.
Robyn tells us that it's been five years since we watched her squat Ariella out of her hooter on television. She makes sure to tell us that everyone passed a COVID test to attend Princess Ari's party.
Kody tells us he still can't forget that his older kids called him out for neglecting them in the name of "COVID." He's still all butthurt that everyone in the family didn't blindly follow whatever rule Robyn he decided to make them follow.
"It made me so upset, the disrespect I was getting!" Kody tells us.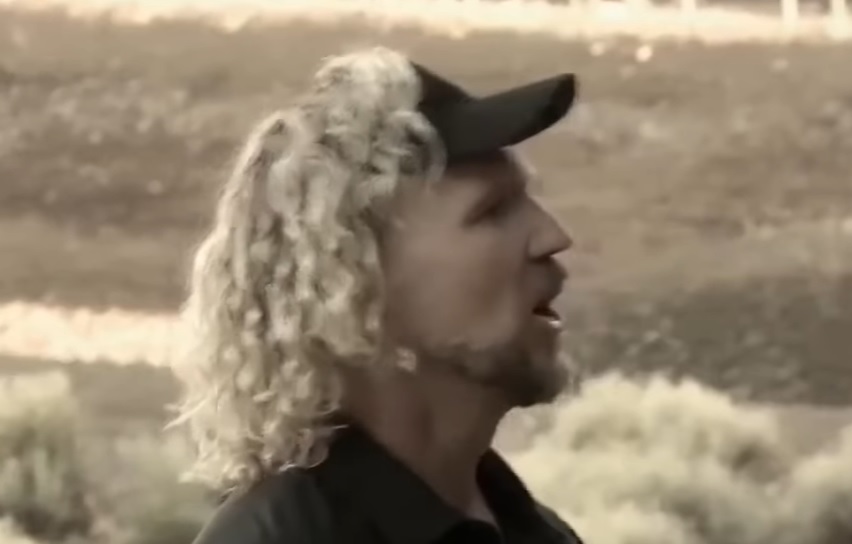 Kody then lists just a few of the ways he's neglected his kids with the "other" wives (i.e. not Robyn). He mentions that he didn't attend Ysabel's surgery, refused to allow some of the kids into the family's Christmas festivities if they wouldn't follow his rules, and the fact that he hasn't visited his other wives' kids in a long time.
Kody tells us that his priority is to protect Ari (and probably that blond boy who's always with her). He says his adult kids need to learn that his world "doesn't revolve around them" once they're adults.
"My obligation is to my minor children!" Kody says.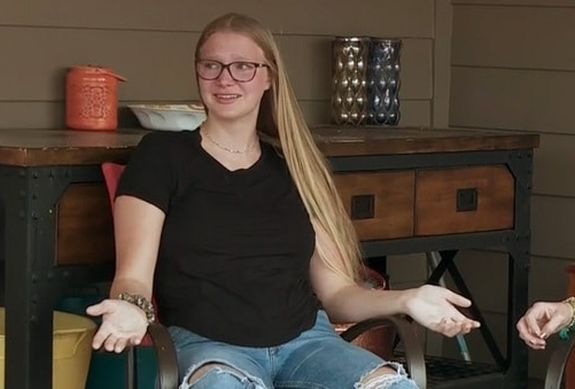 He says that he also has an obligation to the kids who act as his soldiers and "keep my rules." To hell with the rest of them!
As per usual, Janelle is calling Kody on his crap. Janelle says that, as a family, they never pushed their kids out of the house when the turned 18. However, now that it benefits Kody, Janelle says he's more than happy to give 'em a Size 10 to the butt and kick them out of the house.
She then points out the obvious.
"There's adult children at Robyn's house," Janelle says.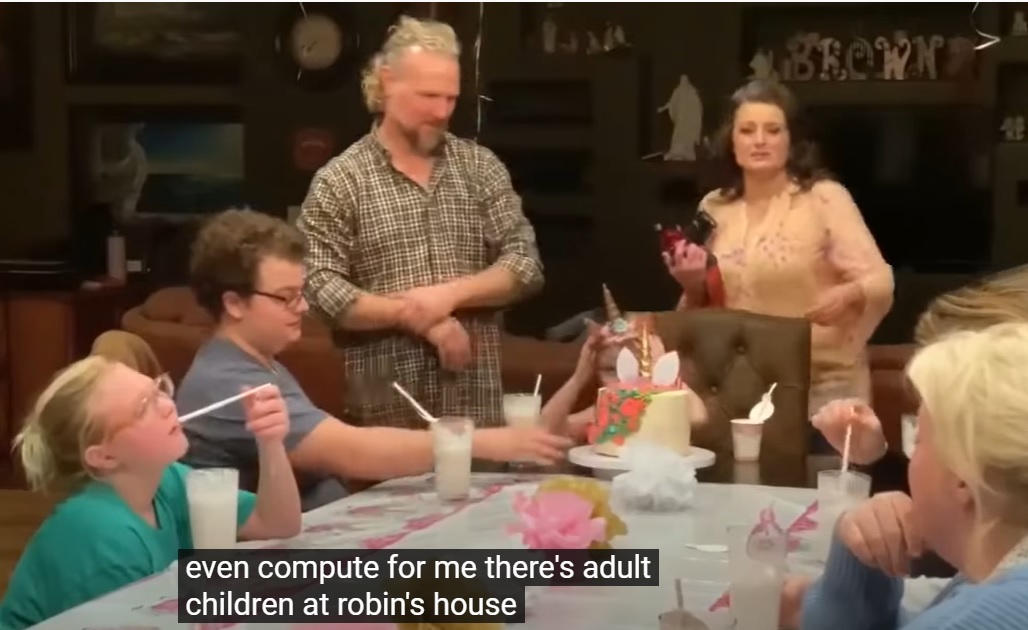 "They're not being pushed out because they're 'obeying' the rules," Janelle says.
Kody tells us that some of his kids aren't supporting him, and it's basically the kids who have mothers who aren't Robyn.
Next, we get to watch Kody slobber all over Ariella, as the other wives and kids are forced to watch.
(Does anyone else feel absolutely awful for Truely during this scene? She's only 12– still a little girl too— and has received no attention from her dad for a long time, yet she has to watch him tell her half-sister how much he adores her?)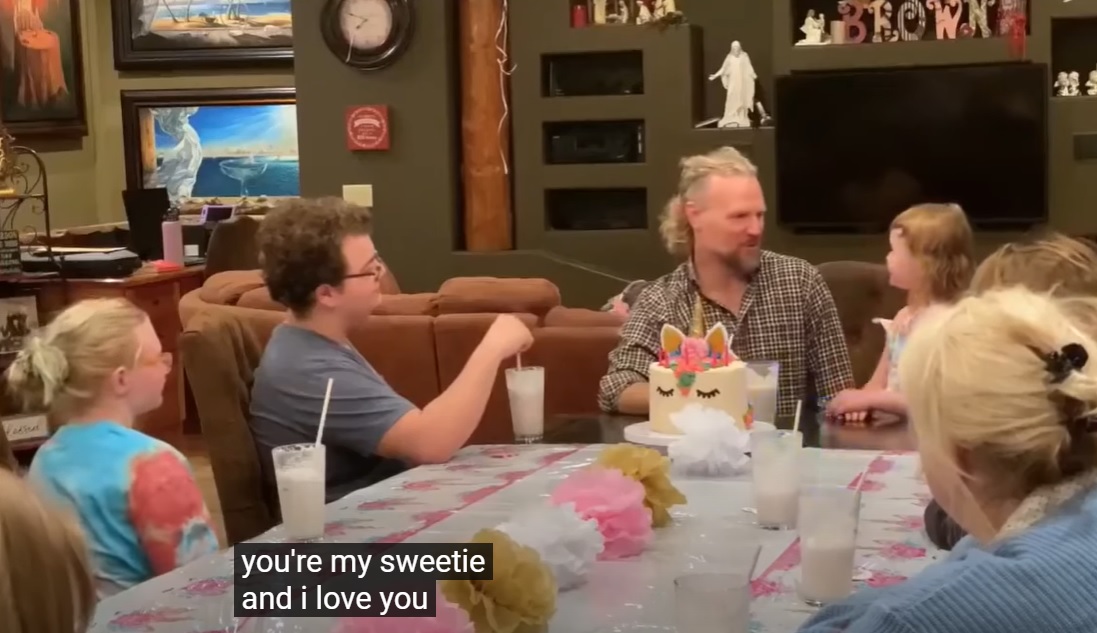 Apparently it's a Brown Family tradition to "toast" the birthday person by everyone saying nice things about them. When it's Christine's turn, Ari tells Christine that she's all red and then proceeds to try to feel her up. (That's honestly the most "action" Christine's gotten in years!)
Christine does look very red. I am actually shocked that Robyn didn't automatically assume it's because Christine has a fever from COVID. I half-expected Robyn to bust out the fire extinguisher full of vaccine and blast Christine out of her house.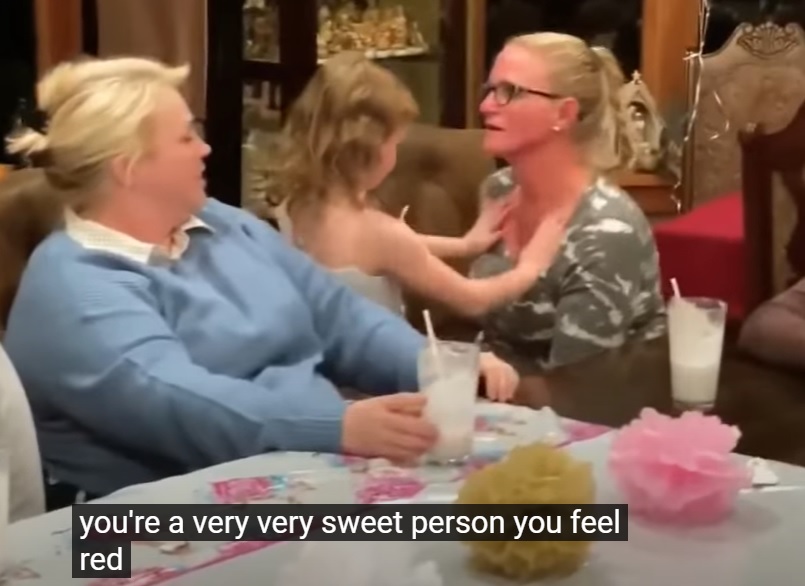 Everyone is happy that they can finally get together without hazmat suits and act like a normal family. They all say they're willing to provide Queen Robyn with their spit in order to keep the family together. Everyone seems very optimistic.
Until…three days later.
A clearly distraught Robyn is doing a self-film. Somehow she's acquired gray roots in the three days since Ari's birthday. (She probably blames Christine for that somehow.)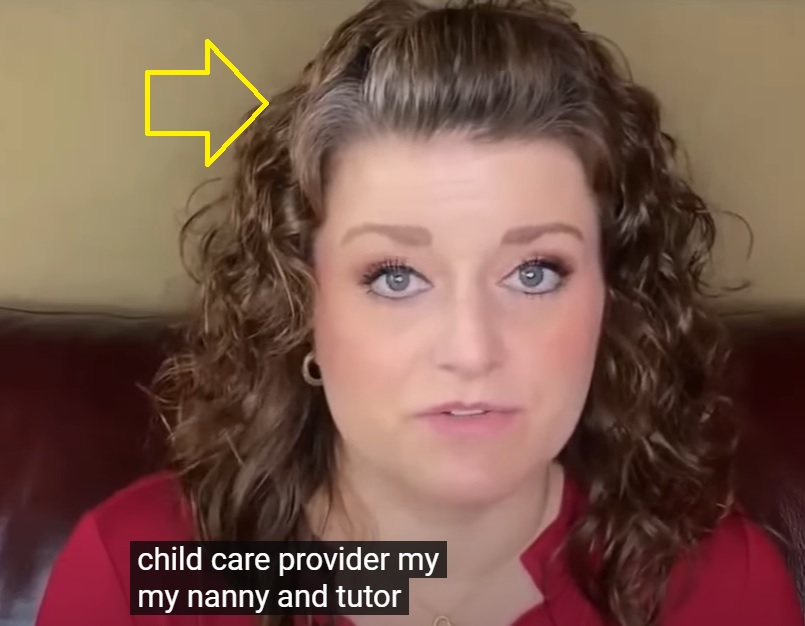 She tells us that her nanny (ahem, her "child care provider") has tested positive for The COVID.
Isn't it a ironic that Robyn bitched about the Sister Wives being careless and being a risk to the family and she ends up being the one who brought the virus into the family?!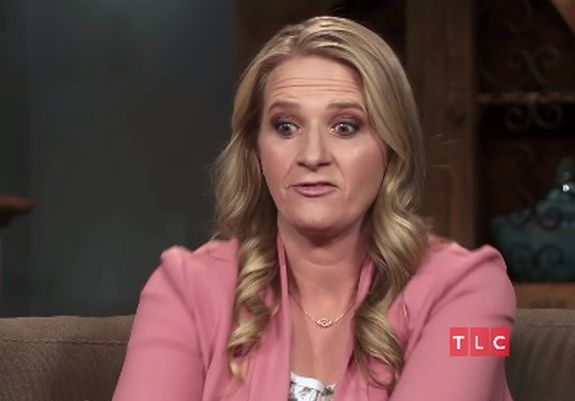 "Right now there's a possibility that WE ALL HAVE COVID!" Robyn shouts.
Robyn knows she's on the damn hook here, because it was her nanny who exposed her and her kids, and now possibly the whole family, to The 'Vid.
Perhaps the nanny wasn't wiping down her mail thoroughly enough?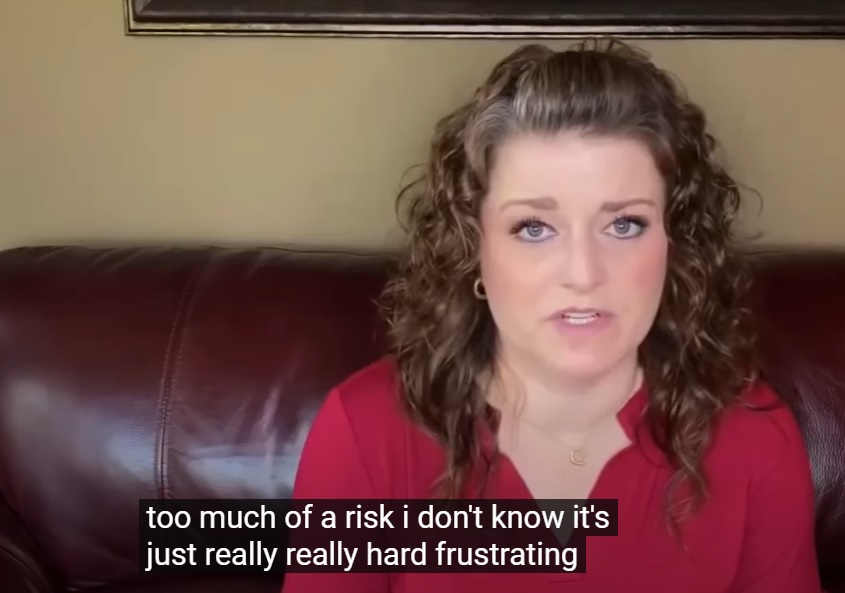 Next, we see Kody and his car full of Robyn's kids going to get a COVID test. While Kody seems almost gleeful that he gets to take a test, the kids are less-than-thrilled.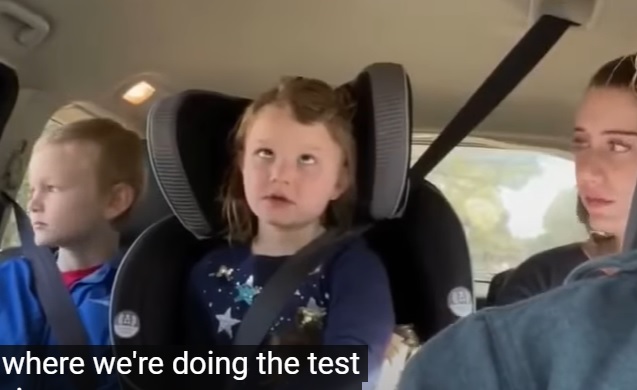 Robyn feels upset that the exposure came from her household.
"Because I've worked so damn hard!" Robyn says, again hinting that the family's rules are hers rather than The Visored One's. She's upset that Kody had to call all the other wives up and tell them that it was Robyn's nanny who exposed everyone.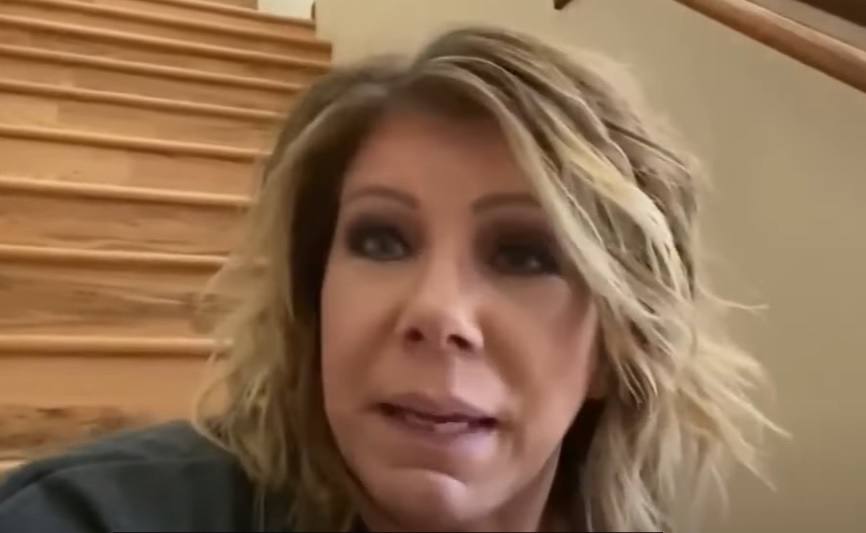 Christine says that, while it's a bit "evil," she can't help but chuckle at the fact that it was Robyn and her seemingly ridiculous need for a "nanny" that brought The 'Vid into the family. (Remember, Christine used to watch like 15 kids by herself while the other adults worked back in the olden days.)
Janelle, too, mentions this fact.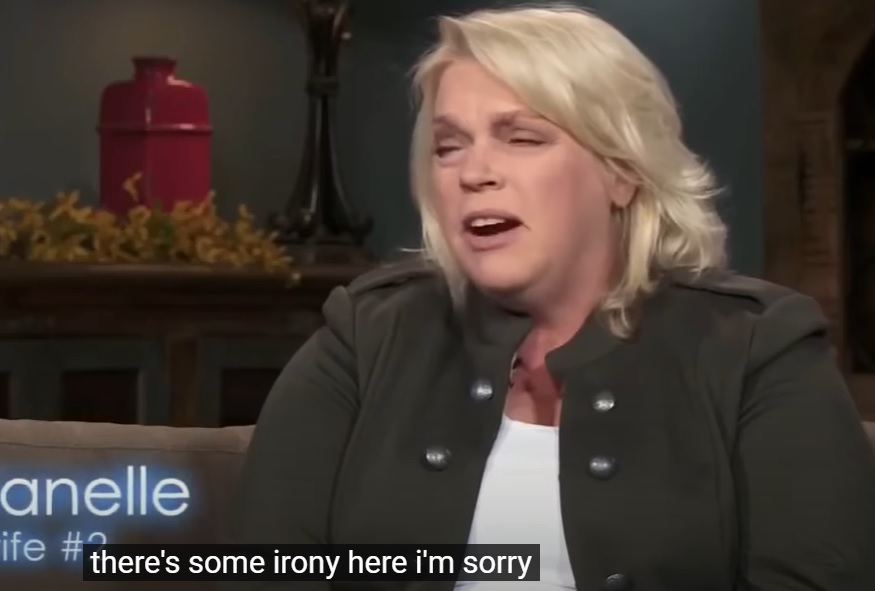 She says she's managed to remain COVID-free and she didn't even have to obsessively wipe down her mail, or soak in a trough of bleach or anything!
Meanwhile, Kody and his kids and Robyn are taking saliva COVID tests. Kody— the true "Gilligan" of the group— can't even figure out how to spit into the straw for the test. Instead, he sucks his own spit back into his mouth.
HOW DID THIS MAN GET FOUR WOMEN TO MARRY HIM!?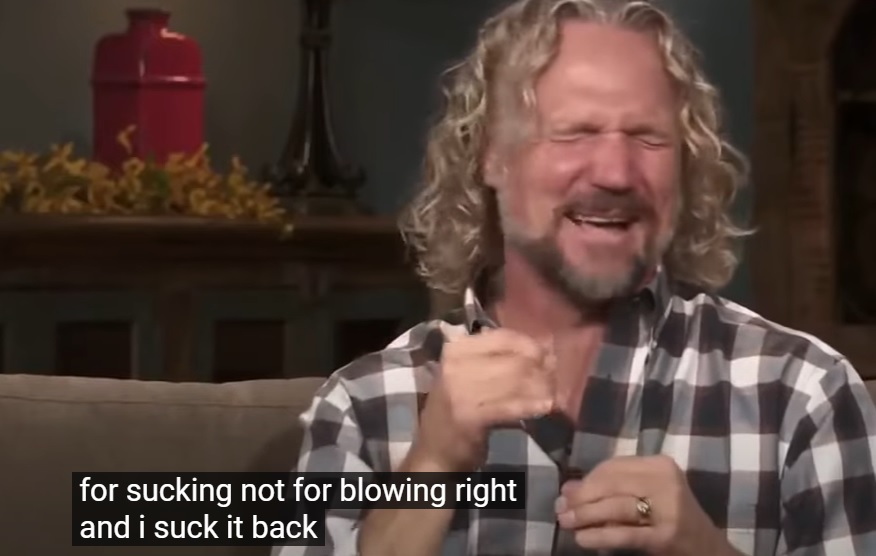 Christine doesn't hold back, telling us that, had it been her or one of her kids who exposed everyone to COVID, Robyn and Kody would tarred and feathered her and thrown her out into the wilderness of Coyote Pass. She suggests that Kody would even feel "vindicated" had the exposure come from one of the "other" wives and not his beloved Robyn.
Janelle and Christine say that this exposure will spell the end of the family all hanging out because "some people" will be too afraid again.
Gee….I wonder who they're talking about?
Christine's not exactly brokenhearted that the family won't hang out again. After all, spending the evening with Kody and his "real" family was probably about as fun as getting a COVID test jammed up your nose.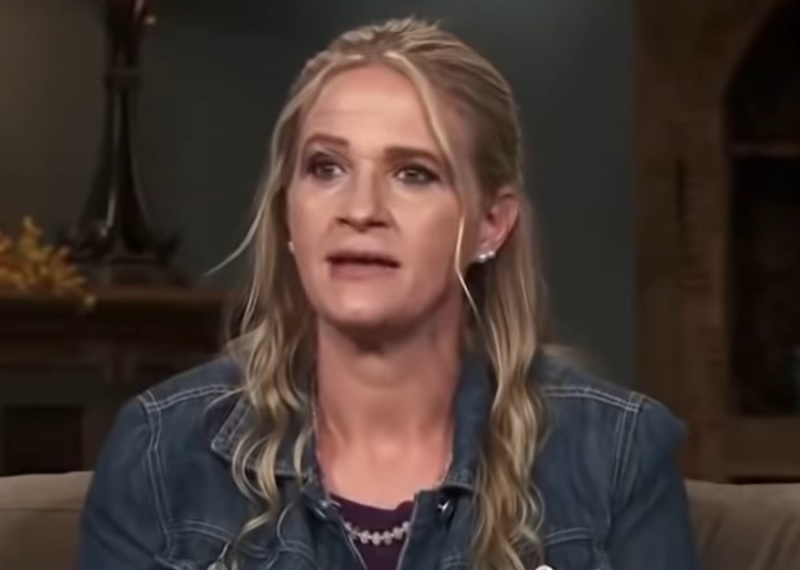 "It's really hard to see Kody have functioning relationships," Christine says.
(Um…I think you mean 'relationship,' Christine.)
Spoiler alert: none of the Browns have COVID, but Robyn still has that weird Cruella DeVille root thing happening when she tells us this a few days later.
Later, Christine is in her room and decides to fill us in on what's just happened between her and Kody. Christine explains that Kody was helping her install a door to her bedroom area, with him continuously stating that the door was needed to keep out the cat. Christine says she finally asked him if all this yammering about the cat was really him just making it clear that the door was not being installed so that it could give them privacy for sexy time.
"He goes, 'I'm not really interested in that anymore,'" Christine says. "He goes, 'I'm not interested in having an intimate marriage anymore. I don't like your behavior. We'll see if you can be a good sister wife…"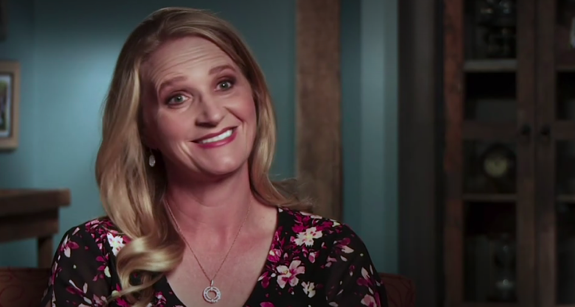 This appears to be the first time Kody admitted he no longer wanted anything "intimate" with Christine. (And, remember, "intimate" doesn't just mean doing the horizontal mambo. It also means no hand-holding, kissing, cuddling, etc.)
"I said, 'That's not enough for me. I can't not have an intimate marriage," Christine said she told Kody.
Kody explained that plenty of couples are married but don't have sex or intimacy.
"He goes, 'People do it all the time. I know couples that don't have intimate marriages,'" she explains.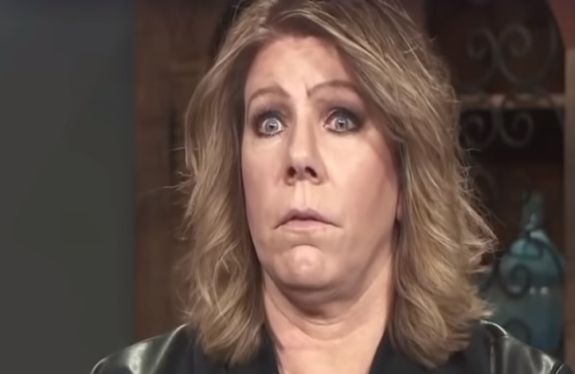 "And then, that was it," she continues. "We talked a little bit longer but then I went to bed, alone…
"It's over…"
Christine angrily tells the camera that it's not fair that Kody gets to continue to have sexual relations with Robyn and Janelle, but that she must remain celibate forever if Kody doesn't want her.
"What? So he gets to have an intimate marriage with other wives but not with me? And I'm going to have nothing for the rest of my life?" she asks.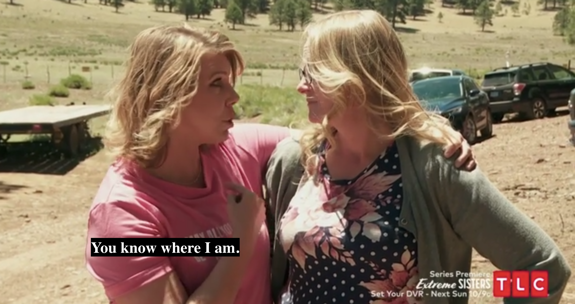 Christine says that, the morning after their talk, Kody snagged himself a bagel and skipped off, leaving Christine feeling awkward, sad and alone.
She tells the camera that she's not sure what to do next.
"I'm heartbroken. My heart is shattered to be honest with you," Christine says.
"I've known, of course I've know. It's not that I'm dumb," Christine says of their deteriorating marriage. "He said a while ago that he wasn't attracted to me or anything."
"I'm not OK staying in a marriage where there's no intimacy," she adds.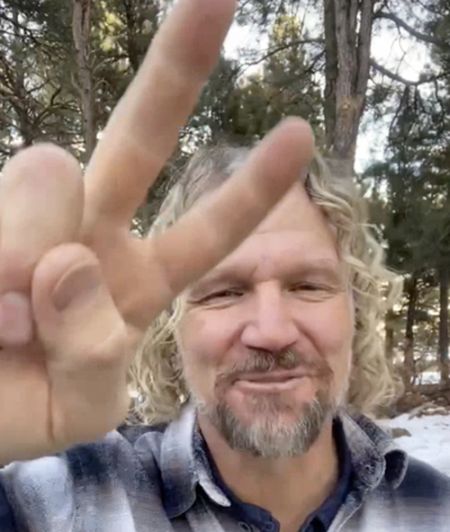 "That's not a real marriage," she says. "I'm not interested in a half-marriage, or a partial marriage or whatever we have.
"And it's all based on my 'behavior?'" Christine says disgusted.
Later, Kody catches us up on another eventful (yet uneventful) night he had at Christine's. He says Christine dropped an "unexpected bomb" on him…even though he knew that they've had "serious trouble" in their marriage for 12 years.
TWELVE YEARS?! So…basically the entire time you were doing this show, plus some?! This woman is a saint for staying with you as long as she did.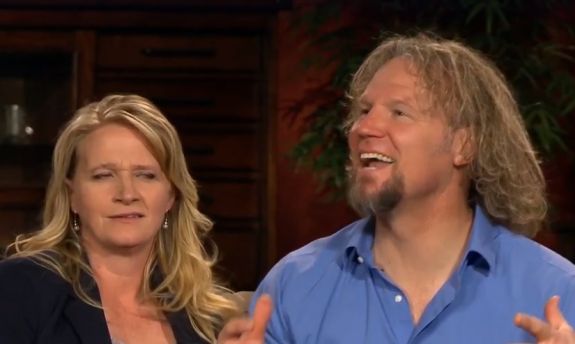 We then see clips of Christine telling us how unhappy she is in her marriage, going all the way back to the first season, where she tells us she's miserable and jealous.
Kody then tells us that Christine told him he's not allowed in her room anymore because her room is a special place and ain't NOTHING SPECIAL happening in there with Kody anymore.
Guuuuuuurl!
Apparently Kody's pitch that "romance-free" marriages are common wasn't helping him get back into Christine's room, though. He tells us that he's thinking it could be a "phase," but considers that she may be actually kicking him out. He says she's been telling people in the family she's going to leave him for years.
Naturally, Kody blames Christine for them not getting their sexy on.
"She's murdered our intimacy with betrayal!" Kody insists. "I don't feel intimate because I've been betrayed!"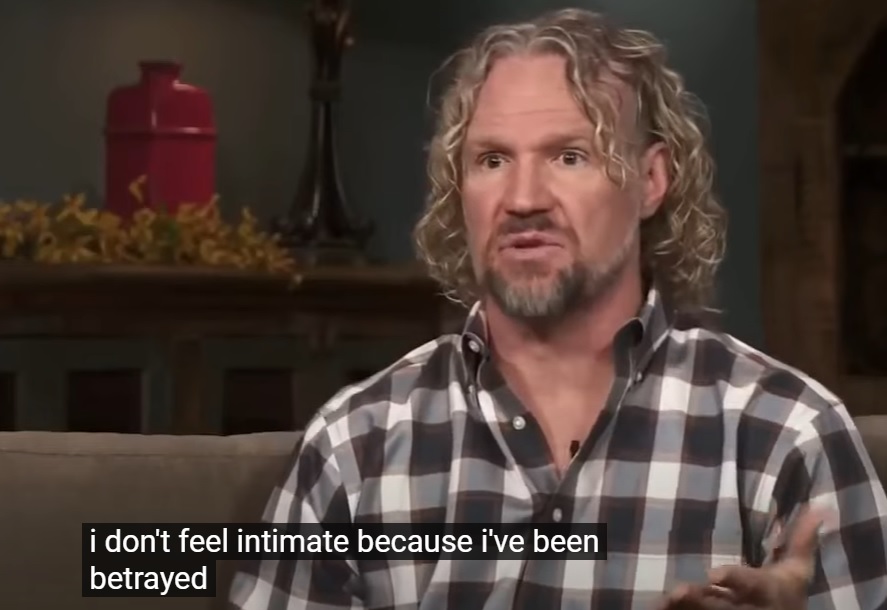 Later, Christine goes to Utah to throw a baby shower for Mykelti who is expecting her first child. Naturally, none of the other Sister Wives make an appearance, and only Christine and her COVID-breathers attend. Christine explains she followed regulations to make the party as safe as possible, with people wearing masks and it being held outside.
Christine tells us that her older daughters know that "things are hard" between her and Kody, but Truely doesn't have any idea. Christine tells us she's done with Flagstaff and she wants to go far away from Kody, his "functioning" marriage, his Top Ramen hair and everything to do with him.
She also tells us that, when she told Kody to hit the bricks, she flat-out told him he's not welcome in her bedroom anymore because she knows he doesn't want to be there. Kody kept trying to push the convo to a later time, but Christine stood firm, telling him, "No, this is final. I don't want you in my bed."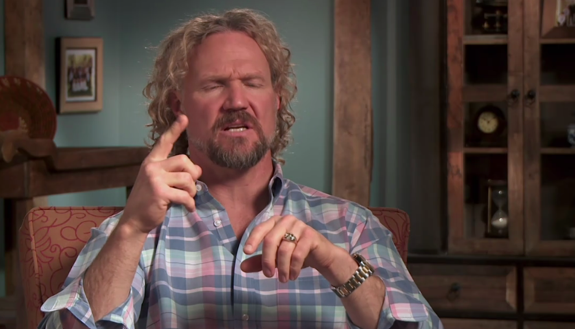 Christine says that she decided to pack Kody's things up for him, so that he can use his time at her house to spend with their her daughters. She neatly boxed everything and put it in the garage.
Christine also tells us that she knows Kody doesn't want or love her, but that he says he'll "take care of her," just like he "takes care of" his other spinster wife, Meri. Christine's having none of that.
She says that she'll keep up appearances and pretend that she's still Kody's wife for as long as possible. She breaks down, asking what she did wrong to make Kody hate her so much.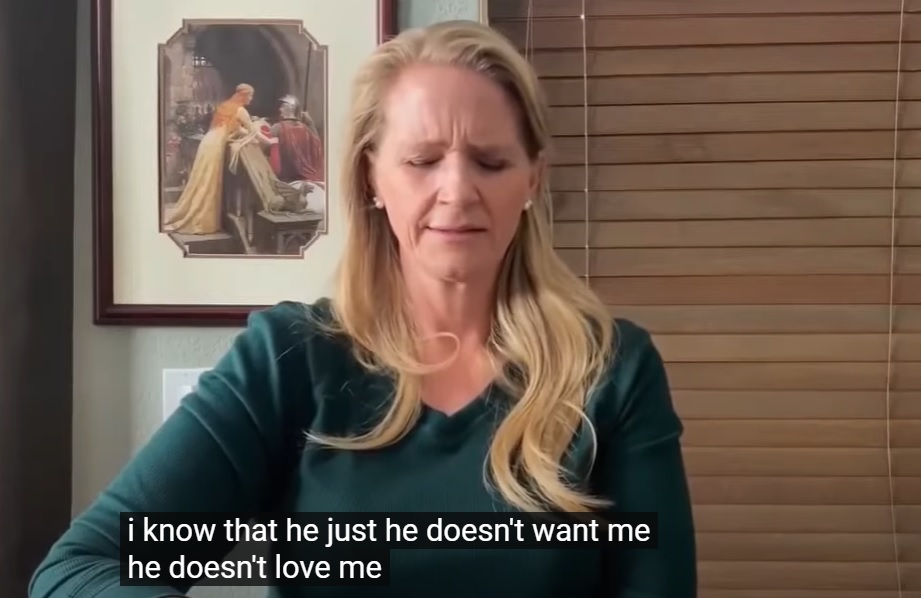 She says it's too heartbreaking to watch Kody interact with Robyn and Janelle. She also says that she wants to move somewhere that people actually want to be around them, and won't treat them like disease-riddled lepers.
Christine says Kody will realize how serious she is when he finds his crap boxed up.
Meanwhile, Janelle reveals that both Gabe and Garrison are positive for COVID. (Can we blame the nanny?) She's worried that she and her daughter Savannah may catch it from the boys.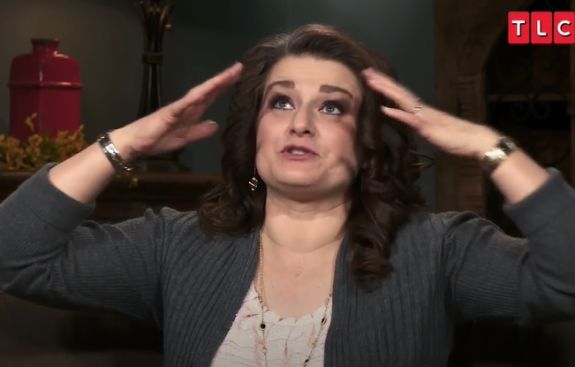 Back at Christine's, Kody is sitting in the garage like a troll. He noticed that there are suddenly way more cardboard boxes stacked up in there. Then, he reads the boxes and realizes the boxes contain all his stuff: visors, spiral curlers, "I Love Robyn" T-shirts and all!
"I have been moved out of my house!" he declares angrily. "This is not something we discussed!"
After all his junk has been thrown in the garage like old firewood, Kody finally realizes he should talk to his wife about this situation.
UM…
Kody's not sure what to do about the cardboard crap castle being built up around him.
"It appears to be a game!" Kody declares.
(Um…yeah, the game's called "Guess Who…Got Kicked Out Of The House?")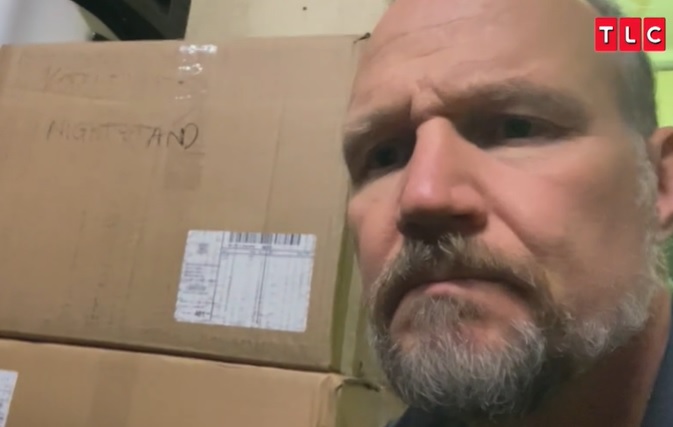 This man-biotch then tells us he "doesn't know why" Christine threw him out.
"I almost don't care."
Christine explains that you can get a divorce in their church. Since she never legally married Kody, all she needs is a "spiritual" divorce to end her "spiritual" marriage.
"As far as I'm concerned, that's just between me and God," she says.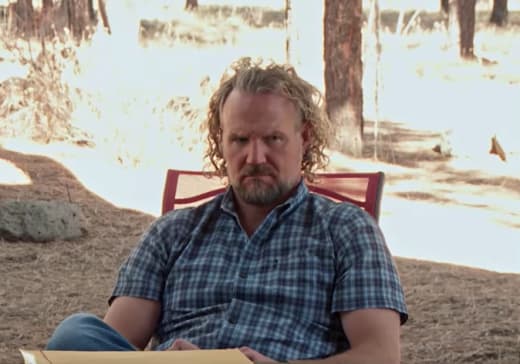 Kody is upset; however he seems to quickly catch himself looking vulnerable, so he quickly tells the camera that's he's "relieved" to be rid of his "burden and woe" which is his "loveless" marriage to Christine.
So, basically, he's glad he was finally able to unload Christine. (Unfortunately for him, though, Meri is still clinging to him like a clump of over-gelled hair, no matter how badly he treats her.)
Kody has another short moment of self-awareness, stating that this is making him think about his actions that have brought him and Christine to this point.
UM….YA THINK!?
That's all for this episode of 'Sister Wives!' For the next episode, Kody and his Harem of Unhappy Wives will sit down individually to talk crap on each other!
To read The Ashley's previous 'Sister Wives' recap, click here!
(Photos: TLC)