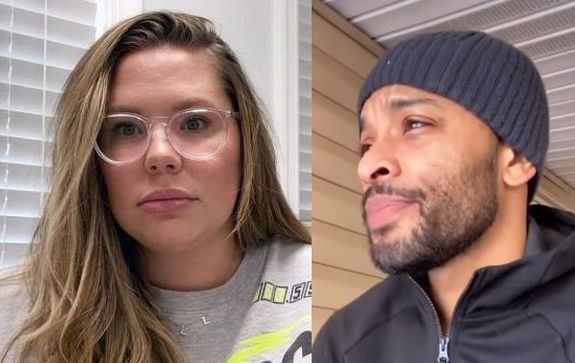 Days after Chris Lopez decided to shave off the curls of Creed— the son he shares with Kail Lowry— the Teen Mom 2 star is speaking out about the Shear Heard 'Round the ('Teen Mom') World.
As The Ashley previously reported, Creed came home from a visit at Chris' house last weekend with all of his curly locks lopped off, courtesy of yet another Kitchen Haircut by Chris. The dramatic cut came just a day or so after Kail spent a ton of money on hair products to use on Creed's curls. (As fans may remember, Chris did the same thing with their other son, Lux, a few years back, hacking at his long hair with a pair of kitchen shears. That incident–which The Ashley dubbed "HaircutGate," led to Kail freaking out, getting an assault charge and more.)
After remaining relatively silent about Chris and his barbering skills, Kail has finally addressed the situation on the latest episode of her Coffee Convos podcast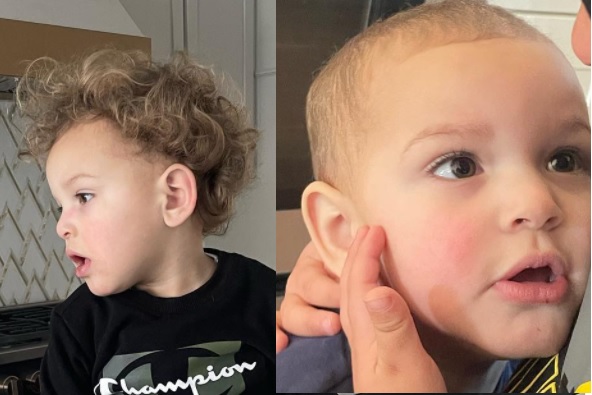 Kail stated that she believes Chris did what he did just to get a reaction out of her. On his own P.T.S.D. podcast, Chris also addressed HaircutGate 2, stating that Kail chose not to come to the shearing.
"Everyone is waiting for me to talk about the baby's haircut," Kail told her podcast co-host Lindsie Chrisley. "I think my son is traumatized [from the haircut], to be honest…"
She added that Chris' claim that she chose to no-show to the haircut "is complete bulls**t."
"This is not something that I would have wanted. I bought products for curly hair over the weekend…I did not say yes [to the haircut], I did not consent to it but he would have done it anyway," she said. "I do think it was solely to get a reaction out of me. I don't want to give it the public reaction that he wants…"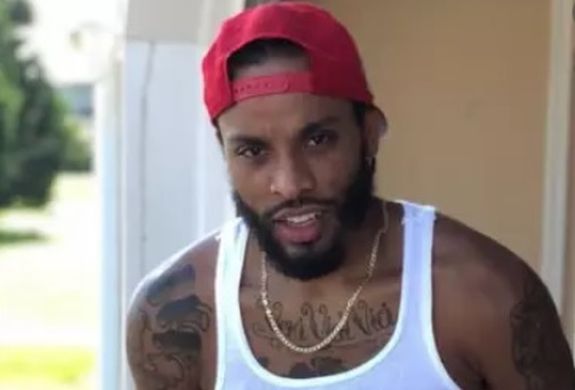 Kail said that Chris informed her that he had an appointment to get Creed's first haircut, but he wouldn't tell her where or when it was happening so she could be there, too.
"You tell me at 8:30 in the morning on Sunday and won't give me a time or place to meet you, and you email me to say you'll send me a video [of the haircut]," she said. "Um, that's not how this works. I hate when these dads are like, 'We just want to co-parent.' Obviously not."
Kail said she didn't think Chris was seriously going to cut Creed's hair, and figured he was only trying to get her worked up.
"I didn't think he was going to do it," she said. "This man didn't even take him to get a haircut; he did it himself," Kail said. "I just said 'where and when?' because I knew if I said no, he was going to do it anyway."
Kail said HaircutGate 2 actually started the day before, when Lux had a basketball game and Chris did not take him like he was supposed to. Kail said she went to the game, only to find out then that Chris didn't take Lux.
"Mind games….my emotions were all over the f**king place, and then he does the haircut thing the next day. You didn't get the reaction you wanted out of me for [the game]…you want a reaction, you want to piss me off and you want to take him away from his routine. I don't understand it."
View this post on Instagram
On his P.T.S.D. podcast, Chris told his version of HaircutGate 2, stating that he didn't cut Creed's hair to bother Kail. He stated that 'Teen Mom 2' fans have been coming at him hard because of what he did to Creed's hair.
"Creed got his first haircut….[the haircut] made media," Chris told his co-host Bread. "It's all over, and they comin' at me crazy. You should see the messages I'm getting! They trippin' like, 'You cut his curly hair.' For real, for real, it wasn't even that curly. It was just long, and if it's really curly it's going to grow back curly."
Chris said that he told Kail about the haircut but she didn't come.
"It was a little drama. I reached out to his mom [Kail] and told her they were getting haircuts," Chris said. "Lux got shaped, diced him up. I lowkey waited for her. She said, 'I'm on my way. I didn't say nothing back, she said she was coming.' I waited like an hour and a half before this s**t even happened, for real for real. She never showed up, so I gave the cut and that was it.
"I just know it was time for a cut…it wasn't to be spiteful or nothing. It was just something like, 'I'm being a dad at this point.' Regardless of how people feel, it was time for a cut."
Chris also talked about Lux's long hair, which he is still clearly not a fan of.
View this post on Instagram
"I've got another son with hair and that s**t is annoying as hell. On some real s**t, sometimes when he comes to me, that motherf**king hair be a mess to handle. I am like, 'We're not doing this with the second [kid].' I already explained that to her even [when we were] on good terms.
"She wanted to be there but it was more in a sense, I waited and whatever. I didn't really want to be around you type s**t. You're disrespectful, I don't really want to be around you but whatever, that's co-parent s**t."
RELATED STORY: Kail Lowry's Baby Daddy Chris Lopez Appears to Have Cut Their Son Creed's Hair After Kail Purchased Products to Tend to the Tot's Curls
(Photos: Instagram; MTV)