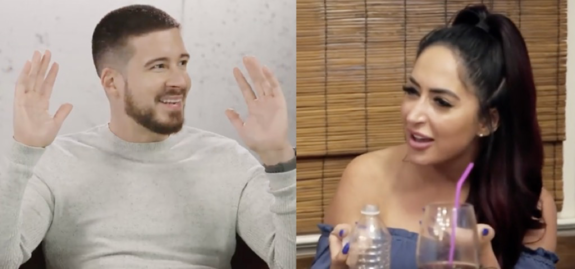 Vinny Guadagnino may have taken his Jersey Shore costar Angelina Pivarnick to the Smush Room a time or two back in the day, but he's made it very clear that he's not at all interested in the newly single Angelina. In fact, he says he'd rather jump to his death than get involved with her romantically.
As The Ashley previously reported, Angelina's husband Chris Larangeira– who has appeared alongside Angelina on Jersey Shore Family Vacation– filed for divorce at the end of January after Angelina allegedly "got close" to Acapulco Shore star Potro Caballero while filming the spinoff All Star Shore in Spain in November and December.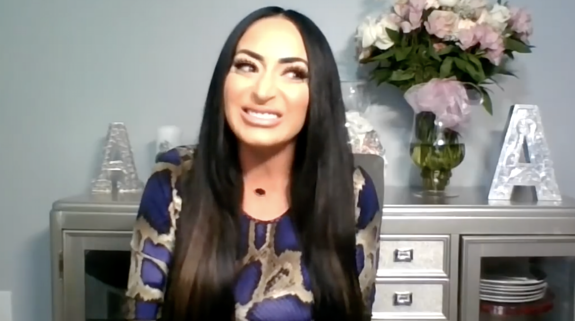 Despite Angelina's seemingly single-status, Vinny told Us Weekly the rumors that he's dating or wants to date Angelina are false, and he'd take very extreme measures before ever considering otherwise.
"Right now I'm on the 18th floor of my hotel," he said. "I would rather jump off this balcony than ever entertain one of those [dating] rumors. I don't know if people think that I'm like, capping, or I'm lying about this. Like, when I tell you there's not an ounce of energy or anything in my body that has any kind of romantic attraction toward Angelina, I promise you, I do not."
While Angelina may not be Vinny's cup of Ron Ron Juice tea, he believes she'd be down to take things further if he were willing to do so.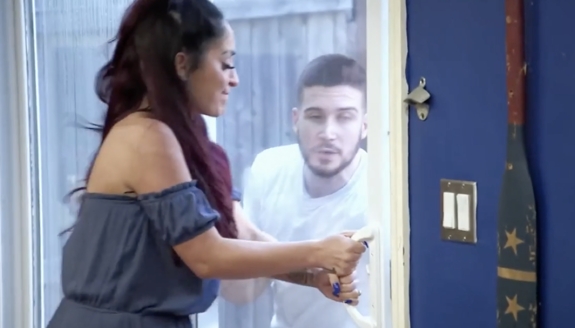 "She'd probably smash," he said. "You know, I'm a pretty good catch. So if I, like, wanted to, and I was like, 'Yo, Angelina, like, I really like you.' I mean … she wouldn't say no, you know? But I don't think she's actively trying to get with me either."
As for his thoughts on Angelina's divorce from Chris, Vinny said he has not spoken to or seen Angelina so he doesn't "really know what's going on."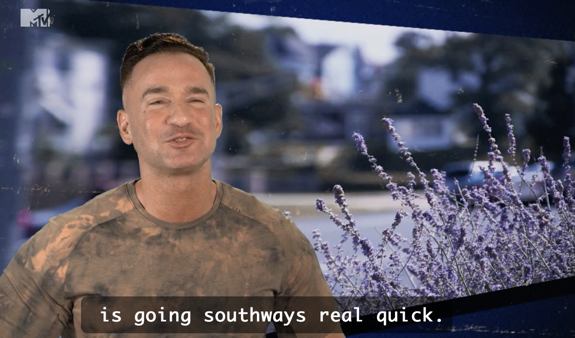 "All I know is that they've been going through that on and off divorce stuff for, like, since they got married," he said.
After tying the knot in November 2019, Angelina and Chris made a habit of discussing their marital problems on 'Jersey Shore Family Vacation,' and in January 2021, Angelina even filed for divorce, though she and Chris reconciled and the split was later called off.
Despite the reconciliation, the couple continued to have problems throughout 2021, with Chris even telling some of the other 'Shore' spouses that he sometimes wished he and Angelina weren't on the show and were living a normal life instead.
RELATED STORY: Angelina Pivarnick's Alleged Affair with 'Acapulco Shore' Star Potro Caballero While Filming Spinoff Reportedly Led Her Husband Chris Larangeira to File for Divorce
(Photos: MTV; Instagram)