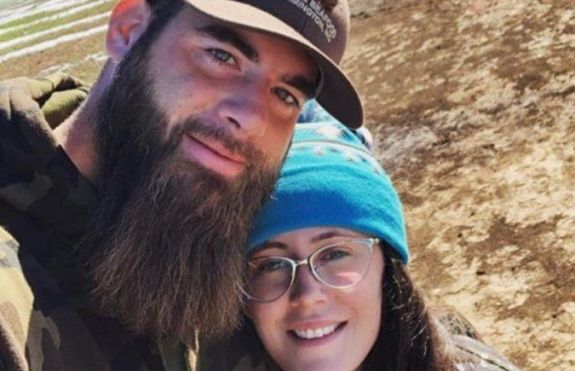 From building their egos to building their podcast networks, the stars of the 'Teen Mom' franchise (both past and present) have been keeping themselves busy lately! In an effort to keep you up-to-date on the latest Teen Mom OG and Teen Mom 2 news, The Ashley brings you the Teen Mom News Pile.
Here are some of the major (and minor but interesting) 'Teen Mom'-related things that have happened over the last week or so…
David Eason claims MTV lost "millions" of viewers by firing him & Jenelle Evans.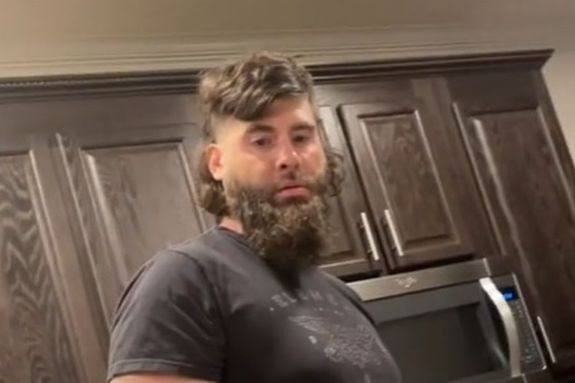 Fired 'Teen Mom 2' husband and resident swamp dweller David Eason took a break from watching his wife Jenelle Evans dance and self-diagnosis on TikTok to share his thoughts on the Academy Awards drama involving Will Smith and Chris Rock. In the same Facebook conversation he also posted his thoughts on how many viewers he thinks 'Teen Mom 2' has lost since he and Jenelle were booted from the show several years back.
On Facebook, David stated that he felt the fight between Chris and Will was fake.
"Not a couple of famous actors pretending to fight AND cry making headlines…. Like haven't you ever watched any of their movies?" David asked. "Same s**t different stage."
That wasn't the most-interesting part of the conversation, however. David–- spewer of hate speech and lover of all things animal carcass–- went on in his Facebook rant to relate the situation to his former MTV gig after someone referred to him as "the 'Teen Mom 2' guy."
"Yea and MTV lost millions of views without Teen Mom 2 Guy and Jenelle but if they pulled a publicity stunt like this with us ratings would skyrocket," David wrote.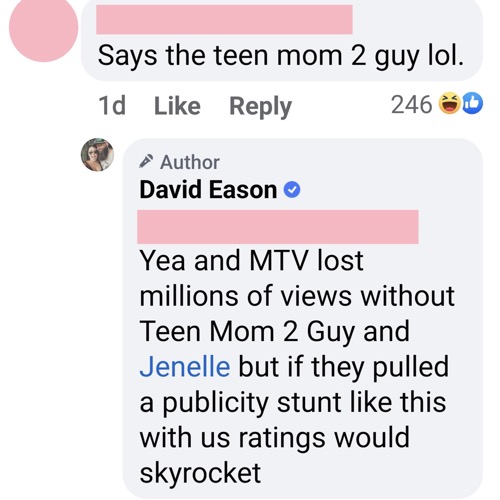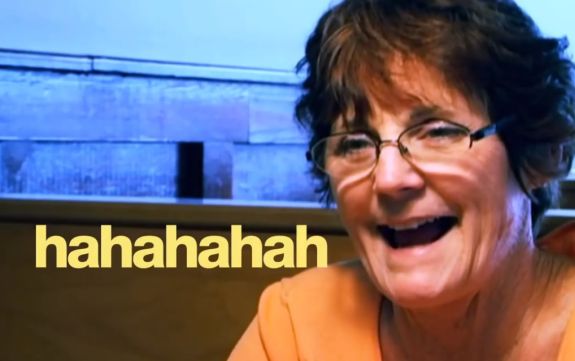 In response to David's take on the 'Teen Mom 2' ratings, one person pointed out that viewers likely stopped watching because they love trash TV and with Jenelle and David no longer on the show, 'Teen Mom 2' has lost its trashy appeal.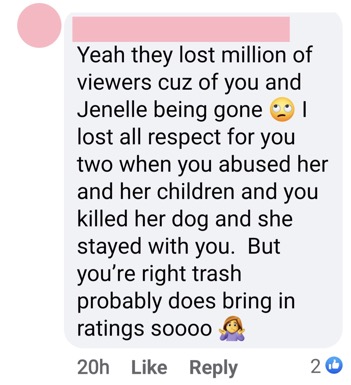 "Yeah they lost millions of viewers cuz of you and Jenelle being gone," the comment read. "I lost all respect for you two when you abused her and her children and you killed her dog and she stayed with you. But you're right trash probably does bring in ratings soooo."
Surprisingly, one person came to David's defense, proving that every dog has its day. (Unless that dog happens to belong to David and Jenelle, of course.)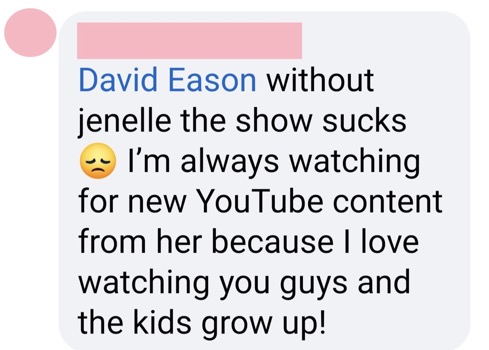 " … without Jenelle the show sucks," Jenelle the individual wrote. "I'm always watching for new YouTube content from her because I love watching you guys and the kids grow up!"
'Teen Mom 2' grandma Christy Smith won't be heading to jail after all.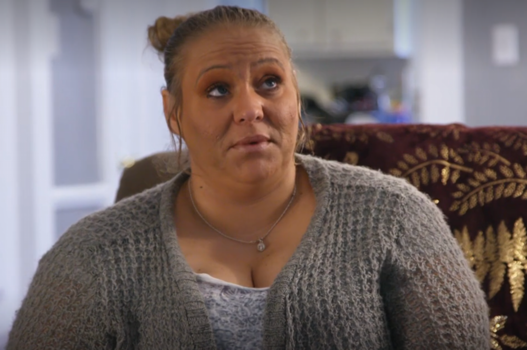 Christy Smith, mother of 'Teen Mom 2' star Jade Cline, will need to secure a couch to surf on for the foreseeable future as she has dodged her 90-day jail sentence.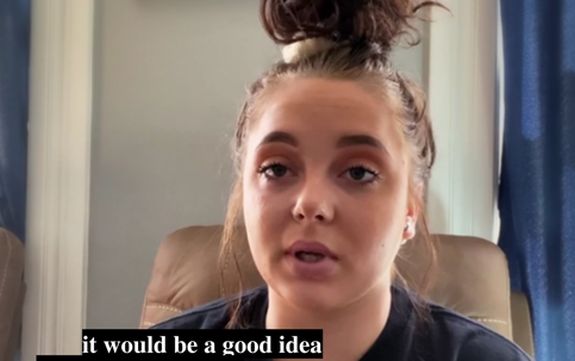 According to The Sun, Christy–- who was charged with possession of marijuana and possession of paraphernalia back on October 11, 2018–- accepted a plea deal in September, in which she agreed to pay court fees and serve 90 days in jail with no probation.
While Christy was gearing up to take on her 90 days in the slammer, an Indiana judge was lenient at her official sentencing and instead gave Christy probation for one year.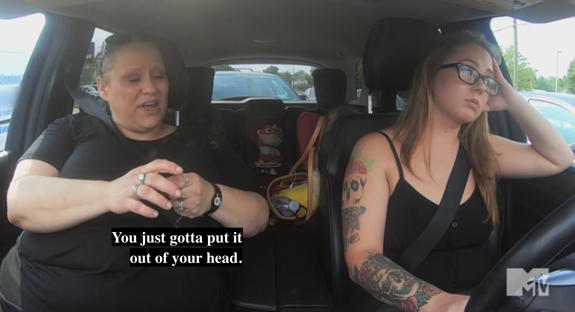 As part of the agreement, Christy pleaded guilty to the possession of marijuana charge, though the possession of paraphernalia count was dismissed.
In addition to probation, Christy has agreed to undergo a substance abuse evaluation and pay court fees and fines.
After Tuesday's episode of 'TM2' aired, Jade opened up about her mom's legal situation on Instagram Stories.
"My mom isn't a bad person," Jade wrote. "Just a person going though a tough time and struggles with depression. Today she's in such a good place. She's working, never went to jail. She's a lot happier and has more stability. I hope me and her can continue to work on having that healthy relationship with good boundaries.
"A lot has changed since then and over this last year," Jade continued. "I have changed a lot."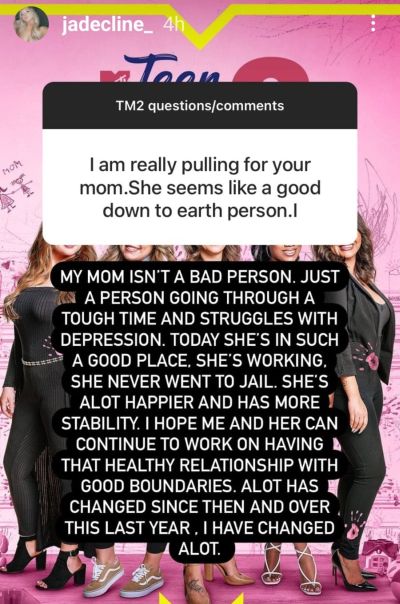 Vee Rivera announces that she's launching another podcast.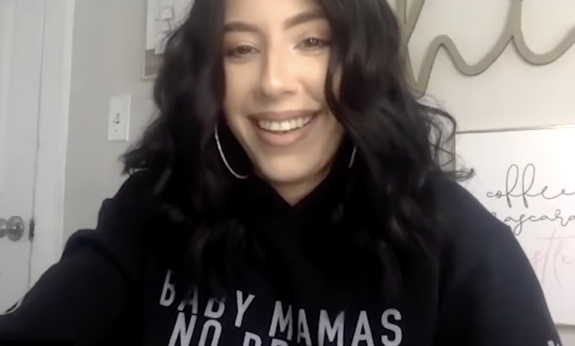 Vee Rivera, wife of Jo Rivera, announced this week that she's launching a second podcast, Vibin' & Kinda Thrivin.'
Vee already co-hosts the podcast Baby Mamas No Drama with 'Teen Mom 2' star Kail Lowry; however, she will be launching the new podcast without her fellow "Baby Mama."
Instead, Vee will take on hosting duties alongside Alessandra "Sandra" Gonzalez, a self-described "plu- sized self acceptance creator" and "mental health advocate."
"Welcome to Vibin' & Kinda Thrivin' hosted by your newest amigas, Vee Rivera and Alessandra Gonzalez," the podcast description reads. "Tune in every Monday for girl talk like you've never heard it before. Get insight into mental health, motherhood, social media, and SO much more from two self-care obsessed chismosas that are here to make you feel less alone! Come find out how we've managed to Vibe and Thrive our way into our 30s."
'Vibin' & Kinda Thrivin' launches April 4 and new episodes will air on Mondays.
Isaac Rivera reveals how he feels about filming for 'Teen Mom 2,' as well his mom's former husband, Javi Marroquin.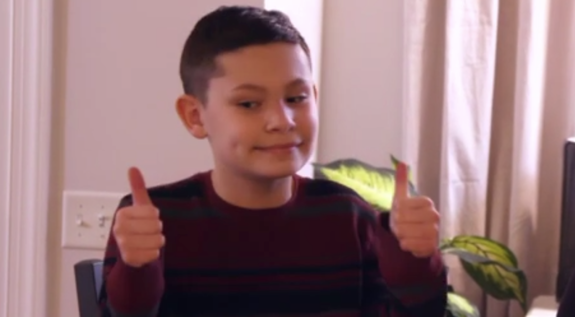 On the latest episode of Kail Lowry's Barely Famous podcast, Kail welcomed a co-star that's been with her since her 16 and Pregnant debut: her son Isaac Rivera.
During the episode, Kail talked to Isaac– who is now 12– about various activities and hobbies he enjoys before asking if he also enjoys filming.
"Well, it depends on what we're filming and what it's for," he said. "So like, podcasts, they're fun. Um, for MTV? I don't really love it."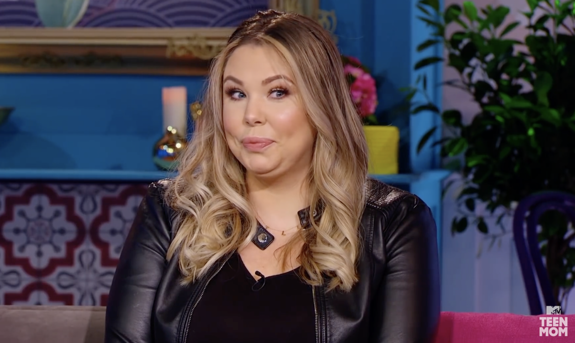 Isaac also opened up about what it's like being recognized in public, revealing people have come up to him and asked to take a photo of him at school. Isaac said people in public also occasionally ask to take photos with him and his family– "sometimes without permission."
"That makes me a little uncomfortable … ," he said.
While Isaac acknowledged the downside to reality TV fame, he admitted "it's nice to have like, the money and stuff."
"You're definitely my kid," Kail joked.
When discussing the dynamics of their family, Isaac told his mom he remembers when she didn't get along with his stepmom, Vee.
"I remember you and Vee hating each other, you never got along," he said. "Now you guys are like best friends."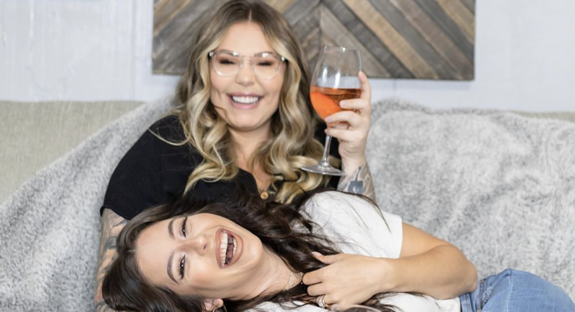 As for his relationship with Kail's ex-husband, Javi Marroquin, Isaac said he still considers Javi his stepdad.
"I think we've always…we've never, like, hated each other or anything," Isaac said. "I still call him my stepdad. I call him Javi, but I still consider him my stepdad."
To catch up on more recent 'Teen Mom' news, click here!
(Photos: Instagram; MTV)