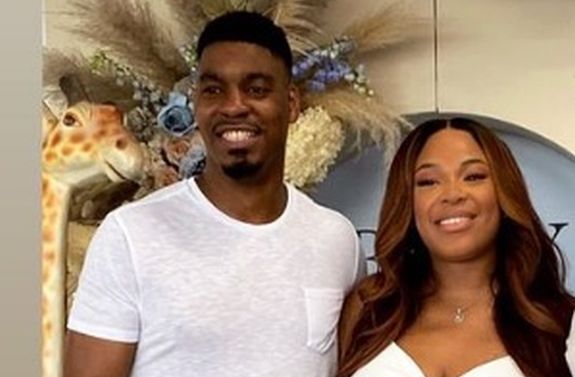 The latest addition to The Challenge family has arrived!
MTV reality stars Leroy Garrett and Kam Williams announced on Monday that their son was born last month. The couple— who recently confirmed their engagement— stated that Kingston Lee was born on May 17 (just one day after Leroy's birthday.)
"Kingston's officially here," they wrote in the caption of a family photo posted to Instagram. "We couldn't wait to tell you all & we just wanted some extra special quality time with him."
In an interview with E! News to announce the birth, Kam stated that Kingston looks like both her and Leroy.
"He completed our little family!" Kam said. "Kingston is so perfect to us and I'm just obsessed with him, I never want to put him down. He is the perfect blend of us both."
"Being new parents has been great for us," she continued. "We are such a great team and work so well together. Kingston was completely manifested, and we even knew his name before he was conceived."
On Instagram, the couple stated that Kingston was born via C-section.
View this post on Instagram
"Things went unplanned [at the birth], but we are all healthy which is what matters most," Kam wrote. "Recovery is going well."
Kingston– whose face was not shown in the Instagram post– is the first child for both Leroy and Kam.
"Now that I became a father, all selfishness is out the window," Leroy told E! News. "It's us before me. One of my fears of having kids was not knowing how to take care of him, but since he got here its been like second nature."
Leroy and Kam received plenty of well wishes from their 'Challenge' family.
"So happy to hear he is here & is healthy! Wishing you three many blessings as a family," Veronica Portillo wrote in the comment section of the post.
"Thanking God that he is healthy and you had a safe delivery," Nia Moore wrote. "So happy for you guys!! Cannot wait to meet him."
"I'm crying over here," Nehemiah Clark commented. "You two deserve the world, and I know Kingston is going to be one of the luckiest babies ever!"
RELATED STORY: Taylor Selfridge– Girlfriend of 'Teen Mom OG' Dad Cory Wharton– In Labor with Second Child
(Photos: Instagram)