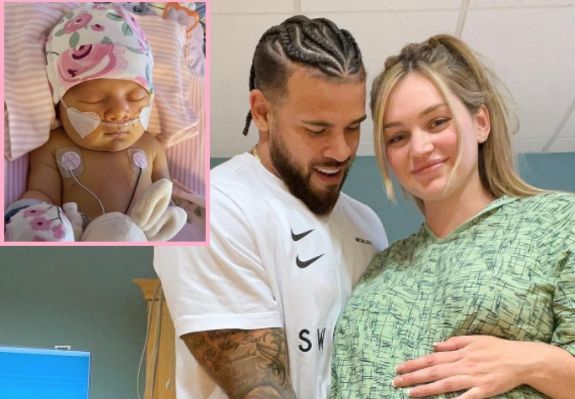 Nine days after Cory Wharton announced on Instagram that his girlfriend Taylor Selfridge was in labor, the Teen Mom OG and The Challenge star has finally given fans an update on the baby.
On Friday, the couple revealed that their daughter– whom they named Maya Grace Wharton— was born on June 1, weighing in at 8 lbs., 4 oz. Sadly, the newborn is still in the NICU nine days after her birth, due to being diagnosed with a rare form of heart disease called tricuspid atresia.
"It happens when the hearts tricuspid valve does not develop," Cory explained in his Instagram post. "This valve plays a part in the heart's essential function, which is to pump blood between the lungs and body."
According to Taylor, she and Cory have known about Maya's heart condition since Taylor was about 22 weeks pregnant.
View this post on Instagram
"We found out she would need 3 open heart surgeries, one being the first week of her life," Taylor wrote. "Our lives turned upside down in a matter of seconds. Maya came into this world doing so much better than expected and with amazing cardiologists we were able to get a stent put in place instead of the first open heart surgery. Maya had her first procedure at 6 days old."
Cory stated that the procedure went well, but she will still need two open heart surgeries.
"She is doing very well, we can't wait to bring her home & show her the love that she needs," he wrote. "With her condition it requires another two open heart surgeries one being at 4-6 months old and the next not being till she's 3 or 4 years old. Right now we are all trying to stay positive & having that successful surgery on Tuesday is something to celebrate. That's one down, we have two left."
View this post on Instagram
According to the Mayo Clinic's website, a person with tricuspid atresia has trouble getting enough oxygen through his or her body.
"People with this condition tire easily, are often short of breath and have blue-tinged skin…Tricuspid atresia is treated with multiple surgeries. Most babies with tricuspid atresia who have surgery live well into adulthood."
Cory and Taylor are already parents to daughter Mila, and Cory shares his daughter, Ryder, with Cheyenne Floyd. According to Taylor, the week after Maya's birth has been "the most challenging week I've had as a mother thus far."
"I have felt very helpless in caring for my own child, my arms are aching to hold her, ache to feed her, ache to wake up to her," Taylor wrote. "My first time really holding her was at 5 days old. The last 9 days have been a complete rollercoaster…"
Both Taylor and Cory wrote that they decided to talk publicly about Maya's heart disease in hopes it will help other families going through a similar situation.
"This is something I've wanted to share with everyone because I found myself looking for other heart mamas out there that know the pain I'm feeling and I've found help through some other moms," Taylor wrote. "I'm still new to this but any mothers out there that need someone to talk to please don't hesitate because I need you as well."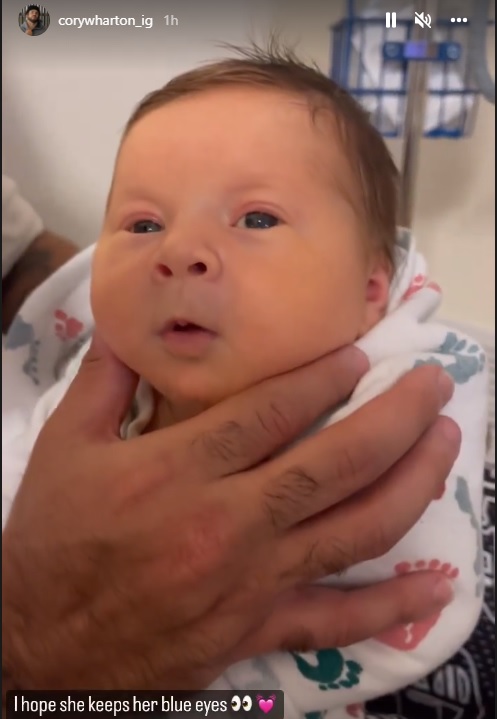 Cory and Taylor received well wishes from Cheyenne, as well as other cast members from the 'Teen Mom' and 'Challenge' franchises.
"We have been praying for you guys non-stop!" Cheyenne wrote. "Maya, God has you covered. Ryder can't wait to meet her new sissy."
"Congrats to you and your fam! Sending so much love and prayers from our family to yours," Kam Williams— who recently welcomed a baby herself—wrote.
"Congratulations. She's absolutely beautiful!" wrote Teen Mom 2 star Leah Messer. "Sending so much love & prayers to your fam."
"Congratulations on her! Thinking of y'all! Hope she has a smooth recovery!" Kail Lowry wrote.
Maya is expected to be able to go home sometime this weekend.
RELATED STORY: 'The Challenge' Stars Leroy Garrett & Kam Williams Welcome Their First Child
(Photos: Instagram)