Anna Duggar marked her 34th birthday on Thursday by reminding everyone that she's still a dedicated Joshy Girl, despite her felonious Fundie husband sitting in jail since December after being convicted of receiving and possessing child sex abuse materials (CSAM).
As The Ashley previously reported, Josh Duggar was sentenced to 151 months in federal prison (as well as 20 years of probation following his release) on May 25. (The "possessing" charge against Josh was dropped prior to his sentencing.)
While Anna appeared in court for Josh's sentencing, she had yet to release any public statement…until Thursday, when she took to Twitter and Instagram to ruminate on her birthday, which happens to be a significant date to the mother of seven for multiple reasons.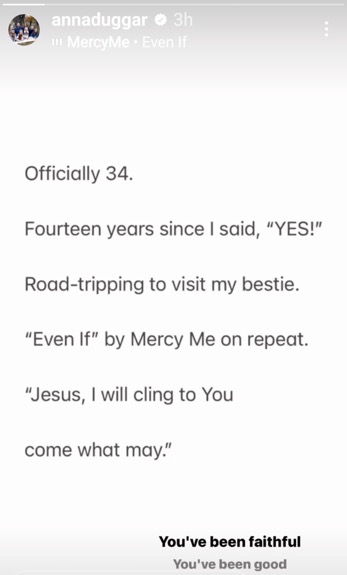 "Officially 34," Anna wrote. "Fourteen years since I said, 'YES!'"
Anna was, of course, referring to the day she agreed to marry Josh following a beyond cringey on-screen proposal that, in hindsight, was likely a bad omen. As 19 Kids & Counting fans know, Josh proposed to Anna on her 20th birthday…in the middle of restaurant.
Anna went on to write in her post, "road-tripping to visit my bestie."
While most would assume Anna's best friend is Josh himself, the disgraced former 19 Kids and Counting star is still listed as an inmate at the Washington County Jail in Arkansas, which is just a 20-minute drive from the Duggars' home. That facility does not allow in-person visits, so it would make no sense for Anna to go the county jail.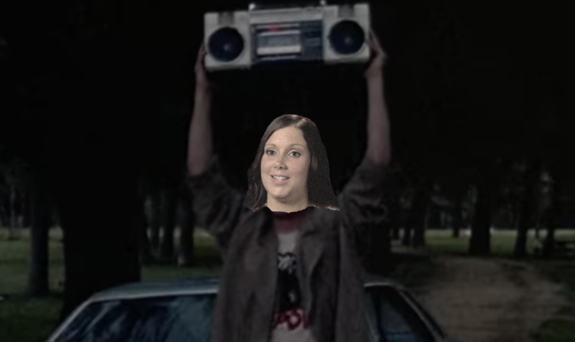 (Though Josh is slated to be transferred to either the Federal Corrections Institution in Texarkana, Arkansas, or the prison in Seagoville, Texas, he is listed as "not in Bureau of Prison (BOP) custody," as of press time, so it does not appear that he has moved just yet.)
Paired with Anna's very unhappy birthday post was the song "Even If" by MercyMe, featuring lyrics about "losing bad" and being "held to the flame."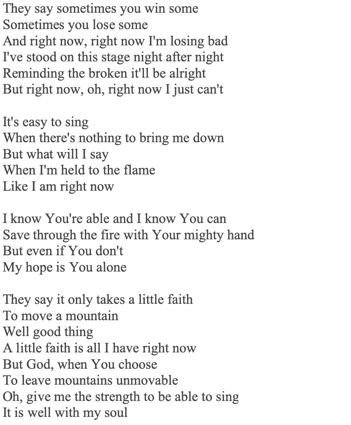 Anna wrote in her post that she was playing the song on repeat.
Anna's post on Twitter was met with plenty of reaction— some sympathetic and some condemning. However, nearly all of the responses to Anna's tweet urged her to leave Josh.
"Anna, please, please stop. Open your eyes. Protect your children. Protect yourself," one person wrote in response. "Read the Bible for yourself and find out what God really says about divorce. Find out what God says about loving your wife! Get out while you can and PROTECT your children!"
"Everyone makes mistakes and 14 years ago you made a horrible one," another person wrote. "You didn't know then but now you do. You can fix your mistake. Everyone would understand including God."
UPDATE! It appears Josh is on his way to federal prison, as of Friday, he is no longer listed on the inmate roster at the Washington County Jail in Arkansas. He is not yet listed as being in custody of the Bureau of Prisons (BOP), which most likely means he's en route to the prison he will be at for the next 12.5 years.
RELATED STORY: Duggars' Ex Friends Bobye & Jim Holt Say the Duggars Considered Josh Molesting His Sisters As Him "Cheating" On His Then-Girlfriend Kaeleigh Holt
(Photos: TLC; Instagram; YouTube)