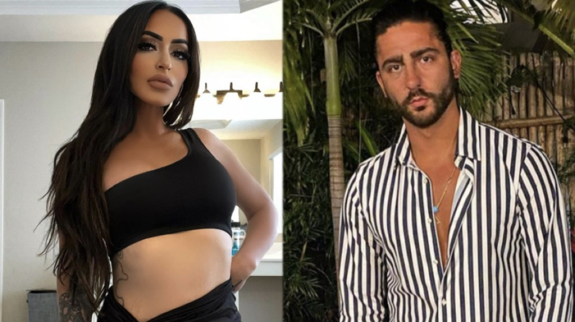 The events that ultimately led to the end of Angelina Pivarnick's marriage to Chris Larangeira began to play out during Thursday's episode of Jersey Shore Family Vacation, with Angelina leaving for (and returning from) Spain where she was filming the MTV spinoff All Star Shore.
As you may remember, Chris– who has appeared alongside Angelina on 'Jersey Shore Family Vacation'– filed for divorce on January 22 after just two years of marriage.
The Ashley broke the news in February that Angelina's actions while filming the new reality show may have put the final nail in the coffin for the couple's marriage. Later that month, the identity of Angelina's 'All Star Shore' co-star was revealed to be Luis "Potro" Caballero of Acapulco Shore.
This week's episode of 'Jersey Shore Family Reunion' saw Angelina taking off to Spain to film 'All Star Shore' and later returning to the states unable to find her husband.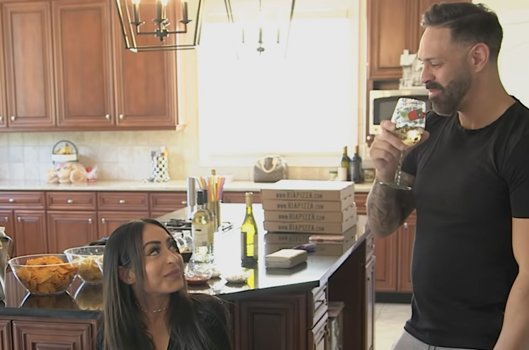 Angelina later tells her sister that she's heading to Mexico to spend time with an unnamed special someone, ultimately confessing that the special someone is Luis, and that the two of them are planning to ring in the New Year together.
"Luis is a guy that gave me some attention in Spain," Angelina reveals in a confessional. "I felt like a woman again."
As 'Jersey Shore Family Vacation' viewers know, Angelina and Chris had marital issues throughout their union, many of which were discussed on the show. Angelina filed for divorce in January 2021, though she and Chris reconciled and the divorce was called off. Still, the pair continued to have problems throughout most of 2021.
Despite her sister encouraging her not to vacay with her new man–due to the fact that Angelina had recently stated that she wanted to try to make her marriage to Chris work— Angelina decides to do so anyway.
"But you're probably gonna go anyway?" Angelina's sister says.
"Do you know who I am?" Angelina replies.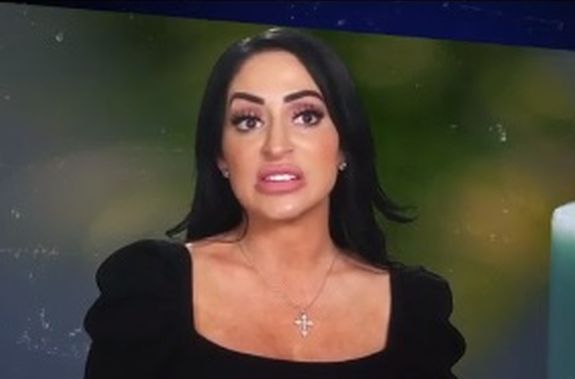 Despite the fact that she's still married, Angelina does very little to keep the trip with Luis a secret from the public, including her 'Jersey Shore' roomies.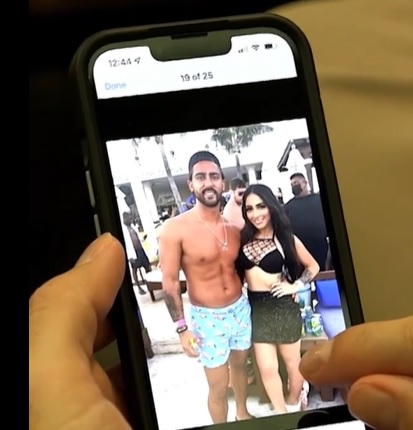 Upon returning home, Angelina is questioned by Deena Coretese about the vacation photos seen on social media, as well as the location of Angelina's husband.
"He moved out," Angelina replies.
"Because of Cancun?" Deena asks.
Angelina's marriage issues and fling with Luis will continue to play out this season on 'Jersey Shore Family Vacation,' but Angelina has made a vow to not watch along with viewers.
"Decided to not live tweet because I'm not watching the show," Angelina tweeted on Thursday. "I'm too hurt by a lot of things. This season is going to be hard for me mentally."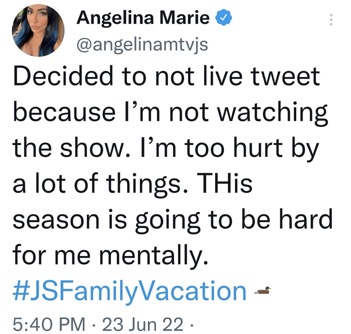 'Jersey Shore Family Vacation' airs Thursdays on MTV.
RELATED STORY: Side Piece Allegations, A Sinking Marriage & The Blond Situation: Take Your First Look at 'Jersey Shore Family Vacation' Season 5B
(Photos: Instagram; MTV; Twitter)