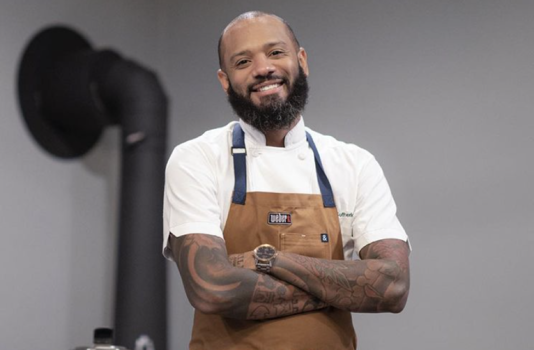 Content Warning: The photo of Justin Sutherland's injuries included in this story may be disturbing to some readers.
Justin Sutherland of Top Chef is on the road to recovery after falling off of a boat and hitting a propeller during a July 3 outing. The TV chef–who has also appeared on Iron Chef America and co-hosts TruTV's Fast Foodies— took to Instagram on Monday to post the first photo of his face since the accident, showing stitches across his eye, cheek and nose.
"The pain means you're alive. The scars mean you've survived," Justin captioned the photo. "A 'few' more surgeries to go…"
Warning: Graphic photo below
View this post on Instagram
Fans first learned about Justin's accident via a statement posted to the chef's Instagram account last week. The statement provided few details, except that Justin was in a boating accident and was reportedly "recovering and in good spirits."
More details about Justin's accident and the subsequent injuries he suffered were provided on a page for a GoFundMe fundraiser created by some of his friends. In the description for the fundraiser, it was revealed that Justin fell off the boat he was driving while trying to grab his hat, which had blown off of his head.
"He fell into the water near the motor, and the propeller did a number on his head and left arm," the description continues. "His arm is broken, but his grip remains strong and there appears to be no nerve damage. His jaw is severely broken, but doctors are optimistic that with several more surgeries he will be grinning in no time."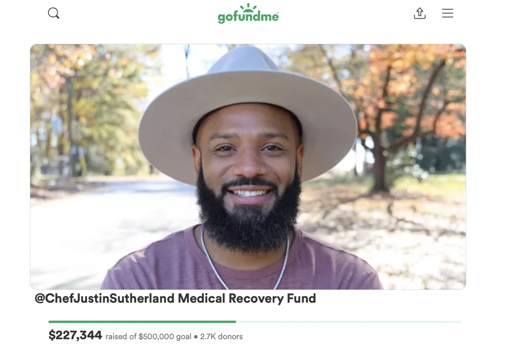 The page also explains that Justin sustained many lacerations to his face, "but with plastic surgery, they will become a reminder of his survival story…
"Justin is currently in the hospital and set to be there for some time, having had many surgeries so far and facing many more to come," the page stated.
As of Tuesday, the GoFundMe had raised more than $227,000. (He has received donations from notable restaurateurs and chefs, including Brian Ingram and Rachael Ray.)
The Food Network star also kept fans well-informed this week as he prepared to go under the knife again, though he later revealed there had been some "last minute changes to the surgery plan."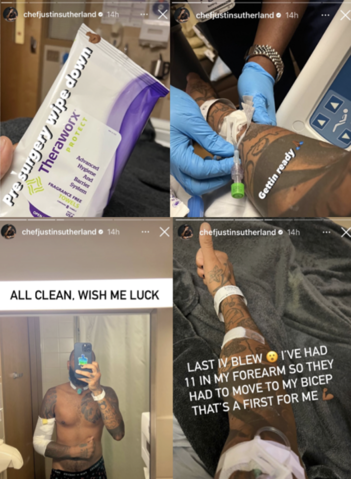 Justin went on to share that while his "jaw will be wired shut for 6 weeks," he has decided to "forgo the previously recommended feeding tube," as he believes he can consume the necessary 2,500 calories and 160 grams of protein needed daily through a liquid diet.
"You know me I'm always up for a challenge and love to prove people wrong," he continued. "That being said I may be reaching out to the chef, nutritionist, and home cook community for some nutrient rich and delicious liquid meal options.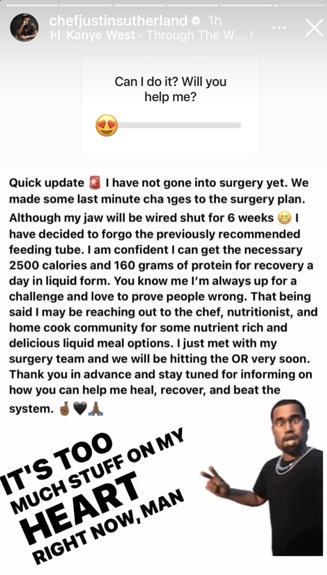 "I just met with my surgery team and we will be hitting the OR very soon," he added. "Thank you in advance and stay tuned for informing on how you can help me heal, recover, and beat the system."
In addition to appearing on the 16th season of 'Top Chef' (aka 'Top Chef: Kentucky') in 2019, hosting 'Fast Foodies' and winning an episode of 'Iron Chef America,' Justin has appeared on Chopped and Guy's Grocery Games. He also hosted and executive-produced Taste the Culture with Justin Sutherland for TruTV this year.
When he's not appearing on TV, Justin is the Executive Chef for the Handsome Hog– a Southern cuisine restaurant in St. Paul, Minnesota.
Click here to keep up with Justin's recovery journey or donate to his medical fund via GoFundMe.
RELATED STORY: Chef Bobby Flay Is Reportedly Leaving Food Network After Nearly Thirty Years Due to Contract Dispute
(Photos: Instagram; Food Network; GoFundMe)