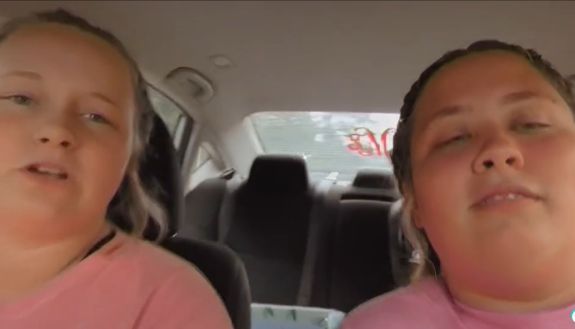 Back in 2015, Mama June Shannon and her daughter, Lauryn "Pumpkin" Shannon, both came out as bisexual, and it appears that June's other daughter, Jessica, also swings both ways.
In new photos taken by The Sun, Jessica (aka "Chubbs") posed with her girlfriend, Shayann McCant, a 19-year-old single mom who also hails from Georgia. Jessica, who is 25, is shown kissing and holding hands with (not to mention modeling questionable footwear) with Shayann in the photos.
This marks the first time that the Mama June: Road to Redemption star has publicly come out as being part of the LGBTQ community. It's unknown how long Jessica and Shayann have been together, but they posed for a photo together on Memorial Day back in May that Jessica later posted to her Instagram account.
View this post on Instagram
On her personal Facebook, Jessica wished Shayann's four-year-old daughter a happy birthday back in June. (That means Shayann had her child when she was around 15 years old– the same age Jessica's mom, June, was when she gave birth to her first daughter, Anna.)
Back in 2015, June stated that she had hooked up with women in the past, but never had a relationship with one. (She married Justin Stroud earlier this year.)
"It's no big deal, I was young and experimented with [bisexuality], never went pro though just played the minor leagues," she told TMZ at the time.
Pumpkin has also been married to a man– Josh Efird— since 2018. He is the father of Pumpkin's four children.
Jessica has been much-more secretive about her relationships than her mom and sisters. Her relationship with Shayann is the first one she's made public, although she did date a man named Phillip for over a year during her time on Here Comes Honey Boo Boo.
#EXCLUSIVE: Mama June's reclusive daughter Jessica, 25, reveals romance with single mom Shyann McCant, 19, as pair shares sweet kiss https://t.co/9DCKUOvCtC pic.twitter.com/y5MFVtSQya

— The US Sun (@TheSunUS) August 19, 2022
It is unknown if Shayann will appear on Mama June: Road to Redemption with Jessica.
RELATED STORY: Mama June Shannon Sues Former Friend Adam Barta on A&E's 'Court Night Live'; Wins $5,000 & Right to Be Named Executive Producer of 'The Dish'
(Photos: Instagram; TikTok)