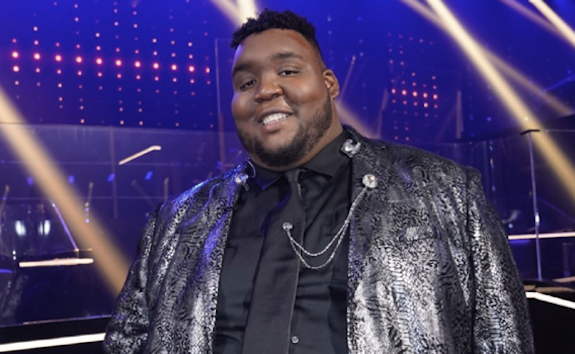 American Idol Season 19 runner-up Willie Spence has died at the age of 23 after sustaining injuries from a car accident.
A family member of Willie's confirmed to TMZ that Willie was driving home to Atlanta from Tennessee on Tuesday when the accident occurred. Willie had a flat tire at some point; however, he reportedly continued driving after getting the flat fixed. According to the local media site Douglas Now, the 23-year-old's car "left the road and struck the back of a parked tractor-trailer," while driving in Tennessee.
Fans of 'American Idol' may remember Willie's impressive audition last year, during which he belted out "Diamonds" by Rihanna–- a performance that earned him a standing ovation from judge Lionel Richie, who called Willie "an undeniable star."
"You are a special, special human being," judge Luke Bryan added.
After judge Katy Perry told Willie he had a voice that stopped people in their tracks, she went on to ask the singer what he wanted his music career to look like in five years.
"I just want my voice to reach the world and just share my gift," Willie replied. "Hopefully winning a Grammy, that's where I see myself … It's gonna take hard work, but I feel like I can do it."
On Wednesday, the 'American Idol' Facebook page reposted Willie's moving audition, along with the caption, "Shine bright, Willie." The show also shared the video and a message on Instagram.
"We are devastated about the passing of our beloved 'American Idol' family member, Willie Spence," the caption read. "He was a true talent who lit up every room he entered and will be deeply missed. We send our condolences to his loved ones."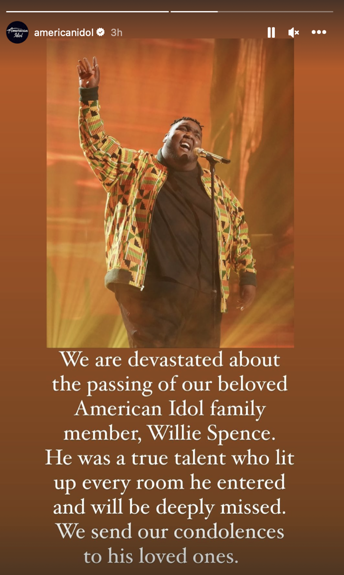 Katy took to the comments of the post to share some words about Willie, calling him the "purest soul."

"Sing with the angels my darling," she added.
'American Idol' host Ryan Seacrest also took to social media following the news of Willie's passing, telling fans "everybody on and off set loved him."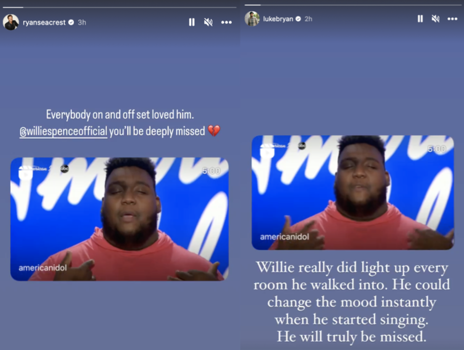 "Willie really did light up every room he walked into," Luke Bryan wrote. "He could change the mood when he started singing. He will truly be missed."
Willie is the fifth 'American Idol' contestant to pass away. Nikki McKibbin of Season 1 died in November 2020; Michael Johns of Season 7 died from a blood clot in 2014; Season 2's Rickey Smith was killed in a car accident in 2016; and Leah LaBelle of Season 3 died in a car accident in 2018.
(Photos: ABC; Instagram)