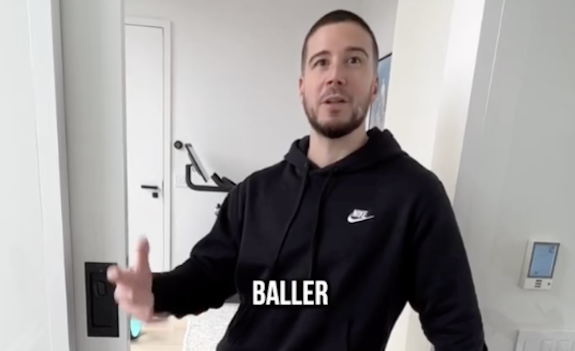 Jersey Shore star Vinny Guadagnino gave fans an inside look at his New York City apartment this week when he took part in one of TikTok star Caleb Simpson's viral apartment tours.
For those unfamiliar with Caleb, he refers to himself as "this generation's MTV Cribs" and is known for approaching people on the street, asking how much they pay for rent in the city, and then getting the individuals to invite him inside for a tour.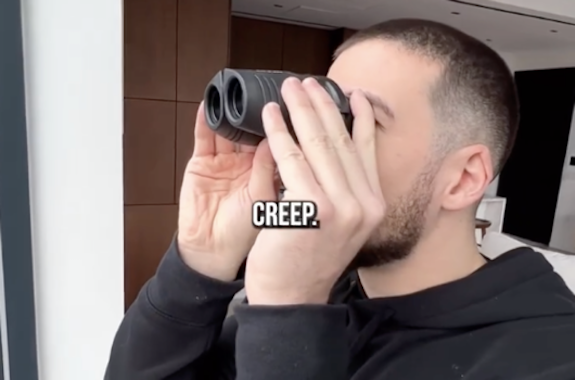 Caleb makes a point to note the occupation of each of participant, and while the careers can be anything from YouTuber to garden designer, Caleb listed Vinny's occupation as, "It's Vinny."
The video kicks off with Caleb prompting Vinny mid-workout with the usual question, "how much do you pay for rent in New York?" Vinny tells Caleb he doesn't pay rent because actually owns his Downtown Manhattan home, and he promises Caleb a tour if he joins him on the rest of his run.
Upon walking into Vinny's home, Caleb is greeted by Vinny's dog as well as impressive views of the city from Vinny's living room (which features floor to ceiling windows) and a look at his kitchen.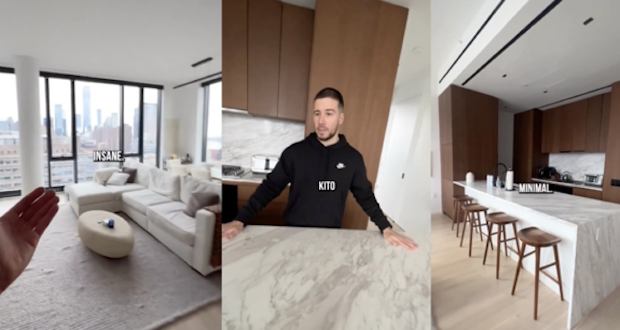 "I'm a big view guy," Vinny says. "I keep everything, like, really simple and minimal. And I love to cook. They call me the Keto Guido … I feel like I'm on 'MTV Cribs.'"
Vinny goes on to joke about how he was able to afford such a nice place, subtly giving credit to 'Jersey Shore.'
"I gained this apartment from drinking and fist-pumping, ya know," he says before showing off an MTV award he has displayed on a drink cart in his house. "I just leave this [award] here to remember where I came from."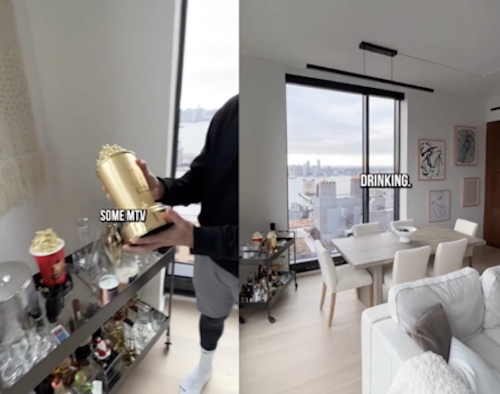 The Keto Guido's place also includes a guest room that doubles as a spot where he can ride his Peloton or get his stretch on while enjoying the view-– something he says he's able to do from "every room."
"I don't even need a weatherman, 'cause like, I just look out the window," he says. " … I need to always see the view."
The views continue in Vinny's master bedroom with floor to ceiling windows on two of the walls, followed by a look at his closet and master bathroom, featuring a bathtub that Vinny admits he doesn't use.
"I never use the tub. If I ever have a girlfriend, she could, like, take a bath," he says.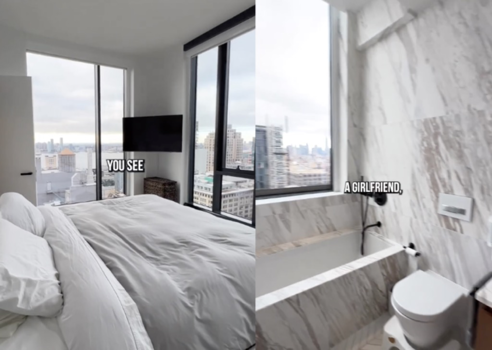 "I honestly came up with no money in a tiny apartment in Staten Island," Vinny says after Caleb compliments him on the impressive views in nearly every room. "If my family comes over and stuff, I want them to feel, like, baller.
" … all that from fist pumping and getting drunk," he adds.
If you're hoping to snag an NYC apartment like Vinny's, you'd better have plenty of fist-pumping cash. According to records obtained by The Ashley, Vinny paid over $3.4 million for his 1248-square-foot condo, which he purchased earlier this year!
Check out the tour of Vinny's apartment below!
@calebwsimpson

@vinnyguadagnino Location: Downtown Manhattan Occupation: its vinny
RELATED STORY: 'Jersey Shore' Star Ronnie Ortiz-Magro is Granted Primary Physical Custody of Daughter He Shares With Ex Jenn Harley
(Photos: TikTok)