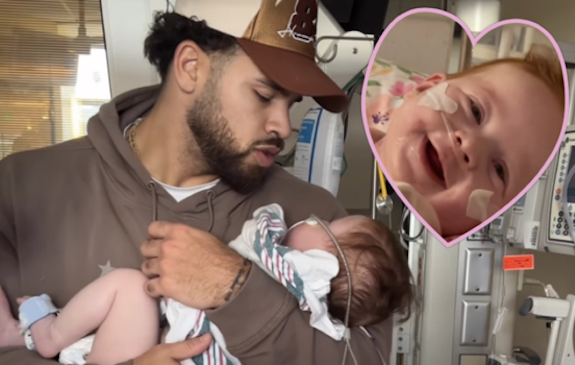 After remaining silent on social media for a few days, Teen Mom: The Next Chapter dad Cory Wharton and his girlfriend Taylor Selfridge have returned to social media to provide an update on their daughter Maya's health.
On January 4, Cory revealed the seven-month old–– who was born with a rare form of heart disease called tricuspid atresia–– would be having open heart surgery and asked followers for prayers. After the surgery, Cory indicated that things hadn't gone as they had hoped. Although he initially posted a couple of updates about Maya after her surgery, the posts quickly came to a halt. Cory's next update came about five days after Maya's surgery took place.
(Cory and Taylor previously shared that they had known about Maya's heart condition since Taylor was about 22 weeks pregnant, and that their daughter would need a series of procedures due to her heart condition, one taking place the first week of her life. At just six days old, Maya had a stent put in place. In addition to her most-recent open heart surgery, Maya will need to have a second open heart surgery when she's 3 or 4 years old.)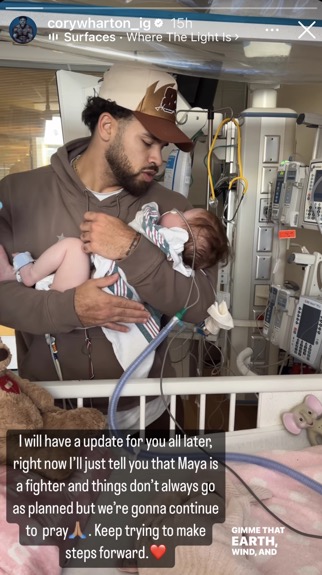 "I will have an update for you all later, right now I'll just tell you that Maya is a fighter and things don't always go as planned but we're gonna continue to pray," Cory wrote soon after Maya's surgery. "Keep trying to make steps forward."
Fans began to become concerned after Cory and Taylor stopped updating, and, on Saturday, Kyle Floyd (the father of Cory's baby mama Cheyenne), shared a prayed on Instagram, seemingly in reference to Maya, though he did not mention her name. During his prayer, he prayed for the baby girl to make it to her first birthday and live a long life after being healed.
" … You know I don't understand it all," he said in his post. "It's so complicated, so complex, I don't even try to understand it. But I do know, is you can do big things. I know this. And right now, make this child pain free. Make this child healthy. Give the parents some relief. They're good parents, they're young parents, give them some relief, take some stress off of them. Let their mind be at peace. They're good people, they're trying … ."
Cory returned to social media over the weekend, providing followers with an update on Maya's eleventh day in the hospital. He wrote that Maya's medical ordeal has been "the worse experience of my life."
"We are still in the hospital in ICU, this has been the worst experience of my life, to watch your child sit there and stare into your soul to DO SOMETHING to help and there's nothing I can do smfh," he wrote. "I don't even know how to sum it all up. I just continue to pray."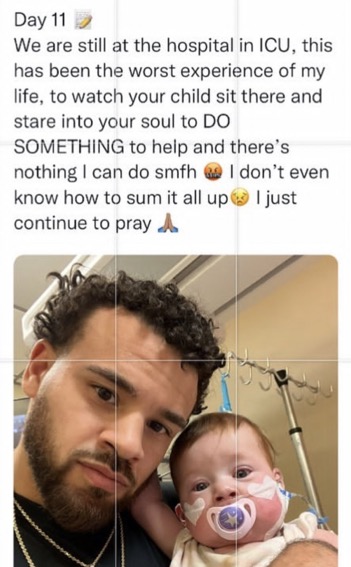 Taylor also resumed posting updates, claiming she and Cory were "traumatized" by what has happened, but assuring fans that Maya was "doing well now."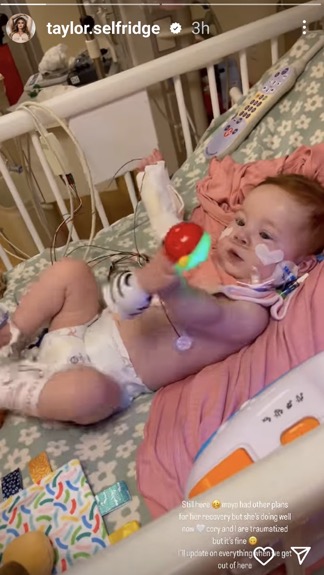 "Still here," she wrote. "Maya had other plans for her recovery but she's doing well now. Cory and I are traumatized but it's fine. I'll update on everything when we get out of here."
Taylor also shared a couple of positive Instagram Stories– one revealing Maya's first tooth, and another of Maya smiling.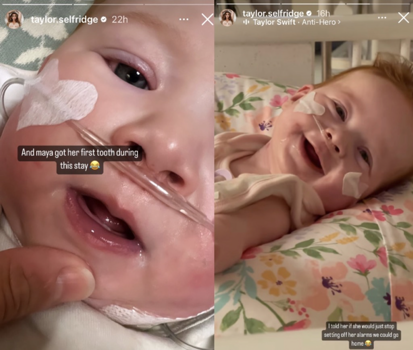 "I told her if she would just stop setting off her alarms we could go home," Taylor wrote.
RELATED STORY: Catelynn Lowell & Tyler Baltierra Are Moving From Their Octagon-Shaped Home to Larger House Despite Their Massive Tax Debt
(Photos: Instagram)