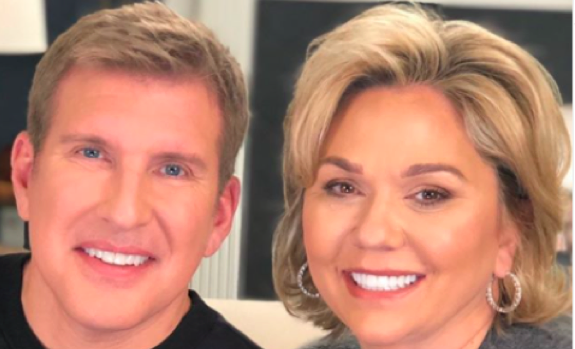 Todd and Julie Chrisley have already begun serving their respective prison sentences, but in the days leading up to the couple surrendering themselves, Todd revealed he's still hoping for legal redemption.
According to People, the former Chrisley Knows Best star spoke somewhat favorably of the legal system during the latest episode of his and Julie's Chrisley Confessions podcast–- recorded prior to the couple reporting to prison on Tuesday–- despite him and Julie receiving 12- and seven-year prison sentences, respectively, in November after being found guilty of tax evasion and bank fraud crimes. The Chrisleys are currently appealing their convictions.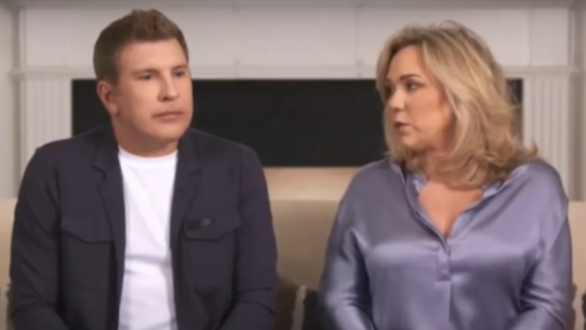 "The legal system, which we've never been a part of until now, is a very complex system that we just are still learning and we don't know, which is why we have all these attorneys that work for us," Todd said on his podcast. "You just have to hope and pray to God that when one division of the judicial system fails, that the next level, which is the appellate court, sees the mistakes and tries to correct those mistakes."
Todd said it was "the best that you can hope for," adding, "you have to put your faith in God and hope that God is going to lift you up and push you forward. And that's what we're doing right now."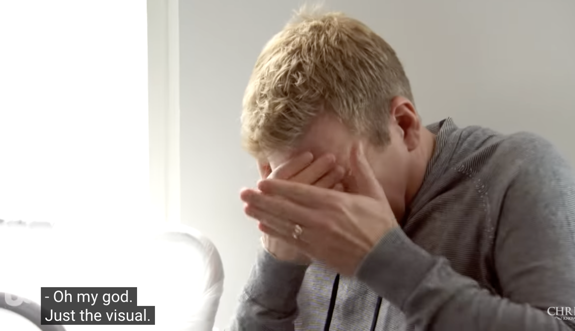 Todd went on to acknowledge that while "there are so many more people" facing worse than what he and Julie are facing, he believes their situation will be a temporary one.
"I think that that's why I'm in a better place with it, because I know that this is not my final destination," he said. "I know that this may be my future for a minute, but I also have faith that the judicial system is going to turn it around. I also have faith that the appellate court is going to see this for what it is."
While Todd (and Julie) are maintaining a lot of faith in the judicial system, their daughter Savannah Chrisley seems more focused on the unfairness she has witnessed as of late.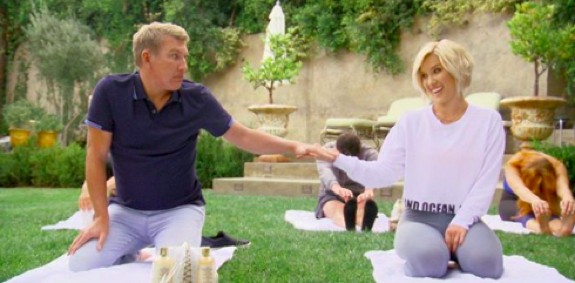 On Tuesday's episode of Savannah's Unlocked podcast–- the last episode her mom Julie appeared on before reporting to prison-– Savannah compared her parents' situation to that of Real Housewives of Salt Lake City star Jen Shah. The Bravo star was sentenced to six and a half years behind bars on January 6 after she pleaded guilty to wire fraud charges in relation to a nationwide telemarketing scheme, according to Life & Style.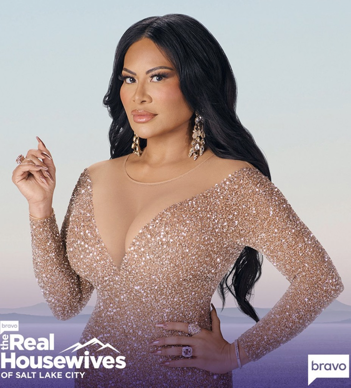 "Put the cases side by side and it makes no sense– it just doesn't," Savannah said. "[With Jen's case] there were hundreds of victims who were elderly, and people that provided statements that lost their homes, threatened to end their lives … ."
Even Julie noted during the episode– recorded a week prior to airing– that to her knowledge, there "were no victim statements" during her and Todd's trial.
Savannah stated that her parents have continued to profess their innocence, and that she is going to fight for them to be released.
"You have someone who has not admitted to guilt and who will stand firm in that," Savannah said on the podcast. "We're standing by our truth that it is not guilty, [and] there are no victims … I have committed myself to figuring out what that is and for us to get to the other side of this so that we can help other people who are going through things like this."
RELATED STORY: Todd & Julie Chrisley Report to Federal Prisons to Start Serving Their Sentences; Todd Hides From Press Outside Prison Entrance
(Photos: Instagram; USA Network; Bravo)