The Chrisleys have officially traded their luxury frocks for jailhouse jumpsuits.
Todd and Julie Chrisley both surrendered themselves on Tuesday to begin serving their years-long prison sentences. After having their request to postpone their surrender date denied by a judge last week, the Chrisley Knows Best stars were seen grocery shopping days before their surrender date. The couple then went their separate ways to surrender, with Todd heading to Federal Prison Camp (FPC) Pensacola, a minimum-security facility.
Julie, meanwhile, arrived at the Federal Medical Center in Lexington, Kentucky. (She was originally ordered to report to FCI Marianna SCP, a minimum-security satellite camp for female inmates, but had her location changed in recent weeks.)
According to photos and video taken by Daily Mail, Todd was not happy to see a group of paparazzi and newscasters set up near the prison entrance. As he was driven into the prison entrance in a Range Rover with blacked out windows, the Chrisley patriarch held a pillow in front of his face to hide from the media trying to take his photo.
Julie arrived at her facility in the backseat of a black Cadillac Escalade. She was accompanied by her father, Harvey Hughes, who left the facility very upset after dropping Julie off.
"Approximately 15 minutes later, the luxury SUV was spotted leaving the property and a visibly upset Harvey Hughes could be seen sobbing through the window," Daily Mail reported.
As The Ashley reported in November, Todd and Julie received 12- and seven-year prison sentences, respectively, after being found guilty of tax evasion and bank fraud crimes. The Chrisleys are currently appealing their convictions.
On Monday night, Todd received plenty of support online from his children. His daughter, Savannah (who will reportedly take custody of her younger brother and sister), wrote in the comment section of his final post.
"I love you daddy," she commented.
"I love you daddy," Todd's oldest son Kyle Chrisley wrote. "This isn't over."
Now that Todd is locked up, the notoriously appearance-conscious reality star will be forced to follow a strict daily routine and dress code. He will wear the same uniform as his fellow inmates–- green pants and shirt, white socks and black steel-toed boots.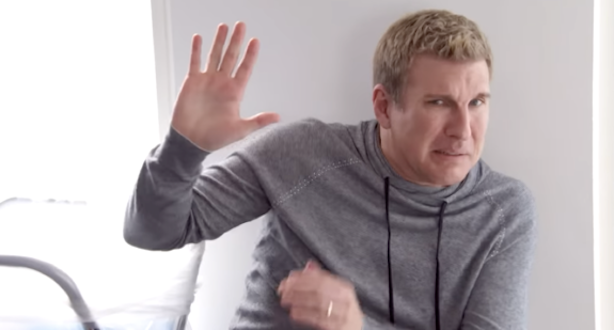 Todd's day will begin at 4:45 a.m. and breakfast will be served from 5 a.m. to 6 a.m. By 6:30 a.m., Todd's bed will have be made military-style and his room will need to be completely clean. Todd's work day will start by 7:30 a.m. and end between 3 p.m. and 5 p.m., during which time he will work at one of the many potential prison employment positions, including cook, plumber, librarian, landscaper, dishwasher or laundry worker.
Todd and his fellow inmates will eat lunch at 11 a.m. and eat dinner at 4:30 p.m. Daily mail call takes place until 8:30 p.m. and it's lights out at 10:30 p.m. When Todd isn't complaining working or eating, he will have the opportunity to partake in various sports at the facility, including softball, flag football, basketball, soccer, volleyball and weight training. He can also enjoy music, horseshoes or crafts like art and woodworking.
RELATED STORY: Judge Denies Todd & Julie Chrisley's Requests For Bail & To Delay Surrender Date
(Photos: USA Network; Facebook)