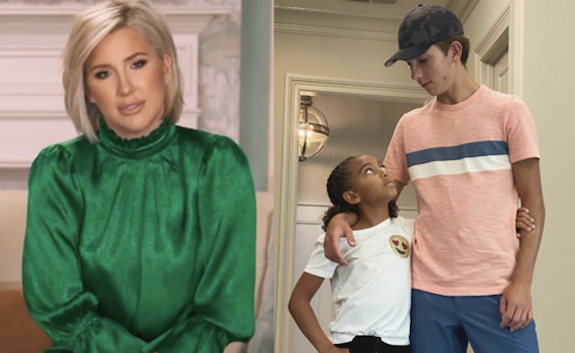 While Todd and Julie Chrisley prepare to serve time in prison, their daughter Savannah is getting ready to take custody of her younger brother and niece while Todd and Julie are away.
As The Ashley told you Tuesday, Todd and Julie received 12- and seven-year prison sentences, respectively, for tax evasion and bank fraud crimes.
Prior to Todd and Julie learning their fate on Tuesday, 25-year-old Savannah recorded an episode of her Unlocked podcast during which she discussed her feelings about her parents going to prison, as well as what will happen to her 16-year-old brother Grayson and her 10-year-old niece Chloe when Julie and Todd are locked up. She stated that she– and the rest of the family— are devastated.
"The best way I can describe it is like grieving the loss of parents who are still alive," Savannah told her listeners in the video, released Wednesday. "[It's] a really weird thought process and feeling."
Savannah— who did not know at the time the episode was recorded when or if the Chrisleys would be going to prison— also talked about the possibility of Todd and Julie being taken immediately into custody after the sentencing.
"I may come home without both of my parents," Savannah stated. "That's what the chances are. That's the likelihood, and that's my new normal."
While Todd and Julie are not due to surrender themselves until January 15, 2023, Savannah revealed she would be the one stepping up to care for her Grayson and Chloe in her parents' absence.
"I come home Tuesday, and I have custody of a 16-year-old and a 10-year-old, and we spend our first Thanksgiving not as a family," Savannah said on her podcast, according to TMZ.
Todd's eldest son, Kyle, 31, is the biological father of Chloe; however, Todd and Julie have had custody of Chloe since 2016 due to Kyle's past issues with drug addiction. (Todd is also a dad to a 33-year-old daughter Lindsie, from his previous marriage, and he and Julie are parents to 26-year-old son Chase.)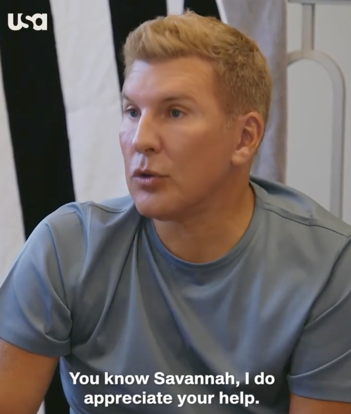 While Savannah was unaware of the outcome of her parents' sentencing at the time she recorded the podcast episode, she stated that "the short-term is going to be really painful and really difficult" for her and her family, noting that she's never been away from her parents for the holidays.
" … I've never had to worry about where my parents were, if they were gonna show up," she continued. "And I think that's the hard part … and I think there's a level of guilt, too, for myself of knowing that Chloe and Grayson aren't gonna have that same feeling of are mom and dad gonna be home tonight.
"I think that's the hardest part, is me trying to navigate how you teach two younger children who aren't fully developed yet and how to get them to understand the circumstances," she added. "That's a really, really difficult thing."
While Julie previously asked the court to allow her and Todd's prison sentences to be staggered in order for someone to be there to care for their minor children, U.S. District Judge Eleanor Ross denied the request, pointing out that many defendants are also in this situation and are not accommodated.
Judge Ross has recommended that Julie go to the Federal Correctional Institute in Tallahassee, Florida, while Todd be sent to FCI Pensacola. FCI Tallahassee is about eight hours away from the Chrisleys' Nashville home, while FCI Pensacola is about seven hours away.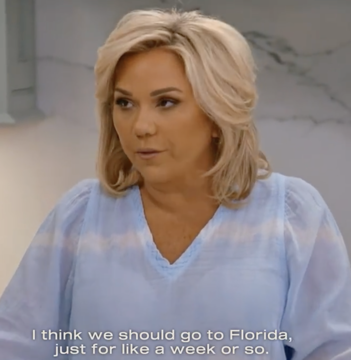 During the podcast episode, Savannah stated that her parents had "been convicted off of lies" and said that they will "immediately appeal."
"I'm not going to give up fighting for my family, and I'm also not going to give up fighting for the right thing to be done," she told her listeners.
Later she talked about her hope that her parents' convictions would be overturned via an appeal.
"We file for an appeal and, hopefully, by the grace of God, our truth wins, the truth wins," she said. "It's not just our truth. [Hopefully] our justice system kicks in and the right thing happens. But until then, we have to feel the hurt.
"…There's two kids who need unconditional support, love and hugs more than anything right now" Savannah stated later in the podcast. "And that's what I vow to do when it's just really, really sad and heartbreaking that this is what we have to go through."
View this post on Instagram
In the wake of Todd and Julie's sentencing, the Chrisley family's attorney, Alex Little, released the following statement:
"Yesterday was a difficult day for the Chrisley family. But Todd and Julie are people of faith, and that faith gives them strength as they appeal their convictions. Their trial was marred by serious and repeated errors, including the government lying to jurors about what taxes the couple paid. Based on these issues, we are optimistic about the road ahead."
A day after the couple's sentencing, all of the Chrisley family's reality shows were cancelled, including USA Network's Chrisley Knows Best and E!'s Growing Up Chrisley. Love Limo, an upcoming E! dating show that was due to be hosted by Todd, was also scrapped.
You can watch the full episode below!
RELATED STORY: 'Chrisley Knows Best' & 'Growing Up Chrisley' Reportedly Cancelled; Todd Chrisley's 'Love Limo' Dating Show Scrapped
(Photos: USA Network; Instagram)