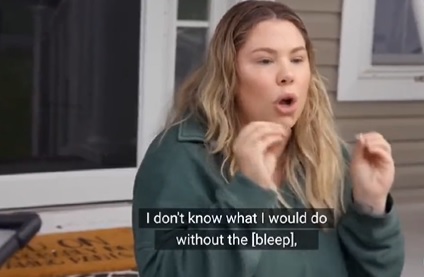 From fighting with your ex to fighting on Twitter, it's been another busy week for the stars/former stars of the Teen Mom franchise! In an effort to bring you up-to-date on the latest Teen Mom OG, Teen Mom: Young & Pregnant and Teen Mom 2 news, The Ashley brings you the Teen Mom News Pile.
Here are some of the major (and minor but interesting) 'Teen Mom'-related things that happened over the last few days…
Kail Lowry revealed just how bad things are between her & ex-husband Javi Marroquin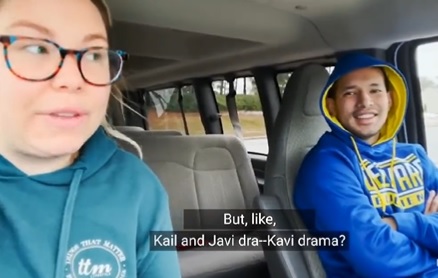 Things have gone south— very far south— in the co-parenting relationship of former 'Teen Mom 2' stars Kail and Javi. The exes– who would occasionally bang out their frustrations in the parking lot of the local WaWa (allegedly)– are now not even on speaking terms.
"He won't even look at me or speak to me if I'm in his presence," Kail said during a recent episode of her Coffee Convos podcast. She also revealed that her feud with Javi has had a negative effect on their son, Lincoln.
"[Lincoln] said something to both of us on Sunday. He was like, 'You get along, then you don't get along, and then you do, and then you don't,' and he was basically saying that it's exhausting."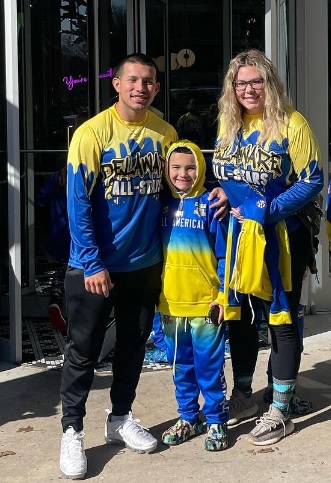 "I said, 'Unfortunately, that's between me and your dad but you need to focus on you and football' but he can't because he wants his parents to be friends. He wants them to get along, at the very least, and it's hard."
When Kail's co-host Lindsie Chrisley pointed out that things must be pretty bad if their son is saying this, Kail insisted that the feud is Javi's fault and not hers.
"Lindsie, it's not me," Kail said, adding that Javi refused to thank her for what she did for Lincoln's football team as the team mom.
"That's how bad of a term we're on, and it's not because of me," Kail said again. "I don't care what anyone says, it is not because of me. I am so far past that."
She then hinted that Javi's current relationship redo with his other baby mama (and Kail nemesis) Lauren Comeau has a lot to do with her and Javi not getting along.
"If he wants to be in a relationship or not, I'm OK with that, I'm comfortable with that," she said. "I want to be on civil terms, talking terms, for my son because my son loves us both."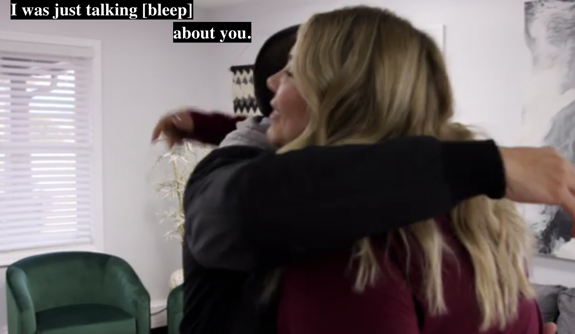 "It's been six or seven years since we got divorced, and we know what we're capable of [co-parenting-wise]," she said. "So why are we not OK to say thank you to each other or hi and bye? I don't care if he's in a relationship or not. Hi and bye, there's no boundaries crossed."
Kail didn't go into details about whose 'boundaries' she was talking about. However, Kail and Javi and Lauren have a long history so it's likely Lauren's.
As fans may remember, Lauren called out Javi and Kail in an Instagram Live session in January 2021, after an episode of 'Teen Mom 2' aired in which Kail blurted out that Javi had had been trying to hump her in the WaWa parking lot (as you do) behind Lauren's back. Kail later apologized to Lauren for humiliating her on TV. In that 2021 Instagram Live session, a sobbing Lauren discussed what it was like hearing Kail talk about Javi trying to cheat with her.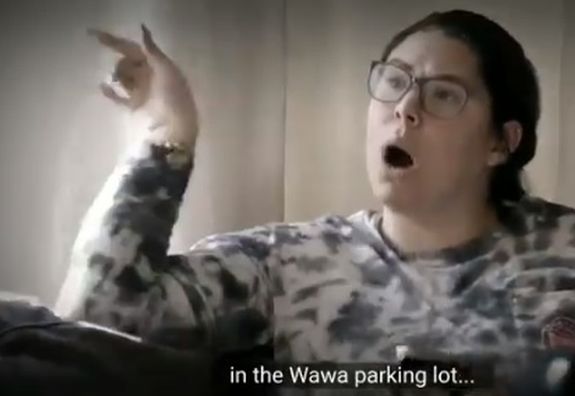 Still, Kail stated on the podcast that she feels that she and Javi can still respect "boundaries" and get along.
"There's a difference between 'boundaries' and just being f**king nasty," she said, before confirming that there has been no bangin' at the WaWa happening.
"Javi and I haven't hooked up in God knows how long, so that's not even a factor right now," she said.
Kail has also stated that Javi does not like her posting about him on social media or talking about him on her podcasts, something Kail has said she will continue to do.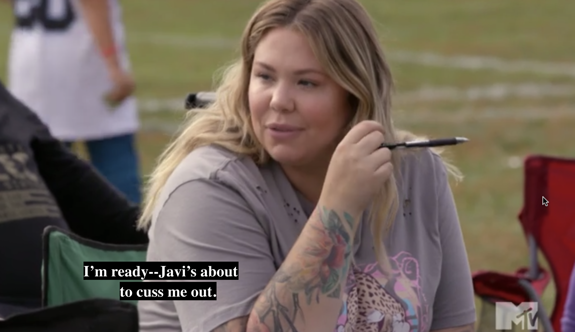 "He'll cuss me out for talking about it, but this is my real life that I'm struggling with," she said. "I did nothing to deserve the treatment that I've gotten."
Nathan Griffith's ex-girlfriend Ashley Lanhardt is getting hitched.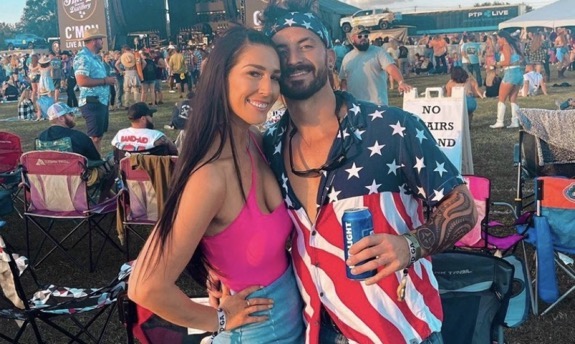 Ashley Lanhardt, who previously appeared on several seasons of 'Teen Mom 2' as the longtime girlfriend of Nathan Griffith, announced this week that she is engaged to be married.
According to her Instagram, Ashley's fiancé, Lee Runion, proposed to her November 17 while they were vacationing in Aruba.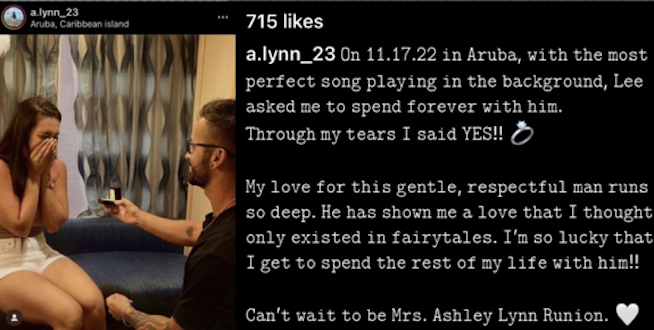 "My love for this gentle, respectful man runs so deep," she wrote. "He has shown me a love that I thought only existed in fairytales. I'm so lucky that I get to spend the rest of my life with him! Can't wait to be Mrs. Ashley Lynn Runion!"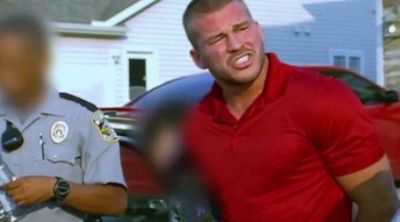 'Teen Mom 2' viewers may remember Ashley from a 2017 episode during which the cast was taping the Reunion. Backstage, Nathan's ex and baby mama Jenelle Evans saw her mom, Barbara Evans, give Ashley a hug, igniting a massive scene in the hallway, courtesy of Jenelle.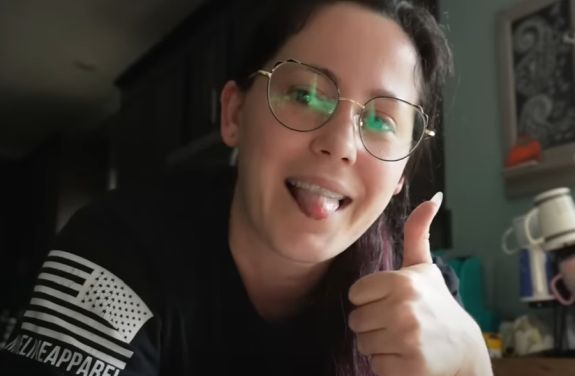 Ashley also stood by Nate's side as he attended custody court hearings for Jenelle and her husband David Eason, as The Land Dwellers struggled to win back custody of their children who had been removed from their home by CPS. Nate and Ashley cared for Jenelle and Nate's son Kaiser during the time he was not allowed in Jenelle's swamp home.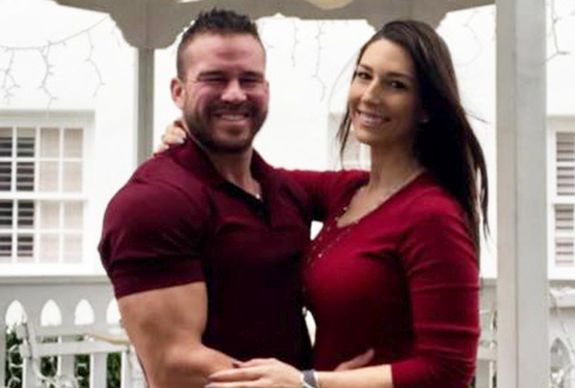 In July 2021, Nate finally confirmed that he and Ashley had ended their years-long relationship, after previously denying they had split. Nate revealed he and Ashley had actually been broken up for six months and that Ashley was the one who ended things. He also gave a shout-out to Ashley's now-fiancé, Lee.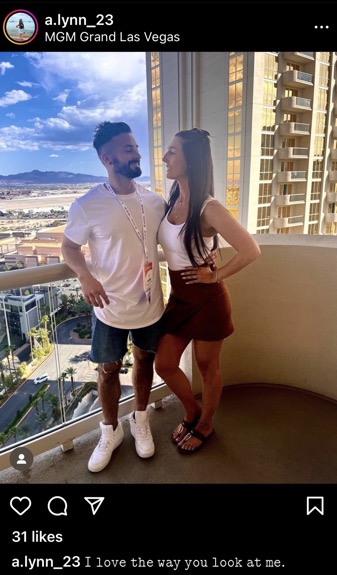 "He's a very attractive guy," Nate said on Instagram Live. "Him and Ashley are together right now."
Kayla Sessler's ex-fiancé Luke Davis has a new girlfriend…and some regrets about being on 'Teen Mom: Young & Pregnant.'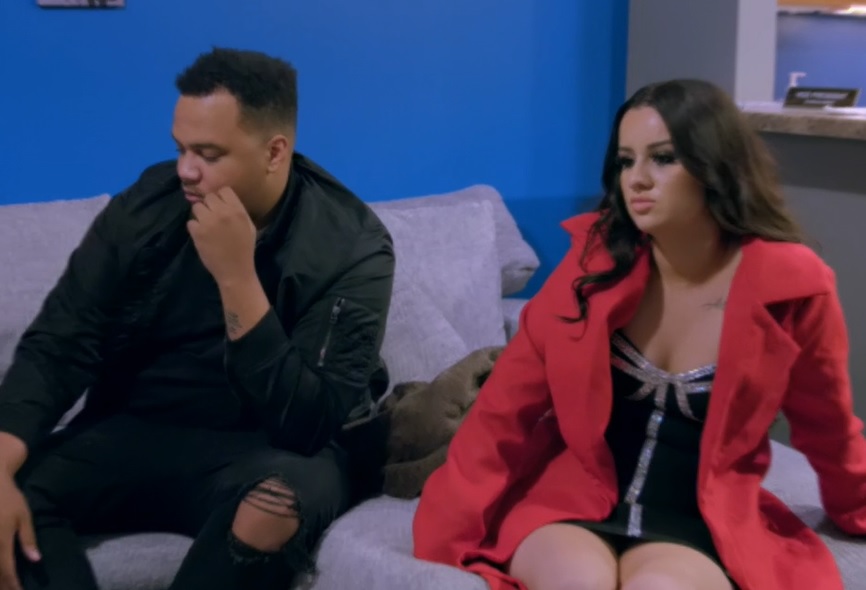 Luke, the ex-fiancé of 'Teen Mom: Young & Pregnant' star Kayla, confirmed this week that he's in a new relationship with a woman named Dez (He hasn't actually met her, though, as she lives in Arizona, while Luke is in Illinois. They have stated online that they plan to meet in-person later this month.)
Luke showed off his new girlfriend in a now-deleted Instagram Story, shared by @teenmomshaderoom__.
(He later shared a different photo of Dez on his IG Story that did NOT get the post-and-delete treatment.)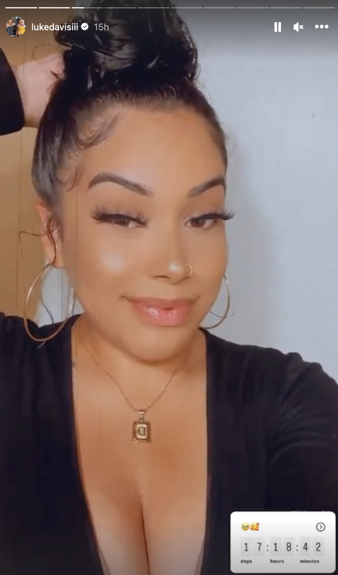 From what The Ashley can gather, Dez is currently married (but separated) and has three children. She is in her 20s.
While some fans in the comment section of @teenmomshaderoom__'s post suspected that Luke's new girl is only with him because he's on TV, Luke popped up in the comment section himself, insisting his girlfriend is "here for the right reasons." He also questioned why "everyone thinks being on TV is something special."
Later that day, Luke did a Q&A on his Instagram Story, during which he doubled down on his criticism of reality TV, telling his followers he regrets being on 'Teen Mom: Young & Pregnant.'
"I regret being on the show period would not recommended," he said. "Only bright side is the people I've met from the show and that worked with me got nothing but love for them all."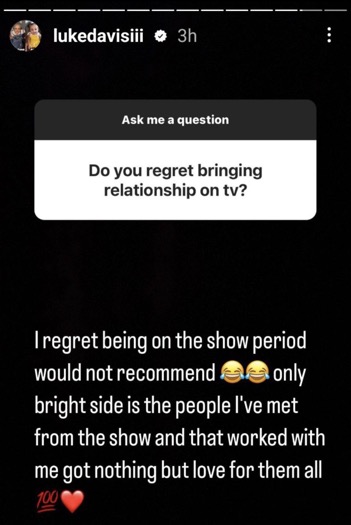 Luke's decision to take his new relationship public comes just two weeks after Kayla's mom, Jaime Szot, confirmed that Luke and Kayla were living separately as the pair's turbulent relationship had ended.
Kayla solidified the split that same day when she debuted her new man Justin on Instagram.
When asked if he was sad that Kayla moved on to someone new, Luke replied, "not at all."
" … I'm happy where I am we good over here," he added.
Kayla Sessler basically called Mackenzie McKee old.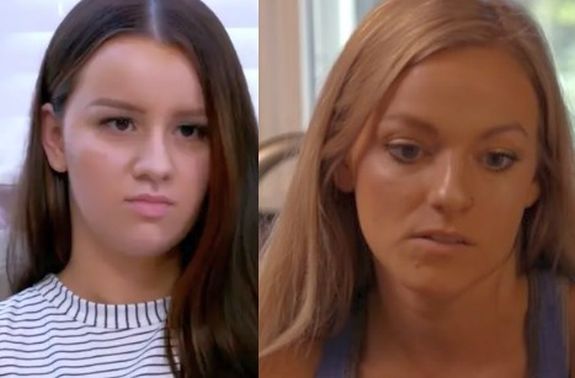 Speaking of Kayla, she was involved in a tiff this week on Twitter, clapping back at former 'Teen Mom OG' star Mackenzie McKee, who accused her of "hating." In a zinger thrown at Mackenzie, Kayla basically implied that Mack is old and should be more mature.
During the recent episode of Girl's Night In, Kayla and the other 'Young & Pregnant' girls watched an old episode of 'Teen Mom OG' that featured Mackenzie. When Mackenzie appeared at the beginning of the episode, Kayla told her co-stars, "Of course, we're gonna start with the boring one."
A NEW episode of #TeenMomGirlsNightIn starts NOW! Who's tuning in!? 🍿💕 pic.twitter.com/XQAzMlqiwm

— Teen Mom (@TeenMom) November 2, 2022
Mack apparently found out that Kayla had called her boring, prompting her to post a tweet about it.
"Idk who or what 'Young and Pregnant' is. But apparently they be hatin'," Mackenzie wrote.
Kayla responded to Mack's tweet, stating that she wasn't hating on Mackenzie. She then told Mack that she hoped to be as "boring" as her when she's Mack's age. (By the way, Kayla just turned 24, while Mackenzie turned 28 last month.)
Ma'am calling you "boring" isn't hatin' , at your age it should be a compliment 😭 At 30 I pray my storyline has calmed down and I get called boring 😂😂😂 https://t.co/b95UcxZnpi

— Kayla Sessler (@kayla_sessler) November 24, 2022
"Ma'am calling you 'boring' isn't hatin', at your age it should be a compliment," Kayla wrote to Mackenzie. " At 30 I pray my storyline has calmed down and I get called boring."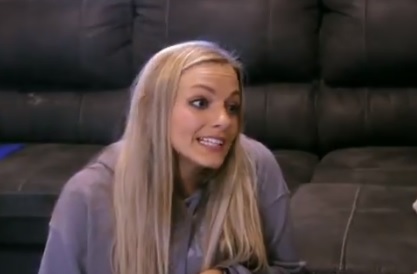 When a fan responded to Kayla's tweet writing, "Using the words 'at your age' and 30 should not go in the same sentence," Kayla explained that she meant, "you're more established at 30."
Mackenzie– who, again, is only 28— has not yet responded.
To catch up on more recent 'Teen Mom' news, click here!
(Photos: MTV; Instagram)