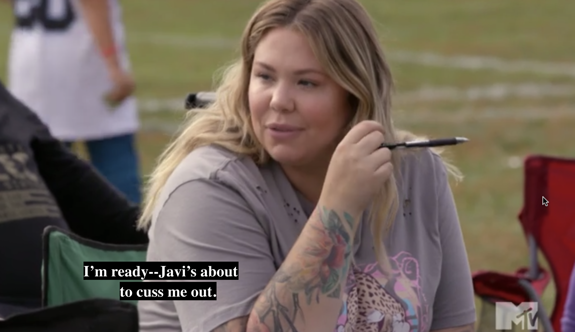 From blabbing about their exes to buzzing their hair , the stars of the Teen Mom franchise (both past and present) have been keeping themselves busy lately! In an effort to keep you up-to-date on the latest Teen Mom OG, Teen Mom: Young & Pregnant and Teen Mom 2 news, The Ashley brings you the Teen Mom News Pile.
Here are some of the major (and minor but interesting) 'Teen Mom'- related things that have happened over the last week or so…
Kail Lowry reveals Javi Marroquin is back with his other baby mama Lauren Comeau, Javi seemingly responds to Kail blabbing about his life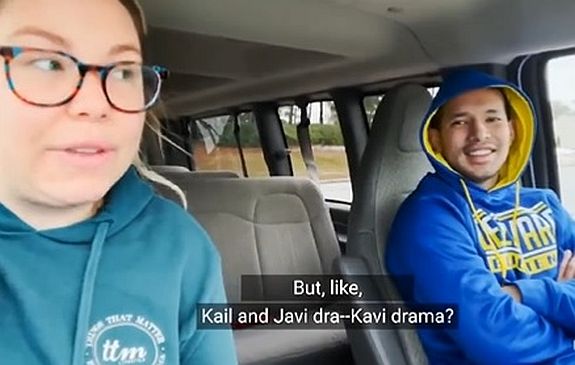 Kail Lowry announced over the weekend that she was leaving the Facebook group for her Coffee Convos podcast, after a fan shared on Reddit that Kail had spilled some tea in the group regarding the relationship status of her ex-husband, Javi Marroquin.
After Kail told the group that Javi and his ex-fiancé Lauren are now back together (but that Lauren is not pregnant, to her knowledge), someone screenshot Kail's comments and posted them to Reddit, where they began to spread around the Interwebs.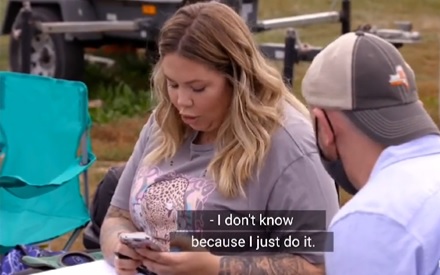 After Kail found out that her comments in the group had been "leaked" to Reddit, she announced her departure from the "Coffee Convos Podcast Fans!" page.
"I'm leaving this group because you guys can't keep anything in here," Kail wrote in a post made to the group's Facebook page. " … I apologize for speaking on anyone else's relationship in this group. I didn't know it was private or secret but also for expecting y'all to keep anything private."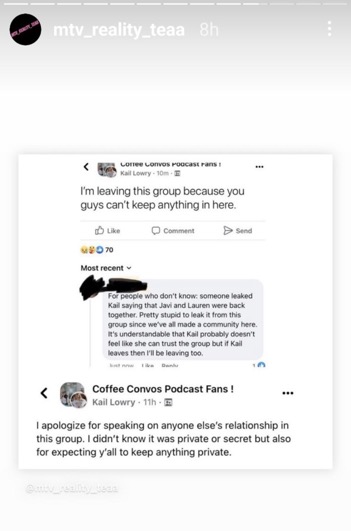 Javi seemed to respond to the debacle on Sunday, posting a quote that many suspected was directed at his ex-wife.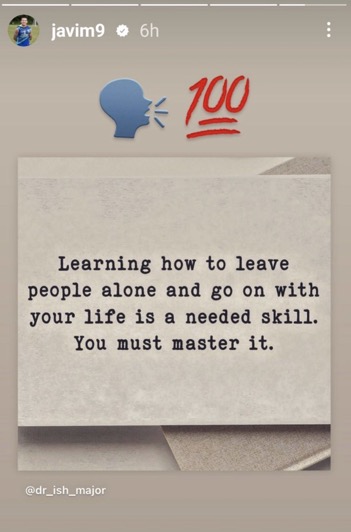 "Learning how to leave people alone and go on with your life is a needed skill. You must master it."
As The Ashley has previously reported, Javi has asked Kail to stop talking about him (and his family) on her podcasts, but Kail has continued to do so. Last month, Kail read a text on-air that she received from Javi, where he told her that he wanted her to stop talking about him publicly.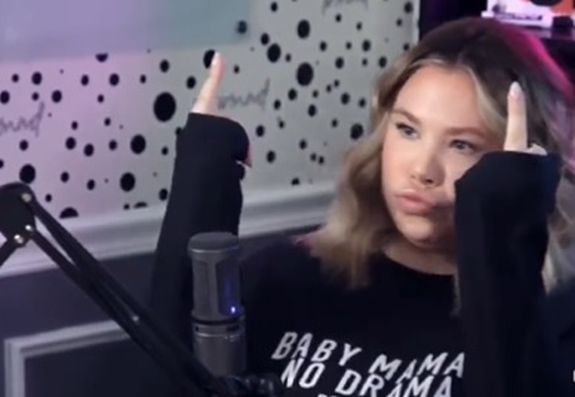 "For the one millionth time, stop talking about my family…Keep me and my family out of your podcast, out of your life, period," the text from Javi reportedly read.
Kail told her listeners that, despite what Javi wants, she will continue to discuss him, and the other people in her life.
"This has been my life for the past five years. I'm gonna talk about something as I see fit and as it applies to the conversation," she said.
Lauren and Javi have yet to respond to comments on their Instagram accounts asking if they are, indeed, back together.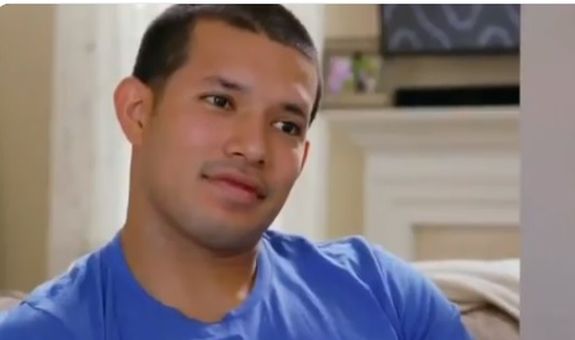 Javi and Lauren were engaged before Javi was caught cheating on Lauren multiple times, and Kail infamously threw him under the bus on 'Teen Mom 2' for inviting her to partake in some pumping at the WaWa that did not involve gasoline. Javi and Lauren later became involved in a domestic dispute, with Javi calling the cops on Lauren in July 2021, claiming Lauren punched and kicked him in front of their son, Eli. Lauren denied Javi's claims and she was not charged for the incident.
Cheyenne Floyd Says She & Zach Davis "Deserved" An Elaborate Wedding; Admits Her Parents Helped Them Pay For Their New Home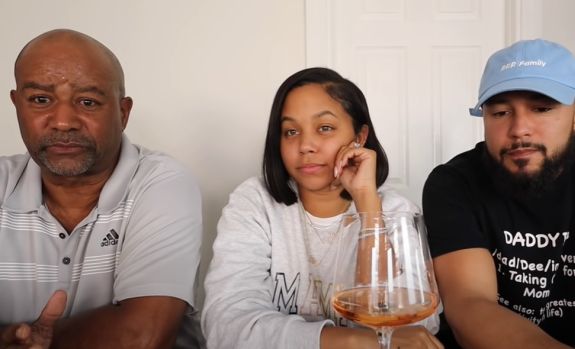 Last month, Cheyenne and Zach got hitched in an over-the-top wedding that included a glass-like ceremony aisle, a floor-to-ceiling wedding cake and a plethora of MTV stars in attendance. (Click here to see The Ashley's exclusive photos and details from the ceremony and reception!)
On the most-recent episode of Cheyenne's Think Loud Crew podcast, Cheyenne, her friend and her sister, R Kyle Lynn Floyd, discussed the wedding in detail, including addressing fans' accusations that Cheyenne and Zach were only able to have such an elaborate wedding because of Cheyenne's MTV money.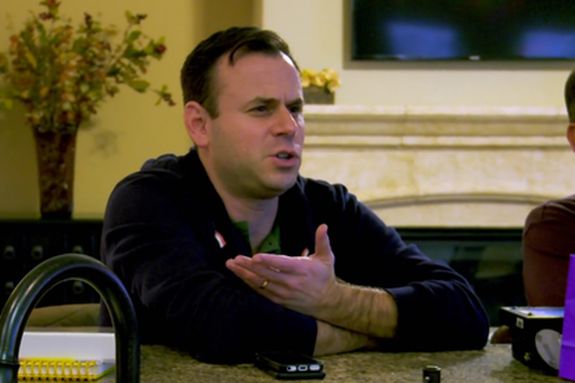 "First of all, y'all, this is who are family is," R Kyle Lynn said. "This is how we've been getting down since before 'Teen Mom' was a thing…Cheyenne was going to have this wedding regardless of that. [Being on TV] was just a cherry on top for them, to be honest. This wedding was going to happen in that manner, to that degree, with or without MTV."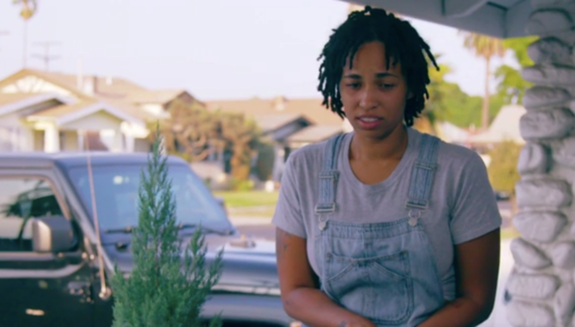 Cheyenne stated that her parents paid for the wedding, and her grandparents contributed, as did she and Zach. (She refused to reveal how much they shelled out for the nuptials, though.)
She also stated that she and Zach felt entitled to have such a big wedding, due to the bad things that happened to them before getting hitched.
"We had a sh**ty year, so we actually feel like we really deserve it," Cheyenne added, obviously referring to the shooting she and her family were involved in. "Last night we were talking about how much we want to do for everyone [to thank them], and we were like, 'No, we really deserved that [wedding]. Let's just take a moment to understand that."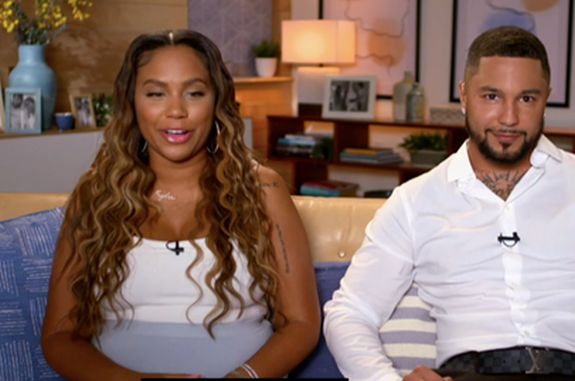 "I don't even have time to explain myself. I don't want to. People do elaborate stuff all the time. Don't be mad at me that I did it. I did nothing wrong," Cheyenne said.
Cheyenne stated that her parents not only paid for her wedding, but also helped her pay for the new house that she and Zach will be moving into this week.
"We would not have been able to have gotten married if it were not for my parents," Cheyenne said. "We would not have been able to get this house [we're about to move into] if it were not for my parents. We're putting everything into it, but, yeah, we need help. And I feel like that's OK to say."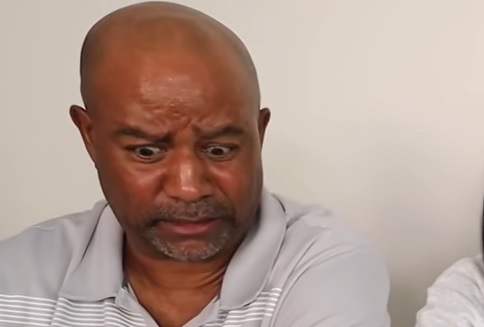 Kail Lowry's 12-year-old son Isaac Insists on Instagram That Kail Isn't Pregnant.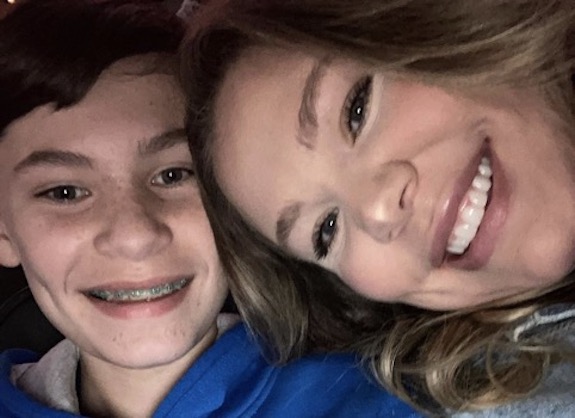 Kail's oldest son, Isaac Rivera, came to her defense last week, after the former 'Teen Mom 2' star was hit with (more) pregnancy rumors.
Isaac, whom Kail shares with ex Jo Rivera, fired back at commenters on his mom's Instagram page who were insisting that Kail is currently pregnant with her fifth child. (While photos and rumors have been circulating, claiming that Kail is once again "with child," she has yet to confirm or deny the claims.)
In response to their comments, Isaac stated that Kail is not pregnant.
"She's not pregnant," Isaac wrote, along with an eye-roll emoji. "My mom tells us everything I would know."
(It should be noted that the bio for Isaac's Instagram account states that the account is "supervised" by Kail.)
After the same person suggested that Kail may not have told Isaac yet, Isaac said that isn't the case.
"She told me [about] my other brothers way beforehand," he replied.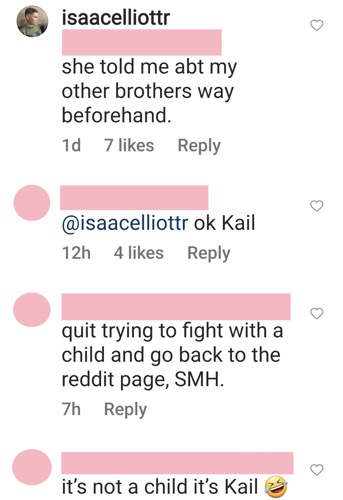 The individual went on to insist that they were not conversing with Isaac, but Kail using Isaac's account.
As you may remember, Kail's baby daddy Chris accused Kail of threatening to beat him up back in July, before hinting that she was pregnant.

"Out here talking bout you'll beat me up now you know you gotta protect the belly stop it," Chris wrote in a since-deleted tweet.
Madisen Beith Goes Bald & Reveals Medical Issue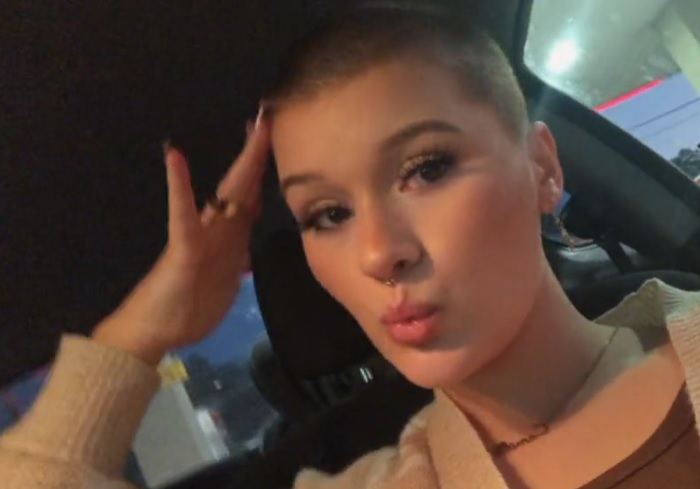 'Young and Pregnant' star Madisen is causing a lot of, well, buzz with her new buzz cut!
Madisen took to TikTok recently to show off her new 'do— a closely cropped "GI Jane" look. Her hair— which had previously been below her shoulders— was completely shaved, a look she wrote that she is "loving."
While Madisen's drastic haircut surprised many of her fans, she stated that she didn't buzz her hair just for fashion's sake. She revealed in the comment section of one of her TikTok posts that she actually shaved her head because she had been dealing with alopecia (a type of patchy hair loss.)
"My hair was already falling out due to alopecia," Madisen told a follower who asked why she buzzed off her hair.
Madisen explained that she has been dealing with alopecia since childhood.
"[I've] had it since I was a kid," she wrote. "The spots used to be bigger and I had less but now my head is covered in small bald spots. It's super noticeable in person. You notice it more now than before but my hair/scalp is luckily a lot easier to deal with now."
Several commenters told Madisen she now looks like her dad, Nick Beith and, speaking of Nick, he seems to approve of Madisen's new 'do, writing, "Isn't she gorgeous!" in the comment section of one of the TikTok videos.
To catch up on more recent 'Teen Mom' news, click here!
(Photos: MTV; TikTok; Instagram)