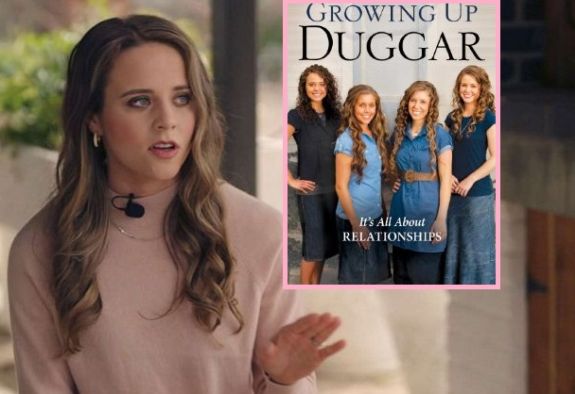 Jinger Duggar Vuolo is hoping her fans will all pick up a copy of her new book, Becoming Free Indeed, but there's another book on the shelf with her name on it that she hopes people won't read.
In a new interview with E! News to promote her new book, Jinger cringed when the subject turned to Growing Up Duggar, the book she co-wrote with her sisters Jana, Jill and Jessa in 2014.
"In that book I shared a lot of principles that I had been raised on through [IBLP founder] Bill Gothard's teachings, and I encouraged young girls to do courtship, to have certain modesty guidelines, listen to certain kinds of music, and now I look at it and say, 'Ugh. I promoted that?'"
Jinger explained that, at the time she and her sisters wrote the book, they were under the impression that the IBLP standards they were regurgitating in Growing Up Duggar would help the readers become successful.
"My younger self would have looked at [the book's teachings] and said, 'Oh, that's great.' But now I look at it and I'm like, 'Oh, I wish I hadn't have said that," Jinger said, grimacing.
"I wish I could go back to those girls who bought my other book and be like, 'Ugh, don't read it!'"
View this post on Instagram
If you haven't read the jewel that is Growing Up Duggar, it's basically the four oldest Duggar girls (who were in their early twenties and late teens at the time) spewing "the blessings and advantages of living the Duggar lifestyle," which includes being obedient to your parents, avoiding pants and never being alone with a boy unless you're married and ready to make blessings.
In the interview, Jinger also gave an update on where her relationships stand with her sisters. While she noted that some of her family members "are still in the [IBLP] system," she acknowledged that "a lot have kind of walked away from it." (We know that Jill no longer follows the IBLP teachings, but Jinger did not specify which family members are still part of Gothard's group.)
While the tabloids have stated that Jinger is feuding with various sisters over the years, Jinger said that she actually has a good relationship with all of the older Duggar girls.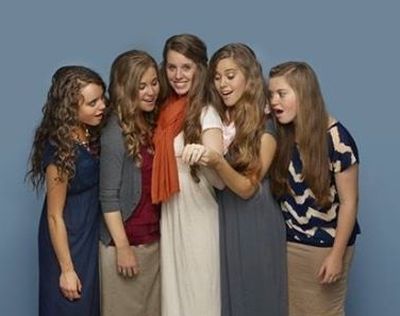 "I think all of my older sisters [Jana, Jessa and Jill], I'm so close with, and my younger sister Joy," Jinger said. "We always had such a tight bond between the sisters and I keep in contact with all of them often because it's so easy to just be able to FaceTime, even though I'm so far away from them. So we still have close relationships."
In other interviews, Jinger noted that she hasn't spoken to her oldest brother, Josh (who is currently locked up in federal prison), in over two years.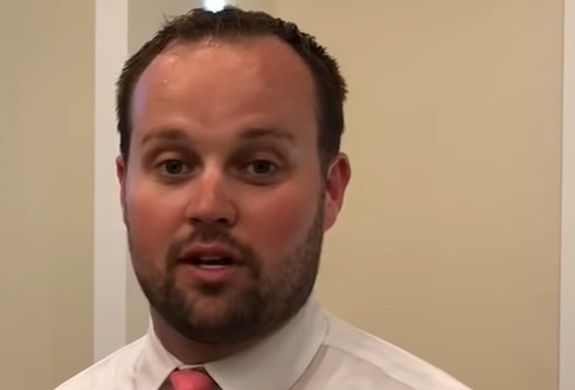 Jinger has not, however, discussed where her relationships with her youngest sisters, or any of her other brothers, stand.
"I'm hopeful that a lot of my family members will read this book," she said.
Jinger has said that she and her parents (who are still diehard Gothard followers) "have just sought to talk about those things and, at times, agree to disagree."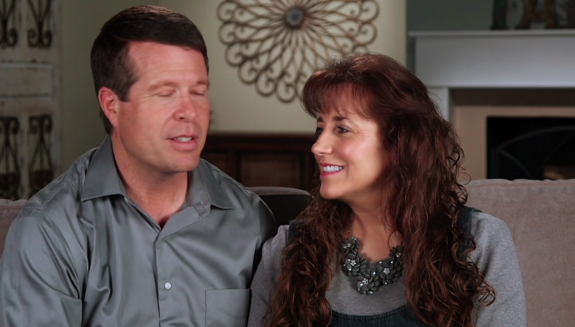 To use The Ashley's Amazon Associates link below to order Jinger's book, Becoming Free Indeed, click here.
You can watch Jinger's full interview with E! News below.
RELATED STORY: Jinger Vuolo Talks About How the Duggars Feel About Her New Beliefs; Looks Back On Her Family's "Crazy" Modesty & Courtship Rules
(Photos: ABC News; Amazon; TLC)