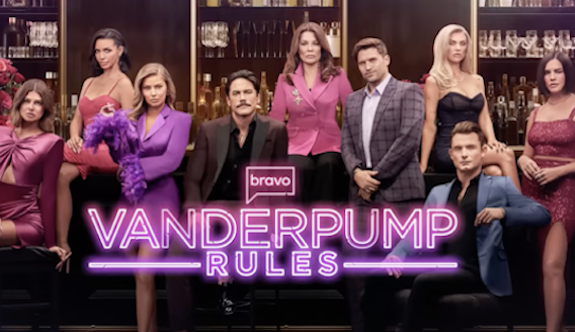 The cast of Vanderpump Rules will sit down today to dive in and discuss the events of Season 10, with much of the reunion conversation expected to be about the Scandoval that rocked the cast/reality TV world a few weeks ago.
It was already confirmed that both Raquel Leviss and Scheana Shay would be filming the reunion in person, despite Raquel filing a restraining order against Scheana alleging she assaulted her. (Scheana denies the claim.)
We now have a better idea of how that will go down.
Bravo posted the two reunion seating charts (yes, two) on Thursday-– one without Scheana that has Raquel seated between Tom Sandoval and Tom Schwartz, and a second without Raquel, that has Scheana seated on the end next to Schwartz.
Thursday morning, reunion host Andy Cohen took to his Instagram Story, telling fans he was ready for "game day."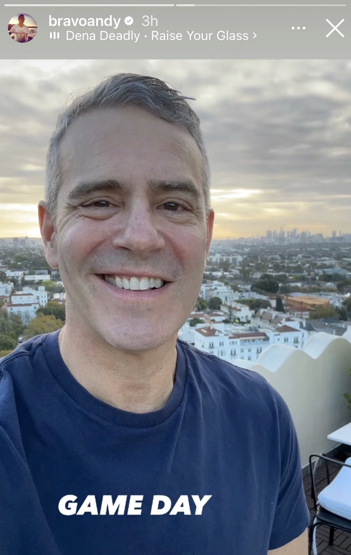 Before getting glammed up for "game day," Lala Kent, Scheana and Ariana Madix took a moment to throw on Drowsy Sleep Co Damask Rose Sleep Masks and zen out with a sound bath–– most likely the only calm moment they will experience today.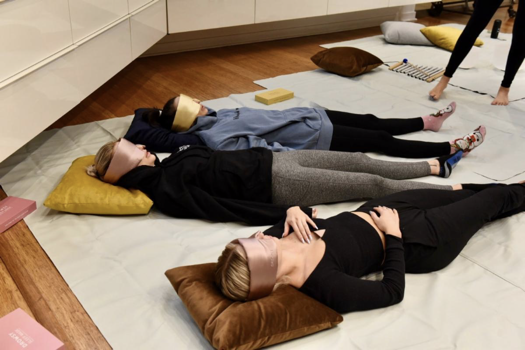 Later on, Scheana joined husband Brock Davies–- who is not listed on either cast seating chart–- at the hair salon, where he had his luscious locks chopped for a good cause.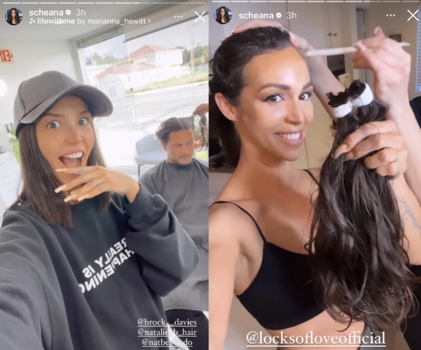 Brock didn't reveal his new look on social media, but Scheana joked that she might use the discarded hair for her reunion extensions.
Also sharing their glam with the 'Gram on Thursday was Lala, who earlier this week told her Give Them Lala podcast listeners that the cast would not have their phones while filming the reunion due to concerns of information being leaked to the press. Lala mentioned the no-phone rule again on Thursday.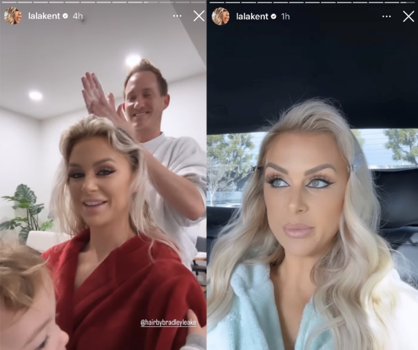 "All right guys, we've just arrived at the space, I'm pulling up," Lala said. "Again, they're taking our phones, so this is the last you will see of me. Put me in, coach."
Lala later popped up on Andy's Instagram Story, along with Katie Maloney.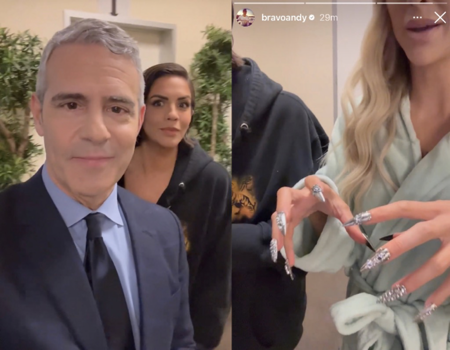 "Big day here in Los Angeles, big day for you two," Andy said to Lala and Katie. "How are we doing? How are we feeling?"
"We're ready," Katie said. "We cannot wait."
"We're on 10 … and once I'm out there, I'll be on 100," Lala told Andy, who went on to point out Lala's sparkly (and very sharp) nails.
"Well, I have to get my claws into somebody … and I have a couple people in mind," she told Andy, who responded with, "Oh boy."
As the cast began heading to the set, Andy pulled Schwartz aside and channeled his inner Oprah Winfrey.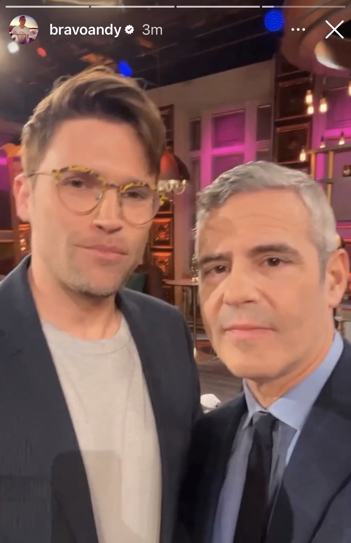 "You know what I need to know from you? Were you silent or were you silenced? Think about that," Andy asked, referring to whether or not Schwartz knew about Sandoval's months-long affair with Raquel before the news broke this month.
"I'm gonna marinate on that," Schwartz replied. " … Let's get down and dirty."
"Yeah, that's what we're gonna do," Andy added.
Andy also shared a quick chat with 'VPR' matriarch Lisa Vanderpump, while revealing to her the massive stack of note cards he'll be working off of throughout the reunion.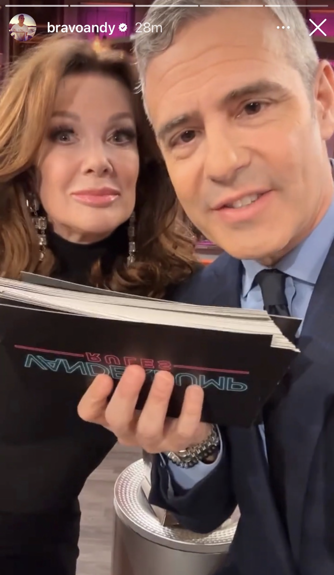 "Vanderpump, we've got this many cards here. This is gonna be a long day," to which Lisa replied, "It might be a sleepover."
Stay tuned…
RELATED STORY: Former 'Vanderpump Rules' Star Jax Taylor Says Lala Kent's Ex Randall Emmett Owes Him More Than $70,000
(Photos: Bravo; Instagram; Shayna Lavi/Drowsy)