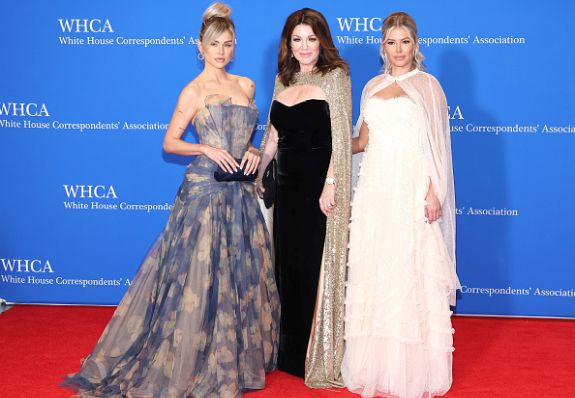 The SUR squad hit the nation's capital this weekend.
Vanderpump Rules stars Lisa Vanderpump, Ariana Madix and Lala Kent were in Washington, D.C. to attend the White House Correspondents' Association Dinner and various pre- and post-parties. The annual event, which includes joke-filled speeches, brings together news organizations, politicians and celebrities to raise money for the association's scholarship programs.
The trio attracted attention on the red carpet and in the crowd at Saturday's dinner, even making their way into dinner host Roy Wood Jr.'s monologue.
"Scandals have been devouring careers this year," he said. "The untouchable Tucker Carlson is out of a job … Tucker got caught up. Got caught up like that dude from 'Vanderpump Rules,'" Roy said during his monologue.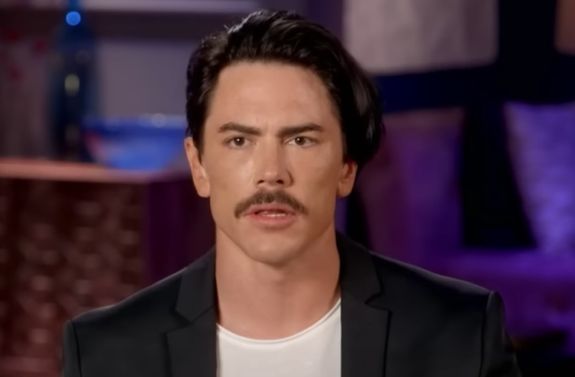 "I don't know what 'Vanderpump Rules' is about, I've watched it a couple of times. My friends told me it's like [the TV show Black Mafia Family] 'BMF' but for white people…" Roy joked.
During CNN's coverage of the event, the camera panned over to Ariana as soon as started talking about "scandals."
Ariana and Lisa attended the event as guests of DailyMail.com while Lala was a guest of the Los Angeles Times (the paper that published the blockbuster exposé on her ex Randall Emmett last year).
In an interview with DailyMail, Ariana connected attending the event to memories of her late grandmother.
"My wonderful late grandmother was very active in local politics and I've always dreamed of visiting the White House, so this is an incredible honor," she said.
For Lisa, attending the correspondents' dinner tied into her activism work.
"I'm also looking forward to visiting Capitol Hill again after we successfully passed resolution 401," she told DailyMail.
(Passed in 2018, the bill was aimed at condemning the dog and cat meat trade and urging all other nations to outlaw the practice.)
The dinner was just one part of a packed weekend for the trio. Friday night, Lala and Ariana attended CAA's 2023 WHCD Kickoff Party, posing for pictures with Bravo superfans Jerry O'Connell and Rebecca Romijn, and CNN hosts S.E. Cupp and Kaitlan Collins.
"Everyone in DC was running over to get pic with Ariana and Lala and offering their support for her," an anonymous source told Page Six. "They are famously taking over this political event."
A minor controversy brewed late Friday when Ariana shared Jerry's post to her Instagram Stories and, due to the different aspect ratios, former The View panelist Meghan McCain and her husband, Ben Domenech, were cropped out.
"I can tell you without a doubt that there is no agenda with this post whether political or otherwise," Ariana's manger told DailyMail. "Its just how the post came out."
Meghan told the website, "I had a wonderful time with Ariana, Lala and DailyMail.com. I can't believe I'm commenting on something so ridiculous."
On Saturday, Ariana and Lisa took an exclusive tour of the White House, according to DailyMail, and Lisa also attended the White House Correspondents' Garden Brunch. As seen on Lala's Instagram Stories, the reality stars attended the Comcast-NBCUniversal News Group After-party (NBCUniversal is the parent company of Bravo, just FYI.)
Lala took advantage of her time in D.C. to promote her "Send it to Darrell" merch (as you do), posing in a black hoodie at various monuments along the national mall on her Stories and at a food truck in her main feed, writing, "D.C. has retained Darrell."
Check out more photos from the weekend below:
RELATED STORY: 'Vanderpump Rules' Star James Kennedy Says He Hopes Ex-Fiancee Raquel Leviss & Tom Sandoval Stay Together; Claims Raquel Was "Always a Big Sandoval Fan"
(Photos: Paul Morigi/Getty Images; Instagram)