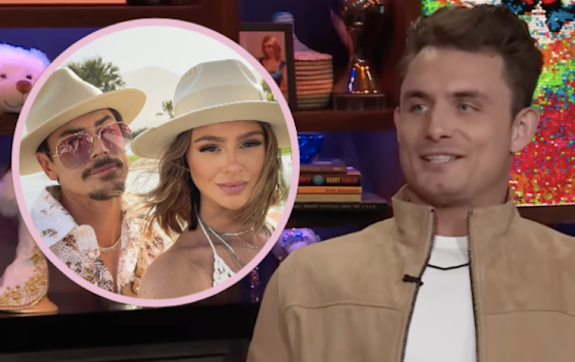 Vanderpump Rules stars Tom Sandoval and Raquel Leviss can now say they have one person from the 'VPR' cast rooting for their relationship amid the Scandoval fallout, though it's safe to assume neither could've guessed that person would be James Kennedy.
As you may remember, James was previously engaged to Raquel after popping the question at the beginning of Season 9. (You might also recall Sandoval helping James arrange some of the details of said proposal.) James and Raquel ultimately didn't make it down the aisle and instead, announced their split at the Season 9 reunion.
Last month it was revealed that Raquel and Sandoval were having a months-long affair behind the back of Ariana Madix– Raquel's close friend and Sandoval's girlfriend of nearly a decade– and James was among the first in the 'VPR' cast to call out the two on social media for their actions.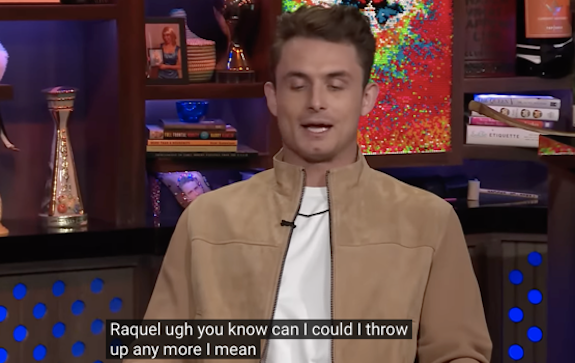 On Wednesday's episode of Watch What Happens Live, however, James shared a much different opinion on Sandoval and Raquel's relationship. When asked by host Andy Cohen if he believes the two will last, James revealed he's actually rooting for his ex and former friend to make it as a couple…even if it is for all the wrong reasons.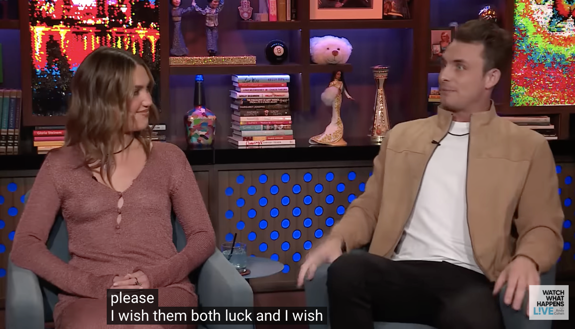 "Ya know, in like a weird way, I hope so," he said. "Because just think about the dreams they're gonna have in each other's beds and all the traumatic sh*t they're gonna go through.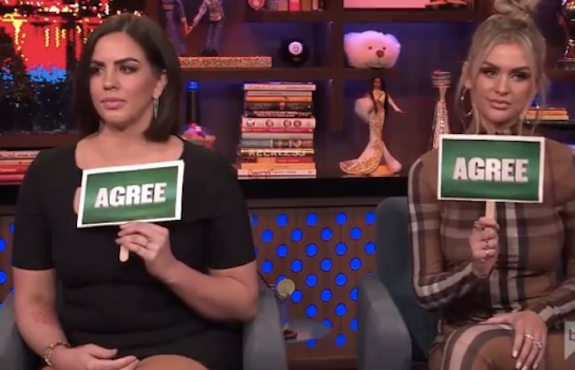 "I mean, just like, as a couple, it's like, if they survive each other and go through with it, hats off," he continued. " … I wish them both luck and I wish them the best."
Later on in the show, James told Andy that while he never suspected there was anything going on between Raquel and Sandoval during his own relationship with Raquel, the former pageant queen was "always a big Sandoval fan."
"[A] massive Sandoval fan," he emphasized.
When asked if he believes Sandoval and Raquel equally share the blame for the Scandoval affair, James responded, "I do."
"That's the thing … because it was the 'best friend' thing, you know," he explained. "It was like they were in a gang, they were in a group all together."
Because of the close friendships within the group, James "didn't think it was weird" when Sandoval and Raquel were seen dancing together at The Abbey without Ariana present– the aftermath of which is currently unfolding on 'VPR'– despite Lala Kent, Katie Maloney and James's girlfriend Ally Lewber finding the situation somewhat suspicious.
"[Sandoval and Raquel] obviously got too close for comfort," James said.
Watch part of James's 'Watch What Happens Live' interview below.
RELATED STORY: Tom Sandoval Insists Raquel Leviss Really Is At Mental Health Facility & Not A Spa; Calls Out Peter Madrigal & Dayna Kathan For Doubting Raquel
(Photos: Instagram; Bravo; YouTube)