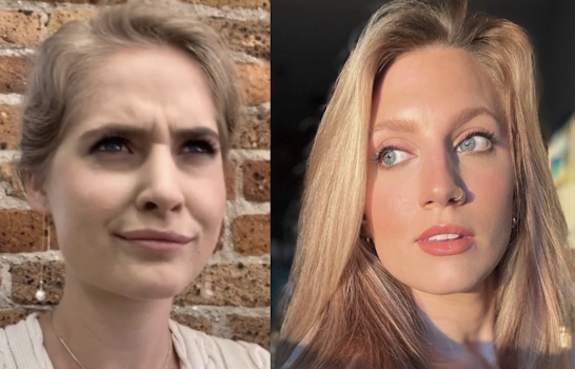 Another feud has ignited among the Plath family of TLC's Welcome to Plathville.
As The Ashley previously reported, Olivia Plath, wife of Ethan Plath, took to social media last week to share her take on the newly-released docuseries Shiny Happy People: Duggar Family Secrets, having been raised in the IBLP— the controversial religious cult that is discussed in the doc.
While Olivia, who grew up in the IBLP herself, has openly criticized both her own upbringing and her husband's, her sister-in-law Lydia Plath took to social media recently (mid-mission trip, natch) to deny some of Olivia's claims regarding the Plath family's ties to the IBLP.
According to Starcasm, Lydia was asked during an Instagram AMA to confirm the Plath family's involvement in the IBLP, as mentioned in the 'Shiny Happy People' docuseries and backed by Olivia. Instead of confirming the claims, however, Lydia revealed she had never even heard of the IBLP until "a few years ago."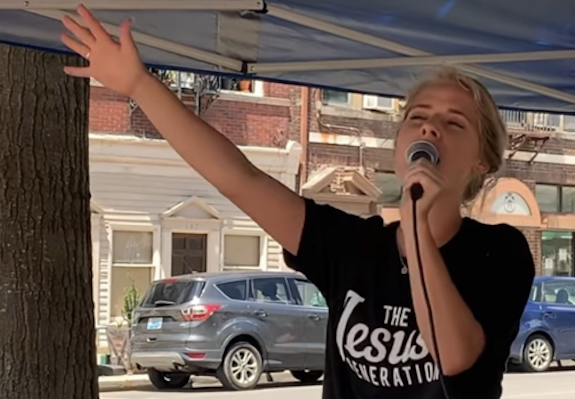 "No it's not true!!!" Lydia said. "We never have been [in the IBLP] and never will be. I didn't even know what that was till a few years ago."
Lydia wasn't the only one to call out Olivia for her comments on the Plath family's ties to the IBLP; she was also accused of lying by a follower in the comment section of her recent Instagram Live.
" … you lied about the Plath Family being a part of this specific branch of Christianity and they are not," the comment read. "I understand you have some trauma linked with the family, but that doesn't give you the right to blatantly lie about them just because you have problems with them."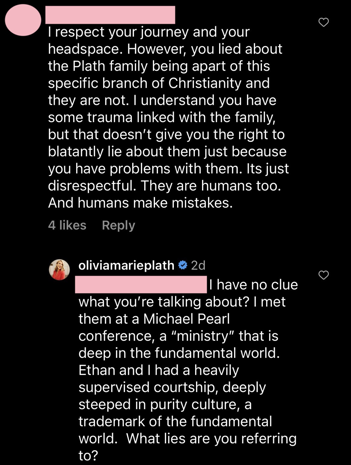 Olivia fired back at the individual, claiming she had "no clue" what they were talking about.
"I met [the Plath family] at a Michael Pearl conference, a 'ministry' that is deep in the fundamental world," Olivia explained.
(Those of you who've watched 'Shiny Happy People' may remember Michael and wife Debi Pearl's controversial book To Train Up a Child being discussed in one of the episodes. The couple's book and teachings on parenting–- largely criticized for advocating child abuse–- were endorsed by the IBLP and the Duggar Family.)
Olivia went on to add that she and Ethan "had a heavily supervised courtship, deeply steeped in purity culture, a trademark of the fundamental world," further insisting that she was not lying about the family's religion.
The Lydia/Olivia back-and-forth has been going on for about a week on Instagram. Last Wednesday, Lydia posted to Instagram Stories that people shouldn't "lump everyone together" with the IBLP, just because they are "Bible-believing Christian homeschoolers."
"You can't just lump everyone together and assume they're the same!" Lydia wrote in response to another person's comment that she reposted on her Story.
On the same story, Lydia again denied that she was ever in the IBLP.
"And for all of those who have messaged or commented and asked me if I was part of [the IBLP], no I'm not, I haven't been and won't be," she wrote, adding that she has "nothing against" those who are in the cult.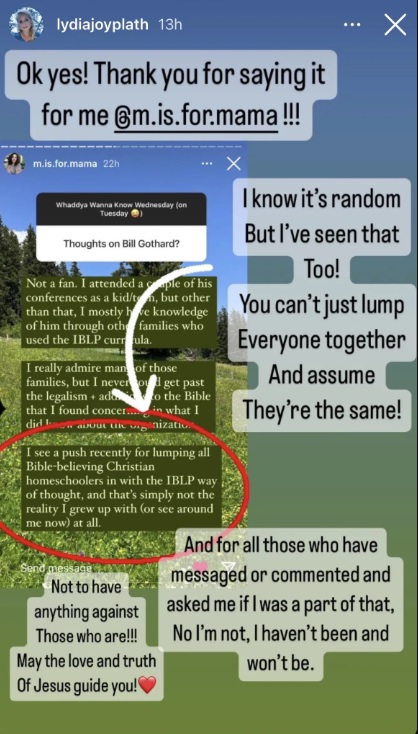 Olivia seemed to be responding to Lydia's remarks in a TikTok posted a few hours after Lydia's post went live.
"'Shiny Happy People' reflects the beliefs of MOST Christianity," Olivia wrote. "This whole documentary is being framed as just being like an IBLP problem."
RELATED STORY: AMY DUGGAR Says Her Offer to Help Josh Duggar's Wife Anna Still Stands: "It Doesn't Have to Involve Cameras or Fame or Anything"
(Photos: Instagram)