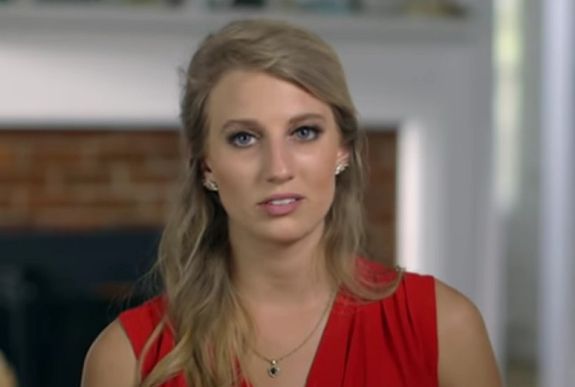 Like presumably everyone who has watched Shiny Happy People: Duggar Family Secrets on Prime Video, Olivia Plath found the newly-released docuseries to be a difficult watch; however, having been raised in the very same controversial religious cult that is discussed in the doc, the Welcome to Plathville star also found the four-part series relatable.
"That was my life up until a few years ago," Olivia said in an Instagram Story over the weekend.
As The Ashley has previously reported, the docuseries focuses on the Duggars and the former TLC family's controversial religion, the Institute of Basic Life Principles (IBLP).
For Olivia— who grew up in an IBLP family— the show hit close to home.
"[It was] a little triggering to watch, but also there is solidarity in having other people speak up and say, 'Yep, you're not crazy, happened to me too. I know about this.' That is healing in a way," she said.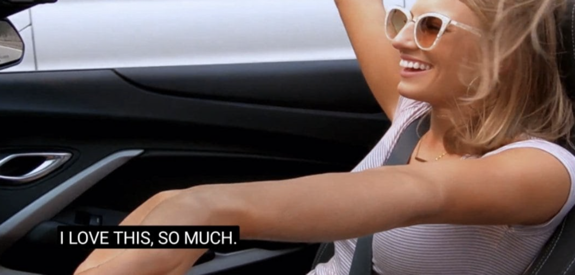 Fans of 'Welcome to Plathville' may know Olivia and her husband Ethan Plath from the Plath family's TLC series. However, Olivia grew up in religious setting similar to the Plaths. Her parents raised nine kids.
The Plaths were introduced to viewers in 2019 as a Christian fundamentalist family made up of parents Kim and Barry Plath and their nine children–- a few of whom went on to "rebel" from the family's religious guidelines, resulting in estrangement between the older Plath siblings/spouses and their parents.
(Things have since taken quite a turn, though. In 2022, Kim and Barry announced that they were divorcing after 24 years of marriage and in March, Kim was sentenced for a 2022 DUI case.)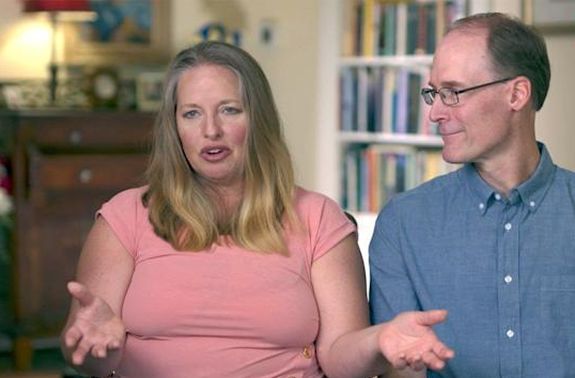 As The Ashley told you back in 2021 when 'Shiny Happy People: Duggar Family Secrets' was first announced (and at the time, still untitled) the IBLP and Duggar family were slated to be the main focus of the project; however, the filmmakers' investigation was also set to focus on the Plath family, as well as the Bates family of UpTV's now-cancelled series, Bringing Up Bates.
While the latter Fundie families were only briefly mentioned in the docuseries, the Prime Video project focused almost entirely on the controversies surrounding the Duggar family and IBLP as as whole.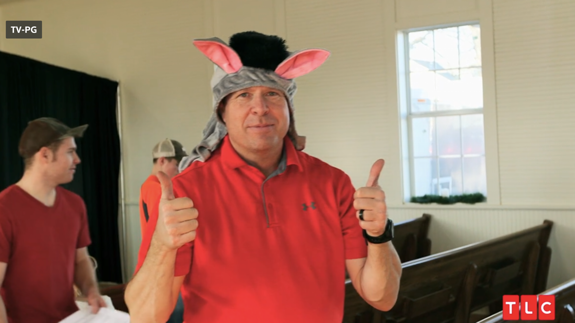 Still, Olivia said after the docuseries began streaming, she received an "overwhelming response" from people online who were also raised in the IBLP and wanted to talk about their experiences as "ex-[fundamentalist] and ex-cult kids."
As of last month, Olivia has had "Ex-Fundie Kids" Instagram Highlights on her page in which she touches on her experience growing up "in a religious cult" and how choosing "a non-religious, different life path" than her parents resulted in her losing access to her younger siblings–- something viewers have seen Ethan and his siblings face on 'Welcome to Plathville.'
Olivia's comments were made last month in the wake of her 15-year-old brother Micah's death.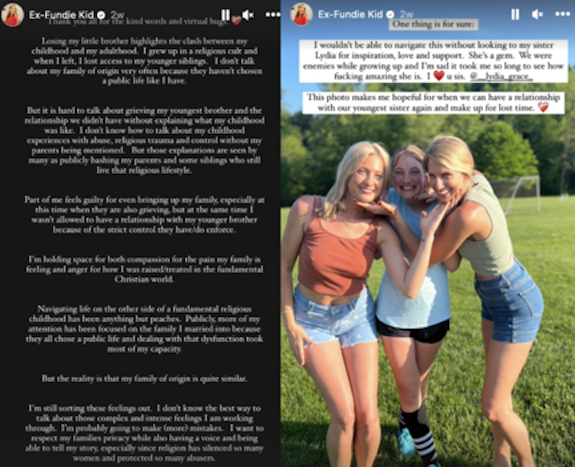 " … it is hard to talk about grieving my youngest brother and the relationship we didn't have without explaining what my childhood was like," she wrote. "I don't know how to talk about my childhood experiences with abuse, religious trauma and control without my parents being mentioned. But those explanations are seen by many as publicly bashing my parents and some siblings who still live that religious lifestyle."
Olivia's brother Micah had Cerebral Palsy caused by a Brachial Plexus injury during his birth and "died in a tragic accident," she revealed to followers in a May 19 Instagram post. Olivia— who stated that she helped raise Micah— said she had not been able to see her younger brother for several years before his passing.
"When growing up in a large family, the older kids often become like parents to the younger kids," she wrote in the post. "Micah was my baby; I was nine when he was born and I remember that day like yesterday. I potty trained him, taught him to read, carried him around on my hip and then piggyback style, and felt largely responsible for him. I've often felt jaded as an adult about being parentified when I was a mere child, but now I'll always treasure those sweet memories…"
Though Olivia said on social media over the weekend that she's ready to open up more about growing up in a religious cult, there are still things she cannot talk about.
"There's a lot of things I want to say about religion, about my past, about the world that I went right back into, and I hadn't known to say them in the public space that exists for me, so I'm gonna get on [Instagram] instead," she said. "I'm jumping on to say my experience, to be honest, was decently negative.
"There's a lot of things that I laugh about now, because what else are you supposed to do?" Olivia continued, adding that she is "not really religious anymore."
'Shiny Happy People: Duggar Family Secrets' is currently available to stream on Prime Video.
RELATED STORY: Jim Bob & Michelle Duggar Finally Break Their Silence on 'Shiny Happy People: Duggar Family Secrets' Docuseries; Address Duggar Family Members Featured In It
(Photos: TLC; Instagram)