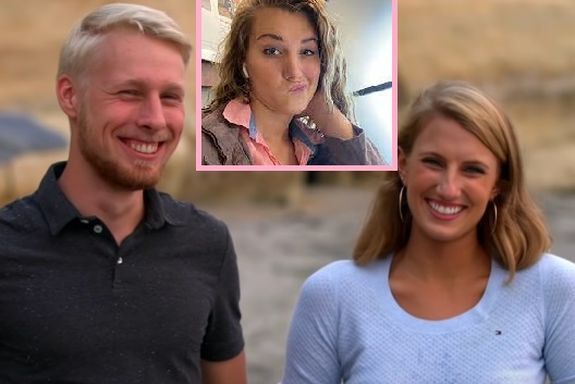 Olivia Plath's sister may have just spilled the beans on the breakup of Olivia's marriage to Ethan Plath, and it appears that Olivia is not happy with her big-mouthed sibling.
After the Instagram account @Realiteasquad posted a video to YouTube regarding Olivia's recent online spat with her sister-in-law, Lydia Plath, Olivia's own sister, Sophia Meggs-Roberts, jumped into the video's comment section to deliver some tea of her own about the Welcome to Plathville's marriage.
"I'm Olivia's sister," Sophia wrote. "Olivia and Ethan are in the middle of a divorce. And Season 5 [of 'Welcome to Plathville'] should be out very soon."
Sophia also went on to declare that Olivia's recent statements about the Meggs Family and Plath Family being part of the Institute in Basic Life Principles (IBLP)— the religious cult recently investigated in Shiny Happy People: Duggar Family Secrets— are false.
"Also we did not grow up IBLP," Sophia wrote. "We simply knew a lot of people who grew up this way and associated with them. My parents didn't realize what being in that environment meant for us as a family. But my parents were not followers of [Bill] Gothard or IBLP."
She accused Olivia and their other sister, Lydia Meggs (who recently spoke out about their Fundie upbringings) of being "very bitter," and stated that the Plath Family was not part of the IBLP.
"They didn't follow a rule book," Sophia wrote. "Only Kim [Plath's] rule book."
Once word of Sophia's claims got back to Olivia, the 'Welcome to Plathville' star went to the post on @Realiteasquad's Instagram account to speak up about what her sister said. She stated that she doesn't get along with Sophia, so fans should take what Sophia said with a grain of salt.
View this post on Instagram
"A friend informed me of this post so I just wanted to take a second and clarify," Olivia wrote in the post's comment section on Wednesday. "Sophia is my younger sister, but her and I have a very distant/strained relationship due to our worldviews and reactions to the ultra-religious world we were raised in. Subsequently, she actually isn't a reliable source when it comes to my personal information as she doesn't know about my personal life."
Olivia acknowledged that fans have been speculating for months that her marriage to Ethan is over; however she didn't confirm or deny it in her comment.
"There is a lot of speculation going around, but if Ethan and I had something to share, we would. Thanks!" Olivia wrote.
View this post on Instagram
(The Ashley would like to point out here that if, indeed, Olivia and Ethan are divorcing, they probably can't confirm or deny it, due to their show contracts.)
Ethan has yet to comment on the divorce speculations.
RELATED STORY: Lydia Plath Accuses Sister-in-Law Olivia Plath of Lying About Her Family's Ties to IBLP Cult: "It's Not True!"
(Photos: TLC; Instagram)