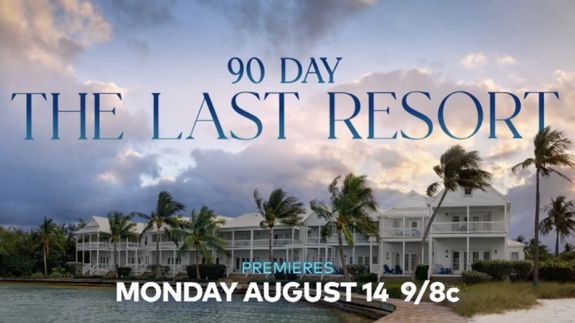 Spinoff number 371 of the 90 Day Fiance franchise is a go.
After months of speculation surrounding the Florida Keys-filmed project, Entertainment Tonight confirmed this week that the latest addition to the "90 Day" franchise– 90 Day: The Last Resort– will premiere on TLC next month.
The series will reportedly follow five past "90 Day Fiance" couples at the breaking point in their relationships as they undergo an intense couples retreat to decide whether or not they want to continue appearing on future "90 Day Fiance" spinoffs on with their relationship.
"For the first time, five '90 Day' couples will come together to face their relationship demons," the voiceover notes in the new teaser trailer. "Will they leave stronger than ever, or say goodbye for good?"
Back in January, Starcasm reported that multiple "90 Day Fiance" cast members had been spotted filming a project in late 2022/early 2023 at the Isla Bella Resort in Marathon, Florida, with photos of a film crew and presumed cast members surfacing on social media and TripAdvisor. The site also confirmed the reported title of the upcoming show, which was revealed at the 2023 Warner Brothers upfront presentation in May.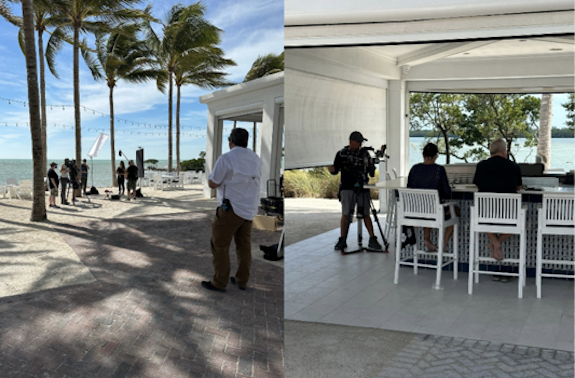 This week we learned that the five couples venturing on 'The Last Resort' will be joined by a team of professionals who will help them tackle issues with trust, sex, jealously, anger and intimacy though group therapy, couples' therapy sessions, past-life regressions, on- and off-resort activities and more. At the end of the retreat, each couple will have to decide if they want to stay together or move on to 90 Day Fiance: The Single Life separately.
While 'The Last Resort' cast has yet to be officially announced, cast members spotted filming at the Isla Bella Resort in January included Big Ed Brown and his lady Liz Woods; Angela Deem, Yara Zaya, Jovi Dufren and Kalani Faagata. Asuelu Pulaa, Molly Hopkins and Kelly Brown were also believed to be filming at the resort.
One pair that viewers won't get to see complete–- or possibly even begin–- 'The Last Resort' retreat is Colt Johnson and his wife Vanessa Guerra, who announced in February that they would not be returning to the "90 Day Fiance" franchise after Colt seriously injured himself on a trampoline during filming.
As The Ashley reported in January, the accident (which occurred in December) left 37-year-old Colt temporarily wheelchair-bound and hospitalized for weeks, and after this week's teaser was released, Vanessa revealed she and Colt had been filming 'The Last Resort' when the trampoline tragedy went down.
She also claimed that the show "bailed" on her and Colt as soon as Colt was unable to continue filming.
"Oh look, the show Colt and I were filming before they had the genius idea of putting him on a trampoline and telling him EXACTLY how to jump which lead to his broken leg," Vanessa wrote in an Instagram Story posted after the show was announced.
"Good thing they bailed on us as soon as they realized he was no good for content anymore."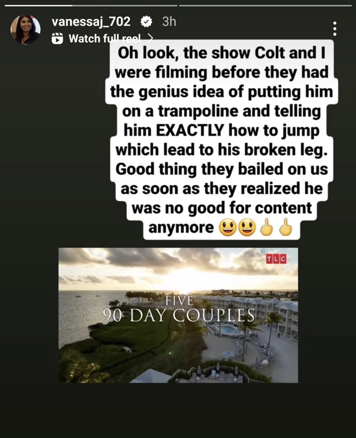 Colt and Vanessa have yet to reveal any additional details about their time on set.
"90 Day: The Last Resort" premieres Monday, August 14 on TLC.
Watch the first trailer below!
RELATED STORY: "90 Day Fiance" Season 1 Star Mike Eloshway Charged with Possessing, Receiving & Distributing Child Sex Abuse Materials (CSAM)
(Photos: TLC; Instagram)