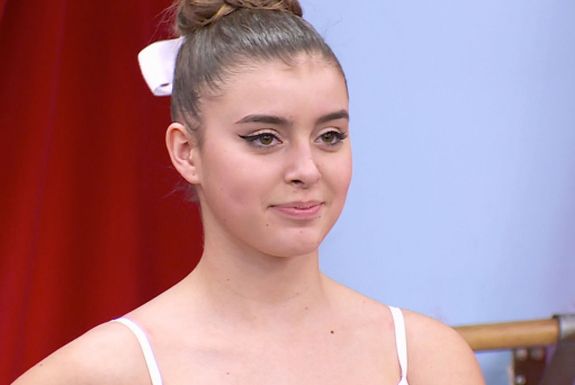 Kalani Hilliker is opening up about the pressures and demands being on Dance Moms put on her, as well as the lasting effects being on the controversial show has had on her mental health.
"Obviously, it brought lots of trauma," Kalani said in a recent interview with E! News. "And we all definitely went through some hard times. And I can't speak for any of them, because we all have our own experiences. But for me, it was really, really hard."
Kalani began appearing on 'Dance Moms' during the show's fourth season, after taking fourth place on Abby's Ultimate Dance Competition in 2013 at the age of 12.
"We never were really allowed to vocalize how we felt," Kalani— who appeared on 'Dance Moms' alongside some of the show's biggest names such as JoJo Siwa and Maddie Ziegler— told the site. "I definitely held a lot in of how I was feeling and what was going on just because I obviously wanted to be the best … but I didn't want to disappoint anyone."
Being on the show took a toll on the dancer.
"[A] lot of people had opinions on my life," Kalani said, later adding, "I definitely broke down."
During her first season of 'Dance Moms,' Kalani caused a stir when Abby entered her into a competition at the last minute. She danced with Maddie and the two took first place for their duet.
"I was never supposed to be on 'Dance Moms' beyond that one performance. It was my first time, but not my last time, causing drama. And it was also the first time I got to meet the other dancers, who have become like sisters," Kalani told Dance Spirit.
After Season 7 of 'Dance Moms,' Kalani decided to step away from the show due to her mental health.
"I obviously have anxiety and other things probably stemming from being on the show," she admitted. "But at the end of the day, I'm so grateful for it because I wouldn't be able to advocate for things like mental health or teach dance on the level that I do."
Kalani opened up about struggling with anxiety but not being able to talk about it until she was in her teens. As she stepped away from the spotlight and became a young adult, she learned ways to cope with her anxiety.
View this post on Instagram
As a way to help others, she created her self-care line Kare x Kalani, which includes eye masks and tension-relieving headbands.
"I feel like when I finally was able to move out and be by myself, I realized a lot of things that happened to me in my childhood carried with me," she explained.
Despite the pressures of competing in the dance world, Kalani is thankful for her time on 'Dance Moms' and stated, "If [Abby] didn't bring me on to the show, I wouldn't have the career that I have."
Kalani is not the first 'Dance Moms' cast member to speak negatively about their time on the show. Last year, Maddie Ziegler called the show "toxic" and "sad," in an interview with Cosmopolitan magazine, and stated that she will be quite happy if she never has to speak to her old coach Abby Lee again.
Abby clapped back at Maddie's comments in a YouTube video posted a few days later.
Last month, Maddie stated during a podcast interview that her mother, Melissa Gisoni, has apologized to Maddie and her little sister Mackenzie for putting them on 'Dance Moms.'
"She was like, 'I'm so sorry I put you through that,'" Maddie said.
Abby Lee has yet to comment on Kalani's recent comments about the show.
RELATED STORY: Maddie Ziegler Says Her Mom Recently Apologized For Putting Her on 'Dance Moms': "None of Us Knew How Crazy It Would Get"