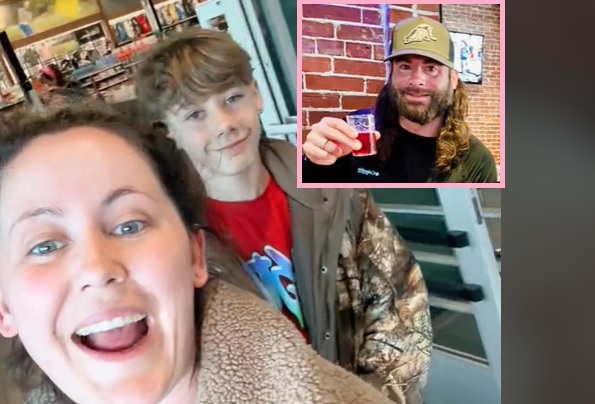 Earlier today, The Ashley broke the news that Jenelle Evans' son Jace reportedly told his grandma Barbara that he had been assaulted by Jenelle's husband David Eason, causing him to run away and hide from his stepdad.
Now, more details are coming out about the alleged assault.
The Sun broke the news late Monday night that Jace allegeldy had marks on his arms and neck after being assaulted by David on Thursday. Once he was located, Jace was taken to the hospital where he told several people what happened. (The Ashley's source has confirmed this to be true.) "He allegedly told doctors, a therapist, the Sheriff from North Carolina's Columbus County, and a Child Protective Services (CPS) staffer that he was physically attacked by Jenelle's husband David," The Sun reports.
The Sun reports that the alleged attack happened outside, near a home near The Land and was witnessed by several people. (The Ashley's source tells her this is also true.)
In addition, the alleged attack was also caught on the homeowner's Ring camera. (The Ashley's source tells her that CPS and other agencies have the video.)
The Ashley can also confirm that Jenelle was present during the incident.
"Jenelle did not get physical with Jace or have anything to do with that but she was there," the source tells The Ashley.
As The Ashley previously reported, Jenelle and David were already under CPS investigation before Jace ran away on Thursday. The investigation is pending, but Jace has been removed from Jenelle's care and is currently in CPS custody.
Earlier on Monday, Jenelle denied that David had anything to do with the situation, and claimed that Barbara was telling lies to "make us look bad as a family."
"My children are always first…that's why they are still in my custody," Jenelle wrote. "Y'all don't know sh**t. I don't post everything…
"This isn't about David whether you want to blame him or not. My mom says a lot of untrue things lately to everyone about me but wanted me to have custody? Imagine what you don't hear from my side…Honestly idk why my own mother is acting the way she is. I feel now she's using police to falsely report just trying to make us look bad as a family. There are multiple people involved in this situation and they know the truth, and so does God."
"Just for insight she has not tried speaking or visiting my kids since July. I'm so confused at this moment and wish I had one parent that was stable enough to talk to. #ToxicParents."
Jenelle has yet to respond to the latest claims regarding the alleged assault.
Stay tuned…
RELATED STORY: EXCLUSIVE! Jenelle Evans' Son Jace Removed From Jenelle's Care Following Accusations Her Husband David Eason Assaulted Jace; Jenelle Responds
(Photos: Instagram)