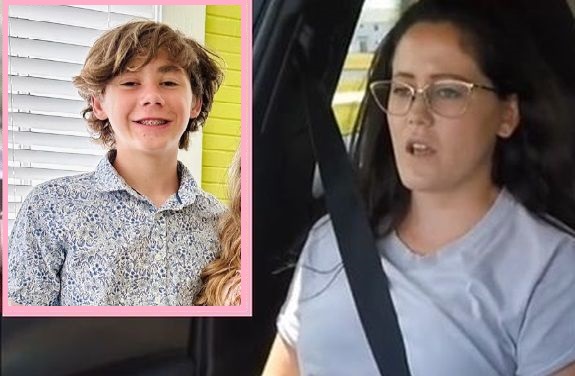 The Ashley can exclusively confirm that Jenelle Evans' son Jace has been removed from Jenelle's care and has been placed in the care of CPS custody.
The Ashley can also confirm that Jenelle and her husband David Eason were already under investigation by DSS/CPS even before Jace ran away on Thursday. (Multiple media outlets have been running a statement from Jenelle's "manager" August Keen that claims CPS only got involved after Jace was hospitalized. This is false.)
As The Ashley previously told you, Jace allegedly told his grandmother Barbara Evans that Jenelle's husband David Eason assaulted him, and that's why he ran away from Jenelle and David's home on The Land on Thursday. According to the police report obtained by The Ashley, Barbara informed police what Jace had told her, and stated that she was unable to pick up Jace when he called her, due to "ongoing legal and custody issues."
(Jace was under the legal custody of Jenelle at the time, so Barbara could have been charged with kidnapping or other crimes had she picked Jace up when she wasn't his legal custodian had Jenelle pressed charges on her.)
It is unknown if Barbara has or will get legal custody of Jace back— either temporary emergency or full legal custody. (Barbara had custody of Jace until March, when she gave custody back to Jenelle.) As The Ashley previously reported, Barbara was spotted at a North Carolina hospital on Saturday, which suggests things may have changed since Thursday in regard to Barb not having legal access to Jace.
Jenelle took to Twitter on Monday to state that Barbara is telling lies about her and her family. She also claimed that she has custody of her kids (though she didn't specifically say she had custody of Jace.)
"My children are always first…that's why they are still in my custody," Jenelle wrote. "Y'all don't know sh**t. I don't post everything…
"This isn't about David whether you want to blame him or not. My mom says a lot of untrue things lately to everyone about me but wanted me to have custody? Imagine what you don't hear from my side…Honestly idk why my own mother is acting the way she is. I feel now she's using police to falsely report just trying to make us look bad as a family. There are multiple people involved in this situation and they know the truth, and so does God.
"Just for insight she has not tried speaking or visiting my kids since July. I'm so confused at this moment and wish I had one parent that was stable enough to talk to. #ToxicParents."
The Ashley will update this story when more info is available…
RELATED STORY: EXCLUSIVE! Jenelle Evans' Son Jace Reportedly Stated He Ran Away After Being Assaulted By Jenelle's Husband David Eason
(Photos: MTV; Instagram)