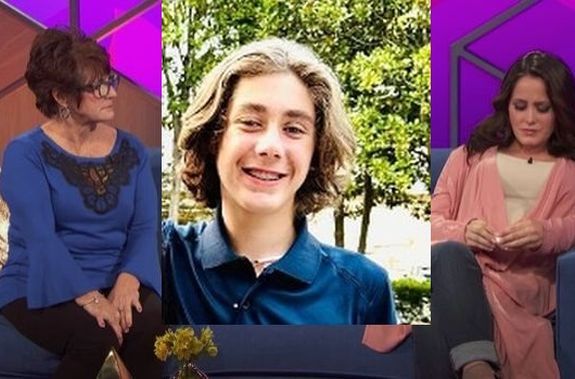 Jenelle Evans' son Jace is no longer a missing person but his alleged reason for running away from Jenelle's home on The Land is incredibly disturbing.
As The Ashley told you, Jace went missing on Thursday. The boy was found on Friday and taken to the hospital.
The Ashley can now reveal why Jace was taken to the hospital. According to a police incident report exclusively obtained by The Ashley, Columbus County Police were dispatched to the home of Barbara Evans— Jenelle's mom and the woman who raised until he went to live with Jenelle in March. It appears that Jenelle made a call to 911 around 11:30 p.m. on Thursday while Jace was missing. In the call, Jenelle stated that she believed Barbara was hiding Jace.
Police were dispatched to Barbara's home, where it was determined Jace was not there.
However, Barbara then revealed to police the alleged reason that Jace had run away this time.
(As The Ashley has previously reported, this week's incident was the third time in two months that Jace had run away.)
Barbara revealed to the cops that Jace told her that Jenelle's husband David Eason allegedly assaulted him.
"Made contact with Barbara who advised [Jace] was not at the residence…" the police report states. "She advised that she had spoken to [Jace] earlier in the evening when he called from an unknown number and told her about being assaulted by David Eason and that he ran away and was hiding…
Barbara stated that Jace asked her to pick him up, but she had to refuse due to "ongoing legal and custody issues." (Jenelle was the legal custodian of Jace, and could try to get Barb on kidnapping charges had she picked up Jace.)
Barbara told police that she would call them if she heard from Jace again. He was found on Friday and taken to the hospital. As The Ashley told you, Barbara was spotted at a North Carolina hospital on Saturday.
Jenelle has stated on social media that Jace ran away due to "girlfriend" issues and claimed it had "nothing to do with myself or David's parenting."
Multiple agencies are now involved in this situation.
(Please note that The Ashley is not confirming at this time that David assaulted Jace. She is confirming that police were informed that Jace said that.)
UPDATE! The Ashley can confirm that Jace is no longer in the care of Jenelle. Click here for the latest update.
The Ashley will continue to update this story. Stay tuned…
(Photos: MTV; Instagram)