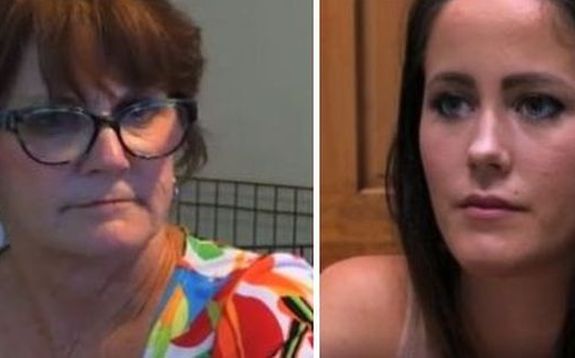 Jenelle Evans is not happy that her mother, Barbara Evans has allowed Jenelle's son Jace to received various mental health medications while under her care and, The Ashley can now reveal that, in court documents filed earlier this month, Jenelle blasted Barb for how she handled the mental health of her own three kids!
In the court documents— which The Ashley has exclusively obtained— Jenelle asks for a restraining order against her mom and states that Babs committed "bodily harm" by consenting for Jace to be given an anti-depressant while he was in a facility earlier this month.
In the court docs filed on October 3, Jenelle states that Barbara had no rights to allow Jace to have any medications (which Jenelle claimed he wasn't prescribed), and that Barbara frequently relied on meds and mental health facility trips when it came to her own three kids.
(As Teen Mom 2 fans know, Jenelle has a sister, Ashleigh, and a brother, Colin, both of whom Jenelle has no relationship with.)
"Barbara Evans has a history of sending her own kids away to mental hospitals and putting them on some sort of medication," Jenelle wrote in her statement to the court.
She then claimed that Barbara "still has one of her children on medication that is 35 years old."
(Jenelle is referring to Colin here, although he is currently 34 years old. Unless Colin is under some sort of legal conservatorship, Barbara would not have any say whether or not Colin took any medications, as he is a legal adult.)
As The Ashley previously reported, Jenelle also accused Barbara of "expressing Munchausen Syndrome." (Jenelle got the syndrome wrong; she actually meant to accuse Barb of having "Munchausen Syndrome by proxy," which is when a caretaker creates symptoms for a kid to make them look sick so that the caretaker can have attention.)
On Monday, Jenelle continued to accuse her mom of having Munchausen Syndrome by proxy, while also seemingly blasting Barbara for allowing Jace to take medication. (A meme posted by Jenelle to social media states that meth and Adderall are basically the same thing.)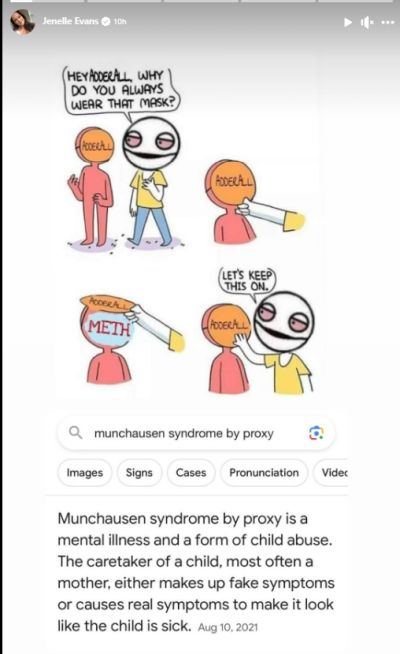 Jenelle added the description of Munchausen by proxy to seemingly further prove her point that her mom has this mental illness.
Over the weekend, Jenelle told her fans on social media that, "It's crazy because no one has court papers but me. No one has court papers, factually, printed out, on documentation but me."
The Ashley has posted part of one of the printed out court papers she obtained below, showing part of the statement Jenelle submitted to the court on October 3. (This request for the restraining order was voluntarily dropped.)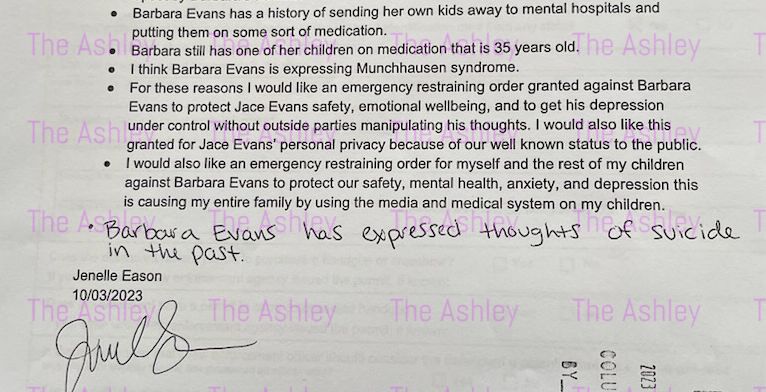 As The Ashley previously reported, Jenelle and Barbara are set to face off again in court next week.
RELATED STORY: EXCLUSIVE! Jenelle Evans' Lies Exposed In Court Docs Filed Last Week: Admits She Had No Idea Where Her Son Jace Was, Despite Claiming Otherwise Online; See Jenelle's Other Claims About Her Mom Barbara
(Photos: MTV; Instagram)