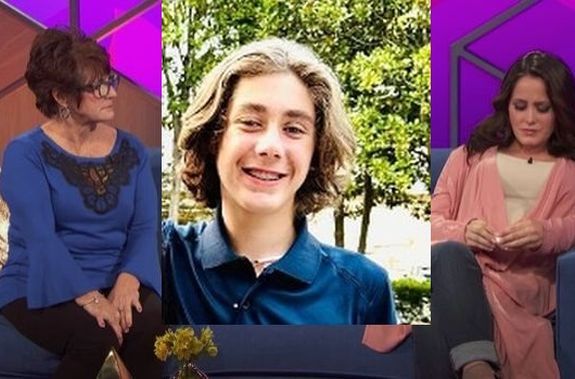 Note from The Ashley: A major update on the custody situation of Jace is coming. Stay tuned…
Jenelle Evans' latest court filing has exposed the truth behind some of the fired Teen Mom 2 star's recent claims regarding her mom, Barbara Evans, and Jenelle's son Jace.
The Ashley can exclusively confirm that Jenelle attempted again to file a domestic violence restraining order against her mom. (As The Ashley previously reported, Jenelle tried–and failed–to get a restraining order against Barb last month.) On October 3, Jenelle petitioned the court for an emergency domestic violence protective order against Barbara. However, the statement Jenelle submitted to the court to try to get the protective order— which has been exclusively obtained by The Ashley— actually exposes that Jenelle wasn't being truthful in many of her statements from the last few weeks.
Here, The Ashley will attempt to break down the filing.
Jenelle admits she had no idea where Jace was or what was going going on with him during the period she & David claimed they had Jace & that Barb was banned from speaking to him.
In the statement provided to authorities to try to get the restraining order, Jenelle exposed that she actually had no idea where her 14-year-old son Jace was from September 30- October 2— the same period of time when Jenelle and her husband David Eason were ranting on social media that they had Jace and that he was not taken from their custody. They also stated that Barbara was not allowed to see or talk to Jace during this time, which was false. (The Ashley reported on October 2 that Jace had already been removed from Jenelle's care and placed in the custody of CPS. Jenelle and David denied this was true.)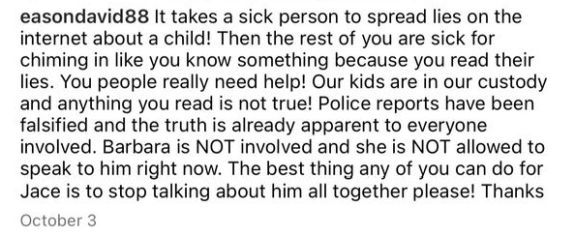 In documents filed on October 3, Jenelle HERSELF admits that she did not know the location of her son, Jace, until October 2, and that she was not in contact with him at all during this time, just as The Ashley had stated.
"Jenelle Eason was cut off all contact from Jace Evans, and the status of him from Sept 30-Oct 2, 2023," Jenelle wrote in her statement.
At the same time, Jenelle told her TikTok followers that she was not revealing where Jace was because "it's no one's business of my childrens' location."
Jenelle admits that she wasn't giving Jace any medications or therapy sessions, just as Barbara claimed to TMZ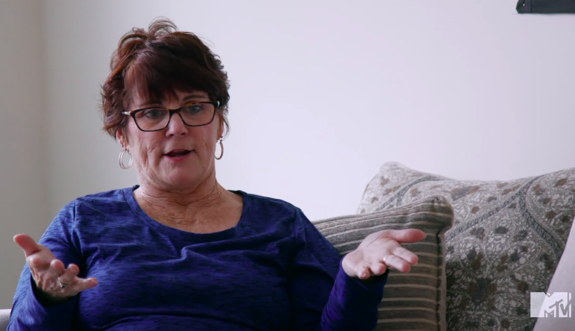 Back in August, after Jace ran away from his school, Barbara spoke to TMZ, stating that she believed Jace was having problems because Jenelle stopped giving the 14-year-old the ADHD medication he's been on for the past seven years. Barb also stated that Jace was no longer seeing his behavior specialist. Jenelle went on to blast Barbara's statement as lies.
"Please do not believe anything my mother is saying to the media at this time. The truth will prevail and I'll soon tell you when the time is right," Jenelle wrote on Facebook on August 17, insisting that Jace actually had a Zoom call with his therapist that day.
In her court filing from October 3, though, Jenelle admits that Jace only saw a therapist after the TMZ article came out. (She claims that Barb talking to the media was the reason for Jace to go to therapy.)
She also admits that Jace wasn't on meds; however, she claims that he doesn't need them.
"Barbara Evans lied to TMZ media because Jace Evans is not prescribed any medication for his mental health," Jenelle wrote. "Jace Evans needed to start therapy after the TMZ article incident due to his depression…and anxiety Barbara Evans caused from giving her exclusive statement."
Jenelle states that Barbara committed "bodily harm" against Jace by allowing him to take an anti-depressant without Jenelle's consent.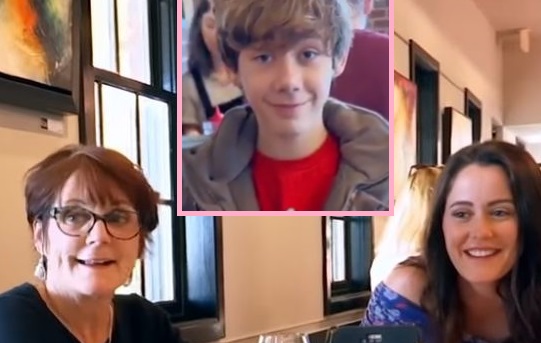 Jenelle claims that, after Jace was hospitalized, Barb authorized him to be given an anti-depressant. Jenelle stated that "Barbara lied to the hospital stating she was the 'primary guardian' [of Jace] which was not true. Jenelle Eason has primary custody."
(At this time, Jace was in the care of CPS.)
Jenelle stated that Barbara didn't have medical rights over Jace to do this and "Jenelle Eason did not consent to Jace getting this medication and the hospital is very upset by Barbara's actions."
Jenelle claims Barb committed "bodily harm" against Jace by giving consent for him to take an anti-depressant.
"There is a concern for Jace's safety because Barbara could have called the doctor to prescribe any medication without Jenelle Eason's consent," she writes.
(Jenelle did not indicate that Barb consented to any medications for Jace other than the anti-depressant.)
She claims that Jace had to go a mental health facility "because of Barbara's actions to the public."
Jenelle claims Jace was admitted to the hospital due to "self harm."
As The Ashley previously told you, Barbara informed police that Jace had told her that Jenelle's husband David assaulted him on Thursday, September 28, prompting him to run away again. He was taken to the hospital, where Barbara visited him (despite Jenelle and David claiming Barb was banned from seeing or talking to him at this time.)
In her October 3 court filing, Jenelle claims Jace went to the hospital for "self harm."
Jenelle writes that Barbara made "false police reports" in September. (We can assume she's talking about Barb telling police that Jace said David assaulted him) and that those reports caused harm to Jenelle, David and her kids.
"[The reports] in return caused articles to be written again and caused emotional distress and anxiety with my entire family," Jenelle wrote. (And, no those are not typos….that's exactly how she wrote it.)
However, on the day The Ashley wrote the article about the police report, Jenelle herself confirms she had no idea what was happening with Jace, so she would have no clue if it "caused emotional distress and anxiety" for him.
Jenelle claims Barbara conspired with a "random" minor to harass Jace & threaten Jenelle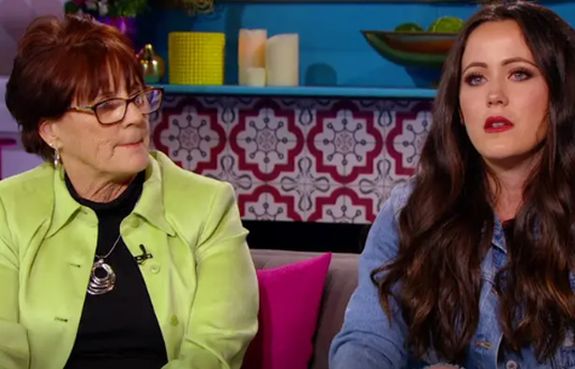 "Barbara Evans also used another third party to harass Jace Evans," Jenelle wrote. "Barbara secretly contacted a 14-year-old minor that was a friend of Jace Evans. Barbara expressed threats against Jenelle Eason and shared Jace's personal mental health information with a random girl."
(The Ashley can confirm this was not a random girl. It was, in fact, Jace's girlfriend, whom Jenelle knows.)
Jenelle claims that, before Jace ran away on September 28, Barbara texted Jace's girlfriend to get a message to Jace. (It is unknown if this was because contact between Jace and Barbara had been cut off at that point.)
Jenelle admits in her statement that Barb was concerned for Jace's mental health and well-being, even before he ran away the last time.
"Barbara's texts [to Jace's girlfriend] state, 'Tell Jace we will be going to court and this will all be over soon. Also I have the custody order in place so you are to call and text me. If [Jace is] struggling mentally he needs to see a doctor."
"Barbara acknowledged Jace was, in fact, depressed," Jenelle wrote, adding, "After Barbara Evans sent the text to the minor, [Jace] tried running away from home again."
Jenelle claims that Barbara "is expressing Munchhausen Syndrome"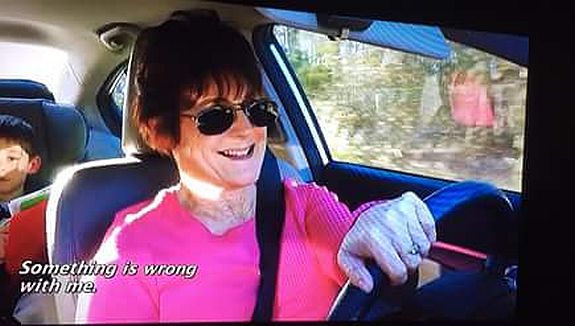 In her filing, Jenelle took a swing at Barb's own mental health, telling the court that she believes her mom has "Munchhausen Syndrome."
(In case you're unaware, according to the Cleveland Clinic website, Munchausen syndrome is "when someone tries to get attention and sympathy by falsifying, inducing, and/or exaggerating an illness. They lie about symptoms, sabotage medical tests… or harm themselves to get the symptoms.")
Since this has nothing to do with what Jenelle claims Barb has done, it's likely that Jenelle actually meant "Munchausen Syndrome by proxy," which is "a mental illness and a form of child abuse. The caretaker of a child… either makes up fake symptoms or causes real symptoms to make it look like the child is sick." (If so, Jenelle would be claiming she thinks Barbara is faking Jace's issues for attention.)
She also claims that her mom "has expressed thoughts of suicide in the past."
Jenelle requested the emergency restraining order for herself and her kids on October 3. One day later, a judge denied her request for it to be "ex parte," stating that Jenelle failed to prove grounds for it.
Jenelle asked that Barbara be prevented from buying firearms; to be required to surrender any guns she might have and be required to attend an "abuser treatment program," in addition to having no contact with Jenelle and her family.
A court date was scheduled for Tuesday to address the issue, but the request was "voluntarily dropped" by Jenelle before then, a Columbus County, North Carolina, court clerk confirmed to The Ashley.
The Ashley will have more info on the custody situation very soon. Stay tuned…
RELATED STORY: Jenelle Evans Calls 911 To Find Out Where Her Son Jace Is; Tells Cops She Believes Her Mom Barbara Evans Is Hiding Jace
(Photos: MTV)