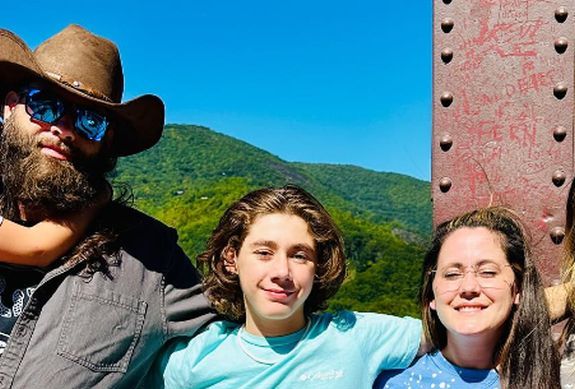 David Eason is denying reports stating he and his wife Jenelle Evans no longer have her son Jace, and slamming Jenelle's mom Barbara Evans for "falsifying" police reports that state Jace claimed David assaulted him last week.
The fired Teen Mom 2 dad took to social media on Tuesday, one day after The Ashley broke the news that a police incident report filed last week states Barbara told police that Jace accused David of assaulting him on Thursday. A report by The Sun gave more details, stating that Jace allegedly had marks on his arms and neck from the alleged attack, and that the alleged incident was caught on a Ring camera.
David's social media posts denied that the incident was caught on camera. David also claimed that Barbara— who raised Jace until he went to live with Jenelle and David in March– is a "danger to [Jace's] health and safety."
David also claimed that Barbara currently allowed to see or speak to Jace.

"It takes a sick person to spread lies on the Internet about a child!" David's rant began. "Then the rest of you are sick for chiming in like you know something because you read their lies. You people need help!"
David went on to claim that "our kids are in our custody and anything you read is not true!"
In the comment section of the post, someone told David, "Jace is in custody of DCFS so he's not with you."
"No actually he is not but I'm sure you are wrong about everything else in your life too," David responded.
(The Ashley stands by her story that Jace is no longer with Jenelle and David.)
David insinuated that Barbara "falsified" police reports. (Jenelle made a similar claim on Monday on Facebook.)
"The truth is already apparent to everyone involved," David wrote. "Barbara is NOT involved and she is NOT allowed to speak to [Jace] right now. The best thing any of you can do for Jace is to stop talking about him all together! Thanks."
In the comment section of the post, David denied that there is any footage from a Ring camera of the alleged incident in question.
"There is no camera footage," he wrote. "But y'all keep dumbing yourselves down with useless garbage. That's what you are anyway."
When someone commented that an "arrest is coming" for David, David seemed to be acknowledging that something did, indeed, go down.
"Why not [arrest me] when it happened?" David wrote of the alleged incident. "Why not yesterday when I was hanging out with the Sherriff and Game Warden?"
On Monday, Jenelle also claimed that Barbara was at the root of the Easons' recent custody/CPS issues.
"My mom's been on a roll lately, just felt the need to explain because more rumors are circulating in the media. My children are still in my custody. Give us privacy and stop asking please. Thanks!" she wrote.
She also bragged on Twitter that "my husband is still a free man…so I def don't need your approval."
RELATED STORY: More Details Released About David Eason's Alleged Assault of Jenelle Evans' Son Jace; Alleged Attack Reportedly Caught On Camera (Exclusive Details)