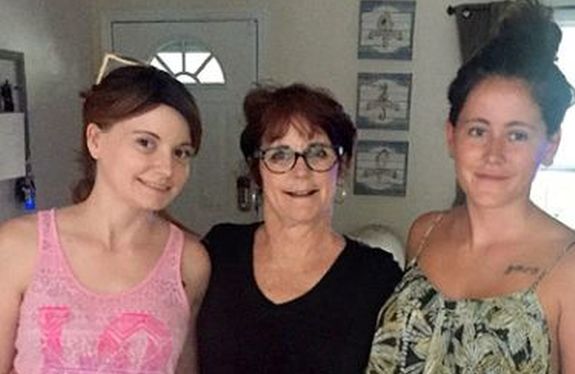 Jenelle Evans' life seems to be in turmoil— and now another person from the fired Teen Mom 2 star's life is coming out of the woodwork to comment on Jenelle's behavior and parenting— and Jenelle is not happy about it!
On Thursday, Jenelle's sister Ashleigh Evans Wilson left a comment on a video about Jenelle posted by YouTuber @ElleBee. In her comment, Ashleigh claimed that Jenelle neglects her kids, uses drugs and can't handle it when the "truth" about her life is revealed.
(Ashleigh and Jenelle have been estranged for year, but she did appear on 'Teen Mom 2' over the years.)
"I try really hard not to comment on these videos about my family. However, I will say that my sister has not changed, she is still the same person she was years ago," Ashleigh wrote in a comment that remains posted as of press time. "She still neglects her children, has a lot of mental health issues, starts trouble with my mother all the time, doing drugs and does the most.
"She's only upset because the truth is coming out," Ashleigh continued. "Not by my mother [but] by her own actions and being a neglectful parent. That's why she got a restraining order. It's most likely going to be dropped.
"If only everybody seen what goes on behind closed doors everyone would be shocked. My sister is out of control. Unfortunately, she will never change."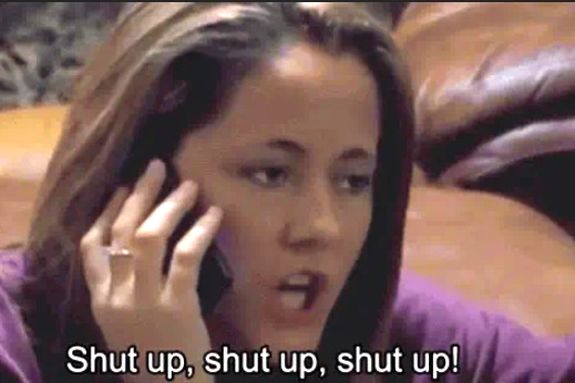 As The Ashley previously reported, Jenelle recently filed for a restraining order against her mother, Barbara Evans, claiming that she fears Barb poses the threat of "danger of serious and immediate injury" to her and her kids. In addition, Jenelle has been struggling to parent her 14-year-old son, Jace, whom she regained custody of earlier this year. In the last month, Jace has run away from twice.
Jenelle eventually became aware of the comment Ashleigh made, and then responded online. In a message posted to Instagram Stories on Friday, Jenelle told her followers not to believe what Ashleigh said.
"Here we go again…I do not associate with my sister or brother [Colin] for years now," Jenelle wrote. "My sister has no idea about my family or personal life. She doesn't associate with my children either."
Next, Jenelle threw a jab at Ashleigh's own parenting. (She has two sons, Gabriel— who was featured on 'Teen Mom 2' frequently— and Atlas.)
"Girl, I would be focusing on the child you don't have before pointing fingers at anyone," Jenelle told her sister. (The Ashley can't confirm or deny if Ashleigh has custody of both of her sons.)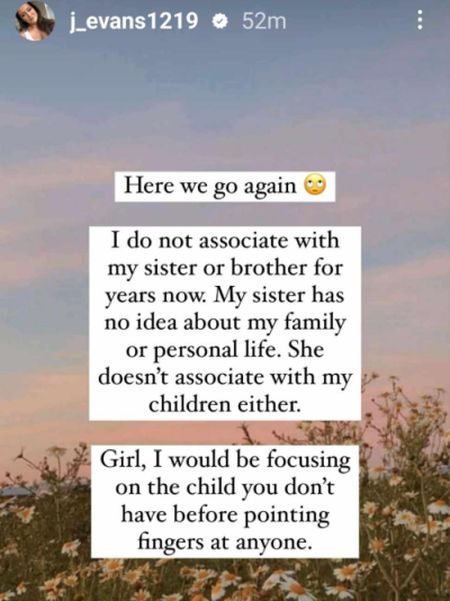 Jenelle and Ashleigh have been at odds for years. Back in 2021, Jenelle discussed her poor relationship with Ashleigh in a TikTok Q&A session, stating that she believes Ashleigh is envious of her.
"Me and her didn't have the best relationship growing up…We definitely didn't get along then because it seemed like she was jealous over me," Jenelle stated in her signature "Jenelle Speak" way.
"Later on in life I ended up on this show, and then things only got worse from there. She has mental health issues. She sold me out to the tabloids, making up stories that aren't even true," Jenelle stated, referencing a 2012 interview Ashleigh did with Star magazine in which Ashleigh called Jenelle "evil," among other things.
"When something goes bad in my life, that's the only time that she will comment on my life. So, I hope she's doing well, but it's better if I cut her off," Jenelle stated.
In 2019, the sisters were once again sparring online after Ashleigh revealed that Jenelle had lost custody of her then-two-year-old daughter, Ensley. Jenelle denied Ashleigh's claim (which actually turned out to be true), and told her followers not to believe what Ashleigh was saying.
"My sister is psycho y'all. Don't believe her. She doesn't know anything about my situation. I don't speak to her," Jenelle tweeted.

In return, Ashleigh took to Facebook to let the public know she does not want to be associated with Jenelle or the rest of their family. (To The Ashley's knowledge, Barbara and Ashleigh currently get along and have a good relationship.)
"I am Ashleigh Evans Wilson. I'm nothing like my family,' Ashleigh wrote in 2019. "I have a BA in Political Science and English. I graduated pre-law school… I own a house and I'm a single mom and have my s**t together. I'm not trailer trash like the rest of my family."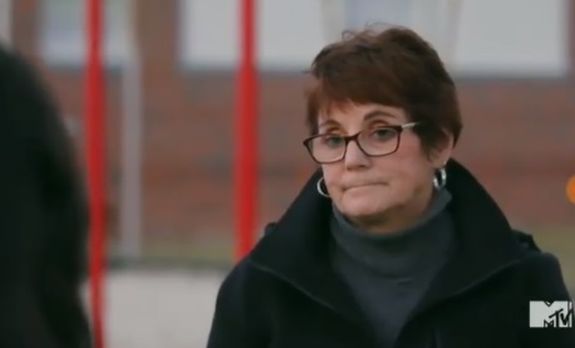 RELATED STORY: Andrew Lewis– Absentee Father of Jenelle Evans' Son Jace— Begs Jace to Call Him: "You Ran Away, We Need to Talk!"