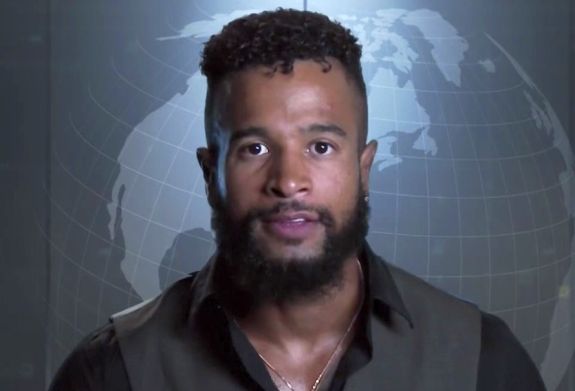 More information is being released regarding the car accident that almost killed The Challenge star Nelson Thomas in March and left him with devastating injuries.
On Monday, it was revealed that Nelson was arrested on September 28 for Driving While Intoxicated, a charge that stemmed from the night of the car accident on March 6. In additional court documents obtained by The Ashley, it's shown that Nelson was charged with DWI due to his being allegedly over the legal Blood Alcohol Content (BAC) on the night of his car accident.
Documents exclusively obtained by The Ashley state that a warrant was issued for the arrest of Nelly T on June 29, 2023.
As The Ashley previously told you, Nelson was pulled out of his burning vehicle in March after crashing it in Austin, Texas. He was helped at the scene by Minnesota Vikings wide receiver K.J. Osborn and three other bystanders, whom he credits with saving his life. Since then, Nelson has undergone numerous hospitalizations, surgeries and physical therapy sessions to try to regain full use of his ankle and foot.
View this post on Instagram
Last month, though, Nelson revealed that his ankle has not healed and that he was facing possible amputation. (He is currently undergoing stem cell therapy.)
In the affidavit and application for arrest warrant (first posted on Vevmo and also obtained by The Ashley), alleged details of Nelson's near-fatal accident are revealed.
"Multiple [911] callers reported a vehicle had struck a pole and was now on fire with a person unconscious still seated inside…" the report states, adding that cops arrived to find K.J. Osborn and the others standing over Nelson after they pulled him out of the car and laid him on the ground.
"The male was bleeding from his mouth and had blood all over his pants," the report states. "EMS arrived and began treating the injured male. He was later identified as Thomas, Nelson…"
The report states that the witnesses saw Nelson's car lose control, go off the road and crash into a bridge. When the officers spoke to Nelson on the night of the crash, he stated that he lost control of his car after another car swerved in front of him.
The officer "noted that Nelson had bloodshot, glassy eyes," and that Nelson admitted to have "2-3 mixed alcoholic drinks." The officer spoke to Nelson again at the hospital that night.
"This time [the officer] detected a strong odor of an alcoholic beverage emitting from [Nelson's] breath," the report stated, adding that only one Standardized Field Sobriety Test could be conducted on Nelson on the night of the crash, due to the severity of Nelson's injuries.
View this post on Instagram
The report states that the officer performed the Horizontal Gaze Nystagmus Test on Nelson, and, based on the results, the officer "formed the opinion that Nelson was intoxicated, having lost the normal use of his mental and physical facilities due to the introduction of alcohol into his system."
Nelson was reportedly placed under arrest for DWI that night, but was released from custody because he needed treatment of his injuries. A blood sample was taken from Nelson that night, and on June 8 a search warrant was executed for the results of that test. The results showed that Nelson's Blood Alcohol Content (BAC) was reportedly 0.178. (For reference, the legal limit for driving in Texas is 0.08.)
Because Nelson's BAC was reportedly so much higher than the legal limit, he received an enhancement on his charge. Nelson was officially charged with a Class A misdemeanor, due to his BAC being over 0.15.
The Ashley can confirm that, on July 13, Nelson asked the court to set his bond at $5,000. (A judge granted the request that same day.)
"Defendant is dealing with a serious medical condition in which he does not have full mobility of one of his legs," Nelson's attorney wrote in his motion related to his bond, which was obtained by The Ashley.
. "…Defendant is eager to get this warrant taken care of and asks this court to set a bond amount so that he can accomplish this as quickly as possible."
Nelson had his mugshot taken on September 28, and it was later posted to austinmugshots.net. He paid his $5,000 bond on that day.
Earlier this month, Nelson filed to request a change in his bond conditions. He asked the court to remove the requirement that his car have an Ignition Interlock Device (IID) installed. He stated in the court paperwork that he currently does not own a car, and does not have access to a vehicle to drive.
A judge approved Nelson's request on October 16.
Nelson's next hearing is set for November 16.
Shortly after Nelson's accident, a GoFundMe was set up to help the 'Challenge' star pay his medical bills. As of press time, the fundraiser has garnered more than $58,000.
He has yet to publicly comment on the documents' release. He has never commented publicly on what caused the accident.
RELATED STORY: 'The Challenge' Star Nelson Thomas Says He's Facing Amputation Due To Ankle Injury Sustained in Near-Fatal Car Accident Earlier This Year: "I Gotta Make My Choice"
(Photos: MTV; Travis County PD; Instagram)