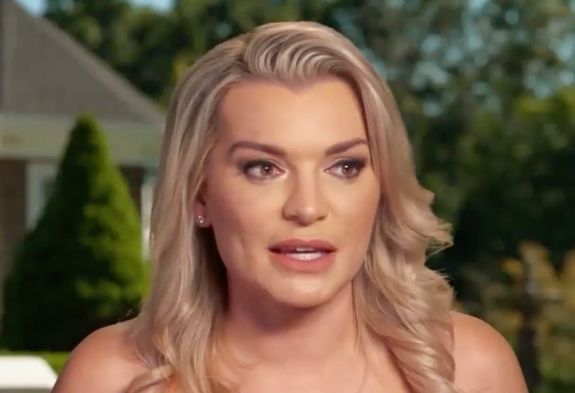 Lindsay Hubbard is finally ready to share her side of the story after the shocking end of her engagement to Carl Radke.
In a new interview with Us Weekly, Lindsay revealed that she was "completely blindsided" when Carl chose to end their engagement just months before they were scheduled to get married. She also called Carl's actions regarding the breakup "scary," stating that he purposely called up Summer House producers so that the breakup could be filmed, despite filming having already wrapped for the new season.
"He blew up my entire life," Lindsay told the magazine, later criticizing the fact that Carl chose to ambush her with the breakup.
"The whole world found out within 30 minutes of me," she stated.
Lindsay said the breakup was not due to cheating, Carl's sobriety, or stress from the wedding planning, and that Carl showed no signs that he wanted to end the engagement.
"Two weeks before he called it off, I was at my bridal shower and he showed up," Lindsay– who was due to marry Carl on November 17— said. "One week before, I was at my dress fitting and he was fitting for his suits with all of his groomsmen."
She did, however, see a change in her then-fiancé shortly before the breakup.
View this post on Instagram
"It was literally the last two weeks of summer that his demeanor and tone changed. There was a lot of combativeness and aggression on his end, and I was very confused," Lindsay said.
She called the breakup "absolutely humiliating," especially because it was filmed for the upcoming season of 'Summer House,' at the request of Carl.
"It would've been one thing if this conversation happened over the summer during the normal filming schedule. But for [Carl] to call up producers and then set up cameras and manipulate me into sitting down [so he could break up with me] after we'd already wrapped [filming] is scary," Lindsay said.
Lindsay credited her girlfriends for supporting her through the breakup, particularly Danielle Olivera, whom she had a blow-out fight with during Season 7.
"She really has been so incredible in this entire process," Lindsay said of Danielle. "I had a great time rebuilding my friendships with different girls in the house, and they were there for me throughout the summer."
View this post on Instagram
However, Lindsay didn't have nice things to say about Kyle Cooke, who recently spoke out about Lindsay and Carl's relationship, stating that they had been in couple's therapy "since they basically started dating."
"Kyle has always had it out for me," Lindsay told Us Weekly. "He thinks that I'm some master manipulator who controls the universe and he's good friends with Carl."
As for the all the money she spent on the wedding, Lindsay said she plans to sell her engagement ring to recoup some of the money lost. The New York City apartment she previously shared with Carl (which reportedly costs $13,000 a month) will stay hers.
(Kyle confirmed that Carl "basically homeless" due to letting Lindsay stay in their apartment.)
"I spent a lot of time, money, and effort to make this home comfortable for us, for him to then burn it down," she said. "And at this point, I'm not in the mind space to think about, 'Oh, where am I gonna live now?'"
Lindsay stated that she's completely done with Carl following their conversation after their split, during which he took no accountability for his part in their breakup.
"I'm not gonna sit through a conversation with somebody who has no empathy or realization or self-awareness to understand what he did," she said, adding that she will never trust Carl again.
In fact, she has no plans to share a house with him for the show.
View this post on Instagram
"The way that he called the producers and set up the cameras —- [he] blindsided me and humiliated me in such a public way. I'm not comfortable at this point in time," she said.
"The door is 1000% closed in a romantic way. And, for now, in a friendship way [too]," she added. "Maybe in 10 years I'll consider being an acquaintance. But no, it's closed on him completely for me."
RELATED STORY: 'Summer House' Star Kyle Cooke Says His Co-Star Carl Radke Is "Hurting" & "Basically Homeless" Following His Split From Fiance Lindsay Hubbard