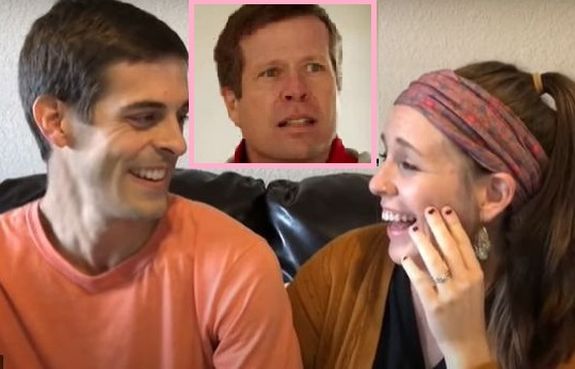 Derick and Jill Dillard may have just exposed one of the most-ridiculous things Jill's dad Jim Bob Duggar has ever made them do.
In a new interview with the Ask Dr. Julie Hanks podcast, the former Counting On stars discussed what life was like under Jim Bob's control, both before and after they got married in 2014. During the interview, Derick stated that Jim Bob made him call up every girl he had ever kissed before he met Jill, and apologize for smooching them out of wedlock!
As 19 Kids & Counting fans know, the Duggar kids all vowed to have their first kisses over the altar on their wedding days. While Jill and Derick's first kiss as a couple was over the altar, Derick had already kissed other women before meeting Jill, and Jim Bob was not happy about it!
"One thing that was odd for me with Jill and I's relationship was that Jill's dad had asked that I contact each of the women that I had kissed [before meeting Jill], and apologize [to them]," Derick said. "It was extremely awkward…
"I had kissed other women, and I was open with Jill about that beforehand," Derick added. "I didn't want to hide anything….not that I did anything, like, terrible or anything like that."
Jill said that, at the time, she wasn't even aware of Derick's Jim-Bob-mandated apology tour, but was pleased to hear that Derick actually did it.
"I got some interesting responses," Derick said, although he declined to elaborate what the women had to say about his apologies.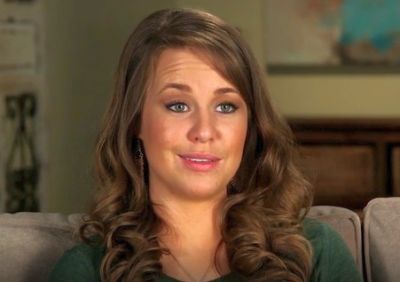 While Jill didn't mind that Derick had previous smooching partners, she said she would have never locked lips with anyone pre-marriage, due to how she was raised.
"Our upbringings were very different in that way, where I very much felt like it would be sinning if I kissed [someone] before marriage," Jill said, adding that she was conditioned to follow the rules set by her parents, as well as their religious organization, the IBLP.
"It would be sinning if I did not follow the rules that were kind of laid out [for us]," she said.
In addition to issuing apologies to his smooching partners, Derick also had to fill out Jim Bob's infamous 50-page questionnaire in order to even be considered to court Jill.
"I was asked questions about my choice in music," Derick said. "…I didn't know this at the time but Jill told me that her dad said, 'You need to talk to Derick about his choice of music' and I think you said, 'Well, I don't even know what my convictions are on that.'"
Later in the podcast, Derick said he wasn't aware of how many unspoken IBLP "rules" Jill had to follow until after he married her, such as Jim Bob's strict rule against pants. (Derick revealed that Jim Bob first heard rumors that Jill had committed the sin of pants-wearing after he got a Google Alert about it in 2017.)
Having fun at Silver Dollar City! pic.twitter.com/DuWA1Lzkqq

— Duggar Sisters (@DuggarSisters) November 12, 2017
"Her dad pulled her aside when we were over there and, again, we've got like multiple children at this point, and said, 'Hey, I heard you're wearing pants,' and he gave her a book on why it's not good to wear pants. He gave her a book and was like, 'You need to read this and realize why you don't need to be wearing pants!'
"…A lot of these were unspoken rules I had to figure out," he continued.
Another interesting tidbit mentioned during the Dillards' podcast interview is that Jim Bob and Michelle have "jokingly" told their 19 kids that whichever one of them ends up having the most kids, that's the one who will get the giant Duggar Family home.
"It's like, half-joking," Derick said.
(In case you're wondering, if Ma and Pa Duggar make good on their "joke," the house would currently go to eldest Duggar offspring Josh, who has seven kids with his wife Anna. However, because Josh is going to be in prison and unable to conceive "blessings" for the next decade or so, there's a good chance one of his siblings will pass him up in the baby-making department. Jessa Duggar Seewald is currently pregnant with her fifth child, making her second in line to snatch up the Duggar Manor.)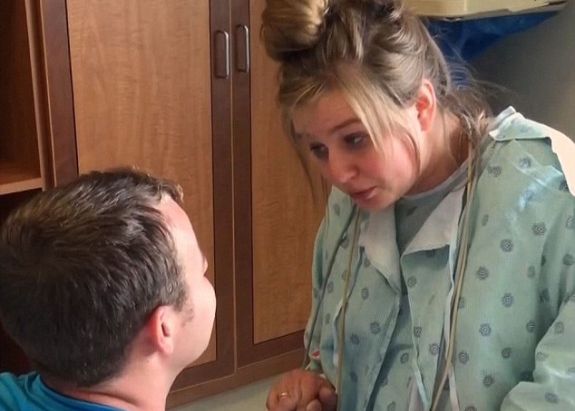 RELATED STORY: Jill Duggar Dillard Says Her Husband Derick Dillard Threatened to File a Protective Order Against Her Dad Jim Bob Duggar: "He Was Standing Up to Protect Me"