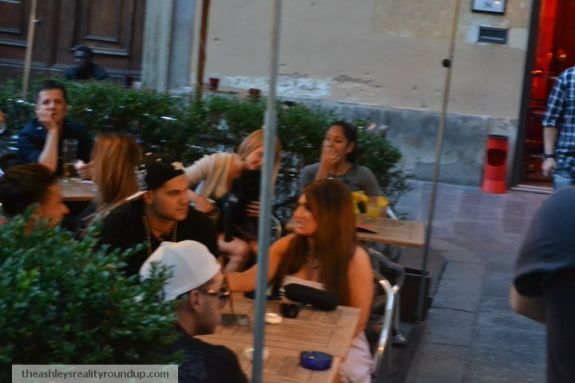 Yes, The Ashley is aware that this post violates her promise to herself that she would never post about the creeptoads from the Jersey Shore, but this was sent straight from Italy, so I must post it.
One of The Ashley's friends is currently backpacking-it-up in Italy and came across quite the Jerseylicious scene when she stopped at Moyo (an American-style restaurant) in Firenze, Italy.  She was kind enough to snap these exclusive pics of the cast feasting on dinner (and MTV camera time.)
According to The Friend, "Ronny and Sammi were all over each other. Jwoww sat around and did her nails."
It's nice to know that the Shore Gang's grooming habits haven't taken a backseat to fame-whoring while overseas. Seriously, though, who files their nails at the dinner table?! Why not give yourself a pedicure during dessert?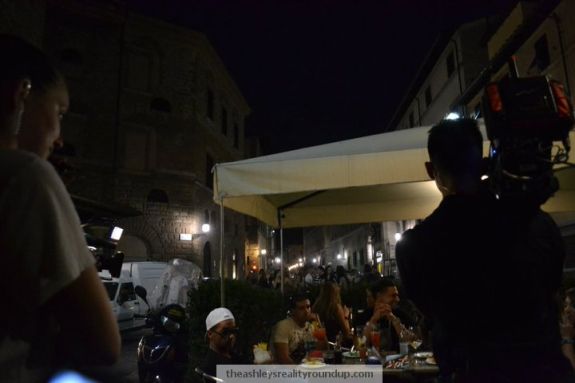 One 'Shore cast member that was no where to be seen? Snooki.
"We're thinking she's in rehab!" said The Friend.  (Rumor alert!)
After watching them film a scene, The Friend also offered up her thoughts on the 'reality' of this lame-ass reality show.
"It seems really staged. They obviously know they're in front of the camera. I talked with Ron and he said it's been grueling," she said.
A staged MTV reality show? I can't imagine….