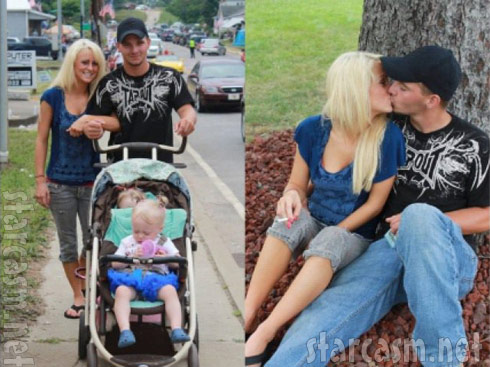 Teen Mom 2 star Leah Messer is seeing a new guy. For most human beings, this is not exactly breaking news, but this is earth-shattering to 'Teen Mom' fans who were still clinging to the hope that Leah and Corey Simms would get back together and live happily ever after. (Sorry guys, but they finalized their divorce June 21. It's not happening!)
Gossip websites and magazines have gone loony with reports that Leah is dating a new man. As always, The Ashley is happy to help sort through some of these poorly researched and ridiculous rumors.
To answer your questions:
Q: Is Leah dating her ex-boyfriend, Robbie Kidd?
A: No. They've hung out as friends, and I'm sure that Robbie would jump on the chance to jump on Leah and get an extra 15 minutes of fame, but it's not happening. (Want to know something frightening? Someone made this turd a Facebook fanpage.)
Q: But I saw a photo of them in US Weekly.
A: Don't believe everything you read, kids. (Unless it comes from The Ashley, of course!)
Q: Is Leah Dating Tyler Blankenship, the Race Car Driver?
A: Um..no. Despite reports (and magazine cover stories) that Leah is dating a guy named Tyler Blankenship, this is totally false. He's actually dating someone in Leah's inner circle.
Q: So who the hell is she dating then?
A: Leah confirmed today that she is dating a new guy. She recently posted two photos of her with the new man on her personal Facebook page. She wrote this to help clear up the rumor that she's dating Tyler:
My sister is dating Tyler Blankenship NOT me! and YES that is ME in the new profile pic i just forgot to put the logo on it and the sun was glaring. Oh how i got to love my true haters and my TRUE FANS. The guy in the pic is not tyler it is someone else lol. leave it at that lol
So who's the mystery guy shown in the photos at the top of this post? The Ashley does not know yet, but she is on a mission to find out! I love this crap!
Update:  Starcasm wins! They found out who Leah was dating before The Ashley did! The new boyfriend's name is Dusty Haas from West Virginia. He has been friends with Leah for a long time and just started dating in June. They spent the 4th of July together with Leah's daughters! Here's the full story on Leah's new boyfriend! Welcome to the Paparazzi Jungle, kid.
Update #2: It's over! Leah's best friend, Amy, has announced on Leah's Fanpage that Leah has ended her relationship with Dusty.
"Leah and Dusty are no longer seeing each other as of today due to personal things & her not wanting to be in a relationship right now..She tried to date but felt it wasn't the right time. But anyways as for Leah and Dusty, they will remain friends more than likely as they were friends for years beforehand, but she feels like a relationship with him or anyone for that matter is just to much at this point."
That didn't last too long!