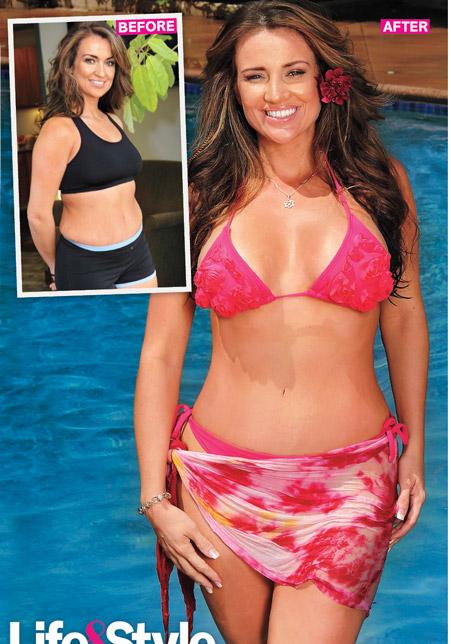 Well…I guess we all know what she needed that Bachelor Pad money for…..
Ella Nolan, one of the finalists on 'Bachelor Pad' has been whining for weeks that she is 'desperate' to win the $250,000 prize money because she's a struggling single mom with a 9-year-old son. She has said many times over that she was "willing to do anything" to win that money (and she's proven that by playing tonsil hockey with 7+ guys during challenges) because she wanted to buy a house for her and her son.
Well…she did buy a couple of mounds but not the kind you can live in. Yes, kids, Ella is the latest 'Bachelor Pad' star to go under the knife of co-star Erica Rose's plastic surgeon father, Dr. Franklin Rose. (Vienna got her nose done by Dr. Rose in July).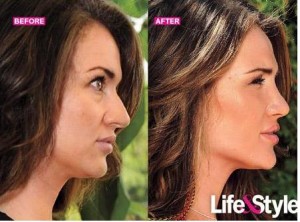 According to Life & Style Weekly, Ella not only got her nose done, but also got brand-new D-cup breast implants and liposuction!
"I got everything I wanted. I feel incredible," Ella told Life & Style during her photo shoot on September 4. "I can't stop touching my new boobs!"
Hmm…either she suddenly has acquired a large sum of money somehow (are we looking at one of the 'Bachelor Pad' winners?) or Erica got Ella the 'BP' discount with her surgeon daddy.
The Ashley has no problem with someone getting plastic surgery; however, if Ella did win the money and go blow a bunch of it on plastic surgery when all she talked about was taking care of her son, etc., then that is kind of crappy of her. Those surgeries combined could have cost an upward of $20,000 (unless she got a discount).She does look great though!
Erica's dad seems like a famewhore too so I can see him doing some of it pro bono in order to get the publicity. Who will be the next 'Padder to go under the knife!?
(Photos: Michael Williams, Life & Style Weekly)