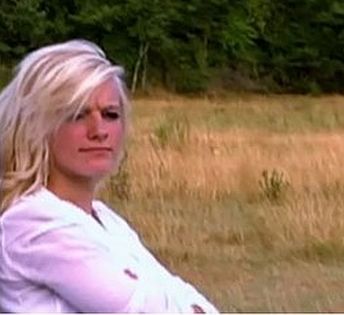 Teen Mom 3 star Mackenzie Douthit has had a rough second pregnancy: from battling with her blood sugars, to recently breaking her foot, it's been a hard few months for the reality star.
However, Mackenzie faced her scariest pregnancy moment yet when she got into some sort of altercation with a local woman. The Ashley was tipped off by one of Mackenzie's friends that something had gone down, so she has been trying to piece together what happened. Here's what she was able to find out:
Late on October 3, a woman (who Mackenzie said was "over 300 pounds" and likened to "the devil or a trunchbull") allegedly grabbed Mackenzie by the hair and dragged her across a concrete porch on her stomach.  While The Ashley wasn't able to figure out what Mackenzie did to the woman, who's name is Dez, to make her so angry, but it must have been something pretty bad. (I mean, who does that!?)
The Ashley has seen photos of this woman and, allow me to say, she is, indeed, at least three times as big as Mackenzie and a very, um, handsome woman.
Apparently, Dez called the cops on Mackenzie (for something unknown) before the attack, but when they came, Mackenzie told them what happened. Eventually, Dez turned herself into police custody.
Mackenzie commented on the incident on her personal Facebook page:
"I came face to face with the most evil, selfish, ugly hearted women today. Im talkin three of me," she wrote. "But God must have an amazing plan for this baby inside me cause through the bad blood sugars, stress, and tonight shes still kicking;)….. hope she has fun in jail."
Mackenzie told her Facebook friends that she and the baby are OK (although hunks of Mackenzie's hair were allegedly pulled out during the incident), and that she's going to the doctor to make sure the baby's OK.
It appears that Dez is out of jail (The Ashley was not able to find her in any Oklahoma state jail inmate list and can not confirm she was ever actually behind bars). She is now saying that she didn't do anything to Mackenzie.
"And she is trying to say she did nothing," Mackenzie posted on her Facebook today. "Ummmm why is their a scrape on my stomach and legs and my hair falling out… your half man and ur a liar."
Obviously, we are missing a big piece of the story— what spurred this woman to allegedly attack a pregnant woman with a broken leg? What we do know is that last night Mackenzie's husband, Josh McKee, was riding in the rodeo at the Tulsa State Fair. Mackenzie posted photos from the night on her Instagram so she appears to be doing OK (and her hair looks OK too, just for the record.)
Dez appears to be friends with members of Mackenzie's family– and Mackenzie is friends with Dez's sister, which makes this whole situation even more troubling.
The Ashley will update when she gets more information on what happened. Mackenzie should hire Teen Mom 2 star Jenelle Evans— we all know she can whoop some ass!
UPDATE: The Ashley got the complete story from sources close to Mackenzie about what happened that day and what caused the fight. Click here for details.
(Photo: Facebook)