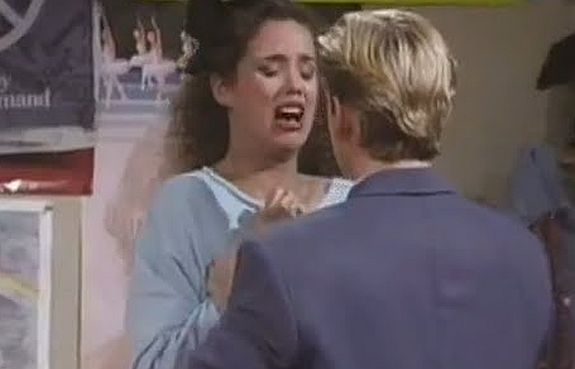 Any faithful Roundup reader knows that The Ashley's love for crappy reality television is only matched by a few things, one of them being Saved by the Bell. The Ashley is a 'Saved by the Bell' connoisseur of sorts; in fact, she is an undefeated 'Saved by the Bell' trivia buff! (I'm not so sure I should be bragging about that though.)
Anyway, The Ashley has been watching the current season of Dancing with the Stars, even though she hates that show, only because there are two 'Saved by the Bell' alums currently on there– Elizabeth Berkley and Leah Remini!
The Ashley's all-time favorite 'SBTB' episode is, of course,  the infamous episode in which Jessie is addicted to caffeine pills. Not only can The Ashley recite that episode word for word (again, not something I should be bragging about), but she literally cannot hear that Pointers Sisters' song "I'm So Excited" without thinking of Jessie Spano on a No-Doze binge!
Well, kids, our prayers have been answered. Elizabeth is reportedly planning to pay homage to that wonderful television moment in her next 'Dancing with the Stars' dance! According to E! Online, Elizabeth and her partner Val Chmerkovskiy will be jiving to "I'm So Excited" on next week's episode.
OK…I need a moment. This is such great news that The Ashley may actually crawl her lazy butt off the couch and vote for Liz and Val a few times!
By choosing this song to dance to, Elizabeth is paying homage to her cheesy "Saved by the Bell" days and shouting out to the folks like The Ashley that are still obsessed with this show! She even tweeted out a video (posted below) of the "I'm so excited….I'm so…scared!" scene. Let's hope Elizabeth busts out that giant "Hot Sundae" bow for her performance!
Just for #oldtimessake http://t.co/ylPwsbVjsN #imsoexcited #oldschool

— Elizabeth Berkley (@ElizBerkley) October 13, 2013