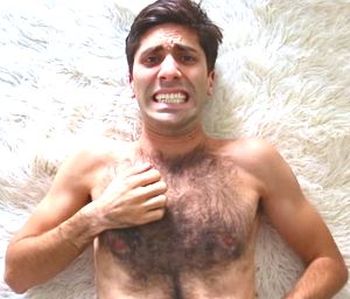 It's not every day that you get to write a headline like that, is it?
Catfish star Nev Schulman is selling off his infamous chest hairs, all in the name of sweet (and slightly strange) charity. Nev's hairy chest is almost as popular as his sidekick, Max Joseph— after all, the chest hair has its own Twitter, Facebook and Instagram accounts.
(Seriously, what is wrong with you people?!)
To help raise funds for the organization Leave Out Violence, Nev is auctioning his chest hair (along with other cool 'Catfish'-related goodies.) The chest hair, however, is one of the top prizes. One "lucky" winner will receive Max's fur (no word on how many hairs will be included).
"It doesn't get any better than this, the ultimate Nev souvenir: his glorious chest hair!" the GoRaff auction page reads. "It's what makes you call him Daddy, squeal when you see him shirtless, and what inspired @Nevschesthairs and the fan page Nev Schulman's Chest Hair."
At press time, 4,000 people have entered to win the fur. For every $5 a person donates they get one entry ticket to enter into a drawing for whatever prize they'd like. Once the auction ends, a winner will be chosen at random for each prize. (Just to let you know if you have some sort of creepy hair fetish and need Nev's chest hair ASAP, it will take between eight to 12 weeks to receive your "prize.")
If getting some dude's hair in the mail just isn't your thing, you can always try to win several other prizes, including a handwritten postcard from Nev, an MTV goodie bag and even a trip to meet Matt and Nev on the set of 'Catfish!'
While there will be multiple winners for some of the prizes, there is only one 'Catfish' set trip and, of course, only one patch of Nev's chest hair up for auction. If you want to bid on any of these items, you have 21 more days.
Click here to check out all of the prizes up for auction.
(Photo: GoRaff)