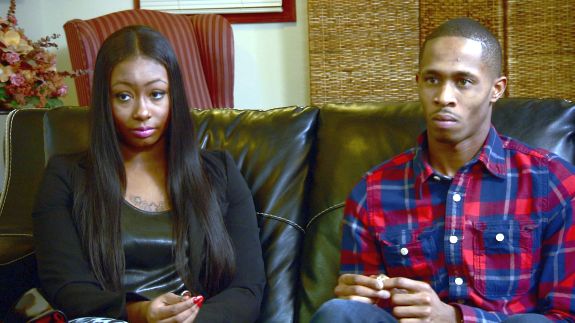 Back in January, The Ashley broke the news that MTV was developing Save My Teen Marriage, a reality show in which couples who got married too young make a last-ditch attempt to work on their problems and save their families. Since that time, the show has been scaled down into an episode of MTV's True Life and tonight we will get to watch it all play out!
'True Life: Save My Teen Marriage' airs tonight, immediately following the Teen Mom OG Reunion. We will meet two couples—Kyle and Amanda, and Rasheda and James—who will do a trial 30-day separation to see if their marriages are worth saving. The couples will live apart, and will be given a "hall pass" to see what life as a single person is like.
In an exclusive interview with The Ashley, Rasheda and James explained why they decided to share their marital problems on a reality TV show.
"It was tough, but [doing the show] was probably one of the best experiences I've had," said James.
Rasheda and James, who have been married for five years, decided to get hitched right after James, who was 18 at the time, graduated from high school. Rasheda, who was 20, said that at the time, getting married seemed like a great idea.
"James and I were in love, so we figured 'Why not?'" Rasheda told The Ashley. "We figured, 'If we are in love, why not just get married and live our life out together? We were together every single day and night so we figured we should get married instead of just playing house."
The couples' families were against the marriage from the very start, even though most family members didn't think the couple was serious about getting hitched.
"They didn't believe us!" Rasheda said. "I told my mom and she was so against it. Our families said we were too young to get married, and that we had a lot more to accomplish in our lives first. But, of course, when people are against something, it makes you want to do it even more."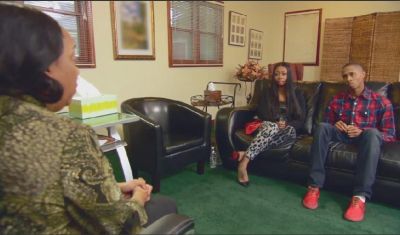 The couple married in a quick ceremony without their families present. The couple had to show their families their marriage license before anyone actually believed that they were husband and wife.
Rasheda and James, now 26 and 23, respectively, found out they were expecting a baby about a month after they got married. It was a lot for the couple to take, especially James.
"Everything happened so fast; it was all in a matter of months," James said.
"He was fresh out of high school, and had never experienced life as an adult outside of our marriage," Rasheda said of her husband. She added that this would pose a problem down the line in their marriage.
"The biggest issue is commitment," Rasheda said. "James hadn't sowed his oats, hadn't gone out with girls, except while he was in high school. So he started to kind of live that out while were married."
The couple says they applied to be on 'Save My Teen Marriage' when they found themselves at a crossroads in their marriage. Exposing their private lives—and indiscretions—on national TV wasn't easy, but they hope that it may help another couple who is considering getting married at a young age.
"I'm a real person; I don't care about everyone's opinions [about me]," said James. "It was definitely a hell of an experience for us. We were putting our lives out there for other people to see, and [hopefully] it will benefit people. At the end of the day, it's a true life story of a couple that shows the world what it's really like to [get married so young]."
Rasheda and James both agree that if they could go back in time, they would wait a few years before saying, "I do." They hope to express this to viewers during tonight's episode.
"We put our private lives on TV because we knew that there's a young couple somewhere out there that's like us, and we want them to know what they're getting themselves into before they make that commitment," Rasheda said. "We want to help them make the right decision. Their families may be saying [to wait] like ours were. [We hope] they can look at us and see if they really want to go through with it and get married young, this is what can happen. I want other people to see what we've gone through."
At this point, the couple's story is only airing during this 'True Life' episode; however, they would both be open to doing a full series, should the network express interest in it.
"We have so much more to share," Rasheda said. "Day-to-day life of a young married couple is intriguing, and there are a lot of other young people that think they are in love and think that they are ready to make this commitment. They may not realize that this is a lifetime decision, not a spur-of-the-moment thing to do."
While we will have to wait until the show airs tonight to see what ended up happening in their marriage, both Rasheda and James say that doing the show helped them a great deal.
"It showed me the value of everything I have in front of me," James said. "It showed me things that I did wrong, and made me think about how I acted in certain scenarios. Going to counseling made it easier for me to understand."
Rasheda said she's nervous to watch the episode, but also feels grateful that she took part in it.
"James and I really got to look at ourselves," she said. "We never really had the time to find out who we really are and what we wanted to do, as people, because we have always been so focused on what we as a family wanted to do. It made me find myself, instead of me just being a wife and mother. It really gave us a chance to focus on ourselves and learn how to coparent."
Rasheda and James star on 'True Life: Save My Teen Marriage,' which airs tonight on MTV.
Watch a sneak peek of the episode below: