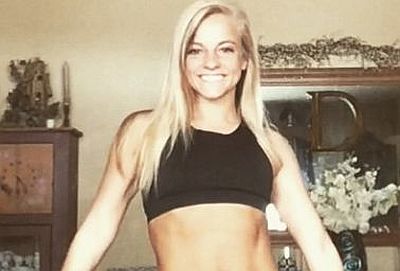 UPDATE: The Ashley has learned that Mackenzie not only sold photos of the pre-surgery consultation with her plastic surgeon, but also sold pics of herself on the operating table! The Ashley can confirm that Mackenzie invited a paparazzi photographer from Splash News to document her entire surgery– from the doctor drawing on her chest to mark where the implants would go– to Mackenzie with a breathing tube down her throat, sprawled out on the operating table.
The Ashley has viewed all of the photos (but is not posting them here because she refuses to pay for crap like that.) She will tell you, though, that they are exactly like ones Farrah Abraham sold of herself getting a chin implant.
A few weeks ago, Teen Mom 3 star Mackenzie McKee caused waves when she made a profile on a weird Internet fundraising site in hopes of raising money to get breast implants. (She later clarified that she always planned to pay for her new bazoombas herself.) Just a few days ago, Mackenzie was seen strolling along the beach in Southern California with a big smile– and a much bigger chest!
Dressed in a bikini top and jean shorts, Mackenzie proved that dreams (of big boobs) can come true. In the staged paparazzi photos, Mackenzie (and in some photos, her mom, Angie) smile while on the beach.
Mackenzie sold the the pics of her pre-surgery consultation with Dr. Neal Handel to Radar Online. If you're having flashbacks to when Farrah Abraham sold pics of her plastic surgery to a tabloid, it's no coincidence: Mackenzie has the same manager that Farrah did back when she sold her pics. In fact, the plastic surgeon that did Mackenzie's implants is also a client of her manager, Gina Rodriguez!
Mackenzie told Radar Online that she had the surgery last week in Santa Barbara, California. The site reports that the surgery took Mackenzie from a "training bra smaller than an A cup" to a 36B bra size. Mackenzie stated that breastfeeding daughter Jaxie and  son Gannon, made her "completely flat."
The aspiring fitness model's husband, Josh McKee did not accompany Mackenzie on her boob-cation. Instead, her mother came with Mackenzie for support. Last year, Mackenzie had stated that Josh was against her getting breast implants, and the couple has been struggling in their marriage recently.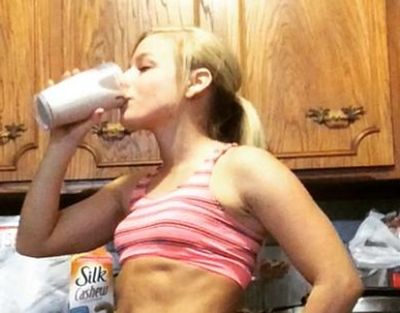 Anyway, Mackenzie claimed that she paid for her new rack by herself, thanks to her job as a cosmetologist and Internet protein shake spokesperson. However, she most likely got a deep discount, thanks to her doc being on her manager's client list. Dr. Handel expressed his feelings about Mackenzie's new mammaries on Twitter over the weekend.
"It was such a pleasure meeting @DouthitKenzie ! We are thrilled with how amazing she looks!" he tweeted.
Mackenzie has followed in the footsteps of Farrah (the 'Teen Mom' Queen of Plastic Body Parts), as well as Teen Mom 2 star Jenelle Evans and Maci Bookout in getting her boobs done. (A little birdie tells The Ashley that Mackenzie won't be the last of the franchise's stars to get a little help in the boob department! More details on that later!)
Mackenzie seems thrilled with her new additions.
"I want to think Dr. @NealHandel out of Santa Barbara, he did an awesome job and I love them," she tweeted today.
Since The Ashley didn't want to purchase the paparazzi photos of Mackenzie's new rack, you'll have to click here to see all of them.