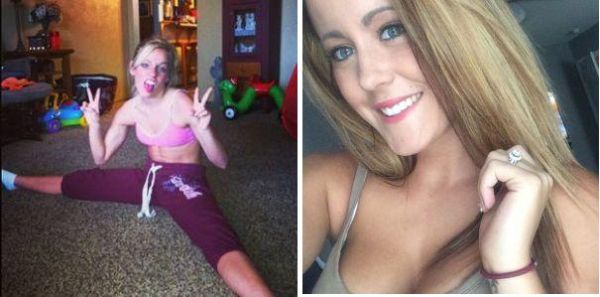 Last week, news broke that Teen Mom 3 star Mackenzie McKee has reportedly made a sex tape that Vivid Entertainment currently has possession of. TMZ reported that Mackenzie is currently "fighting" Vivid in hopes of keeping the tape private. (Click here to read what The Ashley found out about this situation.) There's still no word on how the tape "magically" landed in the adult entertainment company's offices.
Anyway, after news of Mackenzie's tape broke, The Ashley revealed that Teen Mom 2 star Jenelle Evans had also been offered the opportunity to make an adult film for Vivid. Jenelle told The Ashley that the company had offered her $1.5 million to make a sex tape, but that she turned it down.
In statements made to The Ashley, Vivid Entertainment discussed both its offers to Mackenzie and Jenelle! Some of Jenelle's critics were skeptical that Vivid had ever actually offered Jenelle the opportunity to make a sex tape, but Vivid has confirmed that they did, indeed, give Jenelle the offer.
"Yes we approached Jenelle as we believe a sex tape with her would be a huge success," Steven Hirsch, founder and co-chairman of Vivid told The Ashley. "She's currently not interested but we'll see what the future brings…"
Steven also commented on the status of Mackenzie's tape.
"We would love to work with Mackenzie," he told The Ashley. "Ultimately the decision is hers and I look forward to meeting with her to discuss."
So far, Mackenzie has kept quiet on the topic of her sex tape since the news broke on July 2. She did, however, tweet that July 2 "may or may not have been the longest day of my life."
The Ashley can also reveal that another '16 and Pregnant' franchise girl was also recently offered the chance to make p0rn. Jordan Cashmyer, who starred on the fifth and most-recent season of '16 and Pregnant,' was recently approached by an adult entertainment company (that was not Vivid, her manager, Howie Wood, tells The Ashley) to do an adult movie. Jordan's manager tells The Ashley that Jordan was offered more than the $1.5 million that Jenelle says she was offered.  Jordan turned the offer down, though.
"She is not interested in anything other than staying on the right path," Howie told The Ashley of Jordan. "She is growing up and trying to be more a part of her kid's life."
While a Jordan or Jenelle sex tape may not be happening, we will have to stay tuned to see what happens with Mackenzie's tape. The original TMZ story stated that Mackenzie's lawyer gave Vivid 10 days to "state their intention" for the tape. That 10-day period will end on Friday.
(Photos: Instagram)