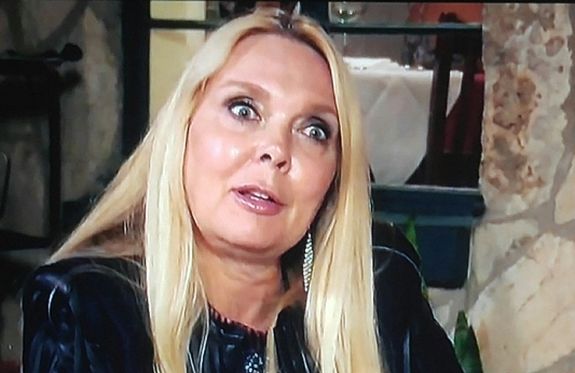 This week on Teen Mom OG, everyone is celebrating! It's a week of joy for all of our young made-for-MTV mothers! Catelynn and Tyler will be celebrating their honeymoon in Hawaii, while Amber and Gary celebrate their daughter Leah's seventh birthday. Meanwhile, Farrah is celebrating the fact that she was able to successfully terrorize the United Kingdom during her "business" trip. Finally, Maci is celebrating the fact that Taylor just brought home a new 24-pack of Bud Lite. Bust out the confetti and praise the Baby Jesus!
The Ashley is also celebrating while watching this episode. For some reason (that is never really explained), MTV has decided to forgo it usual schedule of five-commercials per ugly Farrah cry and air this episode commercial-free. (While that's great and all…would it be possible to have them air next week's episode Farrah-free? Can't hurt to ask…)
This episode starts off at Farrah's house. Things are better than ever– no one's fighting, no one's crying, hell, even Sophia's air is brushed! The reason why everything is so calm is that Farrah is currently on a different continent. She's over in Europe filming a reality show, so in order to keep her involved on this reality show, Debra and Sophia are (Plastic) Face-Timing her.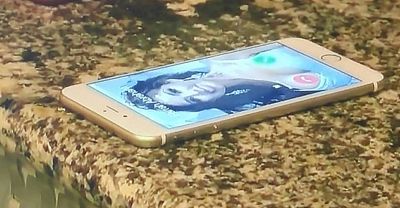 Sophia's phone starts to ring and she screams at her grandma to give it to her. We see Farrah's mug appear on the screen so we know it's Farrah calling.
Does anyone else think it's hysterical– but oh so typical– of Farrah to install a professional photo of herself on her daughter's phone? At first I thought it was the photo used on the cover of Farrah's butt movie, but then I realized it's a paparazzi photo taken while Farrah was attending the MTV Movie Awards last year. And, yes, I do want to hang myself for knowing that.
Also…why does six-year-old Sophia have an iPhone? Poor Deb's probably still slummin' it with her Razor phone from 2003, yet Sophia has the latest technology.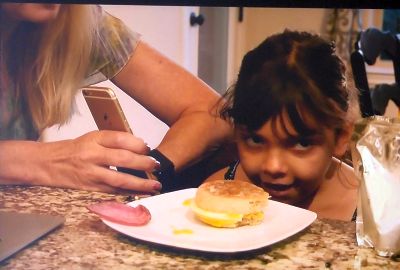 Anyway, Sophia answers Farrah's call and Farrah immediately asks Sophia what she's wearing. It's like watching we're suddenly watching the E! Pre-Oscars show or something. Sophia has no clue what she's wearing, so Deb fills Farrah in on the outfit deets. (No doubt Deb tried to wear Sophia's outfit before she gave it to the kid to wear.)
Sophia's eating breakfast before school, but she's refusing to finish her processed meat product because she doesn't want to look fat. Then she sashays away, shaking her butt. Deb and Michael look horrified, as they should.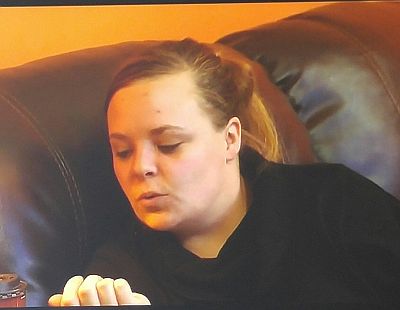 Next, we check in with Catelynn, who is really worried to leave Nova for a week while she and Tyler go to Hawaii on their honeymoon. While Nova gets booted out of the house two or three nights a week on the regular, Cate is still worried about leaving her with April that long. (At least when she's at April's, Cate knows she can go over there, fight through all the Virginia Slims smoke and find her kid if she needs to.)
Cate is heading to her doctor to get a new prescription for her anti-depressants before the trip. Tyler thinks this is a good idea, because he doesn't want to take a wife who's "all crazy" on a Hawaiian honeymoon. He tells her that she better not be busting out an anxiety attack while they're gone. Nothing ruins a luau quite like a woman being followed by TV cameras who's having a nervous breakdown. That's what I always say!
Over in Tennessee, Maci is gearing up for Halloween. Taylor jokes that he's going to dress up as an "MTV reality star" but then immediately corrects himself (most likely because he doesn't wanna get bitched at via Twitter) and says that he's not a star, just a sideshow. That's actually a pretty accurate description.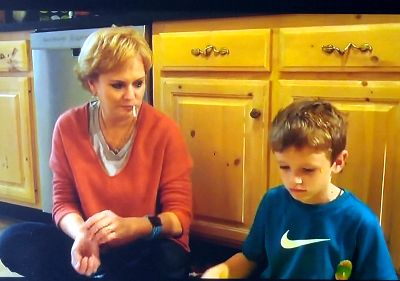 Over at Ryan's house, Bentley is talking about his costume while Ryan is carving a pumpkin. (Seriously, who allowed him to use any sort of sharp objects? Even a felt tip pen should be off-limits for this guy!)
Ryan, who is planning to go trick-or-treating with Bentley, Maci and his family, is plotting to have a cool costume for the evening. He just hasn't quite figured out how to incorporate his bed into his costume so that he doesn't have to actually get up at any time. Thinkings is hard, y'all!
Bentley is hesitant to get pumpkin guts all over his new clothes. (He probably knows that if he does, he's gonna get stuck wearing one of Taylor's weird pocket T-shirts until he graduates high school!) Ryan tells him that he's acting like a girl, and proceeds to throw pumpkin guts all over his son. Even Bentley recognizes how immature Ryan is.
"Seriously?" he asks.
I freaking love this kid.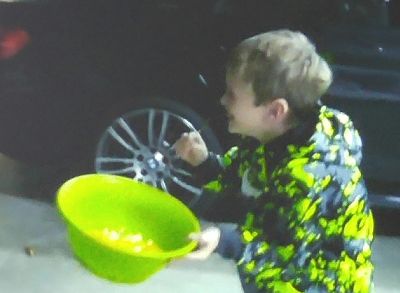 Later, Bentley resolves to get his dad back for the Great Pumpkin Gut Caper. He picks up the whole bowl of pumpkin guts and sneaks behind Ryan, who's arguing with his parents about something. Jen happily helps Bentley pour the guts all over Ryan's head and everyone collapses into giggles! Even Ryan gets a chuckle in after realizing how cool his kid is.
Finally, we head over to Indiana to see what Amber and her going-for-the-world-record-for-fathering-children fiance, Matt, are up to. Amber's still reeling from Gary's discovery that Matt has at least seven child support cases filed against him, five of which Amber had no clue about.
They're parked on the trusty couch, and the 'Teen Mom OG' producers storm in to see if they can get Matt and Amber to talk about what just happened. (The producers can barely contain their excitement. This is ratings gold, folks! Things haven't been this exciting on the 'Teen Mom' front since people were getting kicked down stairs or pulling knives on each other!)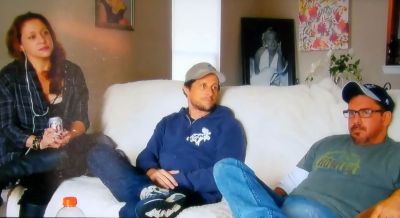 Producer Larry comes in to try to smooth things over with Amber and Mooch Matt, since things got kind of tense on the last shoot. (And by "tense" I mean Matt was randomly screaming about torturing Gary, medieval-style, as you do.)
Amber says that things in her house have been tense since Gary showed her the documents.
"All seven of the kids aren't his, but I think some might be because of how he was in his past," Amber explains.
Meanwhile, Matt's sitting there all stone-faced, trying to act like he's not contemplating picking up Amber's big screen TV and making a mad dash back to Massachusetts (or whatever state he and his sperm plan to terrorize next).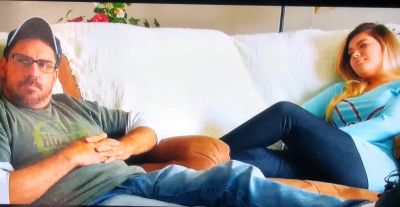 Amber's concerned that all of these abandoned kids and whatnot will make Matt look bad on TV when this episode airs. (UM?) Amber argues that Matt didn't sign up to have his private life aired on TV.
Here's an easy solution to that problem: Don't appear on TV. Even if Matt's not a "star" of this crappy show, he's still a "sideshow," as Taylor so eloquently put it minutes ago, therefore he's fair game. Sorry, Amb.
Matt finally speaks up and says that all of the bad things he did were 25 years ago because of his drug habit (which remains to be seen if it ever actually existed, by the way). He proclaims that Gary is actually just a bad person in general. This guy's a real pip.
Amber declares that she doesn't want to spend any more time talking about all of the abandoned kids. It's almost Leah's birthday, so she'd rather discuss that. Gary has Leah on her actual birthday, which upsets Amber.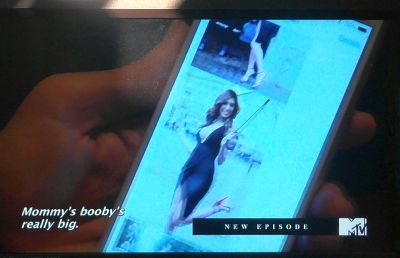 Meanwhile, Farrah's been working her backdoor off over in the UK. To keep in touch, Farrah sends her daughter some photos of herself in a skanky dress. As you do. Sophia makes note of how ridiculously enormous her mother's breasts have gotten.
Later, Deb talks on the phone with Farrah, who tells Deb that she's bringing home some great gifts from London for her. Deb's eyes light up, and you can tell she's dreaming of some new crop tops with Big Ben on them, or some new UK flag leather pants. (Surely her pair are worn out by now!)
Farrah soon cans the niceties and starts accusing Debra of using "excessive amounts of water" while she's been gone. Um…maybe Deb has just been washing Sophia's hair? That's not something that Farrah seems to do a lot of, which would explain the uptick in water use. Debra defends herself, stating that she's not to blame for the $300 increase in water.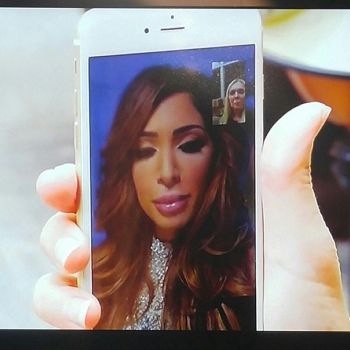 The next week, Farrah tells us (via voice-over because she's still "working" in the UK) that she plans to move to Los Angeles when she comes home, because LA is closer to more "job opportunities" for her. (That is where most reality TV shows tape, so it makes sense…not to mention where most adult movies are shot…)
Farrah calls Sophia on Facetime to chat with her about their future move. (Why is Farrah still wearing the exact same dress she was wearing during her last Facetime chat? Either her butt movie money is drying up and she can't afford new clothes, or all of these conversations were filmed on the same damn day and MTV's trying to be tricky with their editing. I see you, MTV!)
Sophia could care less where she lives, so she OKs the move to California. (She may not realize that even if she moves to California, she still has to live with Farrah. Poor kid.)
Debra and Michael are getting things all gussied up for Farrah's return from the UK. They're decorating the front of the house with red, white and blue decorations (because… 'Merica!) and eagerly awaiting Farrah's arrival home.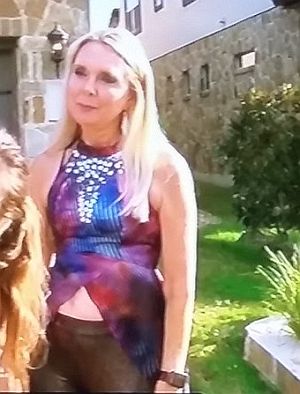 OK, we're gonna need to talk about Deb's outfit. This conversation has to happen. To welcome Farrah home, Debra has put on her finest pleather pants, along with a belly-baring halter top that looks like it was peeled off the pages of a Delia's catalog circa 2002. (To be fair, Deb's body looks great, thanks to all of that liquid lifting Farrah's been shelling out money for, but…this outfit is just embarrassing. And by "embarrassing" I mean amazing.)
During this scene, it's hard not to notice that Sophia is speaking like a regular six-year-old. She's not using that hideous baby voice and she seems to be acting her age. There's no doubt, though, as soon as Farrah returns, Sophia will transform back into "Baby Goop."
All of a sudden, Deb screams like she just found a hidden stash of Botox injectables. It turns out that Farrah is coming down the street toward the house. (Hell, I'd scream too if Farrah was coming my way.)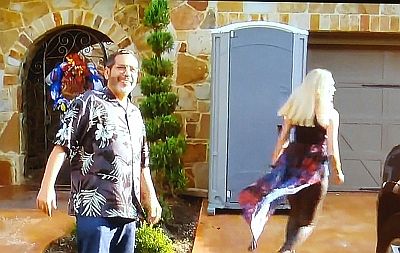 Sophia runs to great her mother (all while there's a great view of the Porta-Potty that's set up outside for the crew to use…'member when The Ashley told you about that?) Mother and daughter happily reunite, and Debra asks Farrah for a hug.
"She doesn't like you!" Sophia tells Debra.
Well…can't argue with that.
In Michigan, Catelynn goes to see the counselor to talk about all of the anxiety she's been feeling lately. She mentions that Tyler's constant badgering about anxiety is making her anxious. So basically, Cate is feeling anxious that Tyler's going to make her feel anxious about her anxiety.
To be honest, I'm feeling anxious too. I'm anxious that we're not going to get in enough Butch moments this episode because this girl won't stop yapping about her anxiety. Let's focus on the real problems here, people!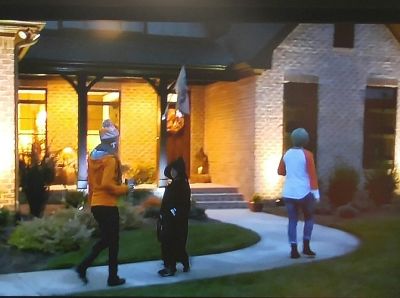 In Tennessee, it's Halloween night, and Maci's excited that Ryan has agreed to come trick-or-treating with her and Bentley and the family. Ryan's parents arrive but Ryan is nowhere to be seen. His mom tells us that he's still at the Halloween store getting his costume together. It's not exactly shocking that Ryan waited until three minutes before he was due to leave for trick-or-treating to scurry on down to the Party City to try to make a costume with whatever is left on the shelf.
They start trick-or-treating without Ryan, figuring that he will eventually catch up with them. Bentley is collecting a ton of candy, but Ryan is still missing in action. His mom is getting really angry, and keeps calling her son to see where he is. (Maybe he took a little nap at the costume shop? Let's hope one of the store employees remembered to turn him after hour three or so…)
Ryan misses the entire trick-or-treating excursion, and Maci and Taylor discuss what a douche-nozzle Ryan is.
"What is he doing?" Maci asks. "He doesn't have a job. He doesn't have any other children…"
Taylor brings up the fact that Ryan may, in fact, have other children that Maci doesn't know about. (Yeah, say like, for instance, seven children by five different women all over the country. Or something…)
Ryan's absence doesn't seem to bother Bentley. After all, the kid's so used to his dad flaking out that he doesn't even notice that Ryan was a no-show.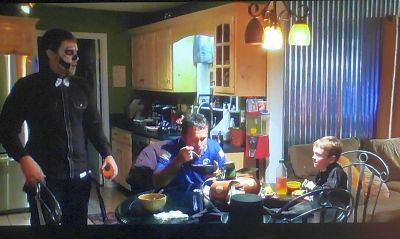 Eventually, Ryan wanders in, all dressed up and ready to go trick-or-treating but unfortunately…it's basically Thanksgiving by the time he arrives. Bentley's done trick-or-treating, much to Ryan's dismay. Ryan promptly blames this dilemma on "Maci and them," even though it's clearly his own fault for missing it.
In Indiana, it's Leah's birthday. Amber's sulking because Gary had a party for Leah, but didn't invite her and Matt, the Inseminating King. Gary's only allowing Amber to drop off Leah's gift at his house.
"Technically, you guys should be able to do this kind of stuff with Leah together," Matt says.
Oh hell no. Let's not be mentioning other people's custody arrangements there, pal. This is one of those conversations where Matt should just get up, go into the kitchen and try to look for loose change or something while Amber talks to the producers. He's hardly a pillar of co-parenting expertise!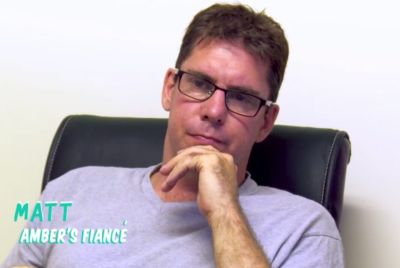 Matt refuses to go into Gary's house to drop off the gifts. Amber encourages him to put his negative feelings for Gary aside.
"Be the bigger man," she tells Matt.
Um…not sure that's humanly possible….just sayin'…
Over in Michigan, Cate and Ty are also celebrating Halloween. They're leaving for their honeymoon that night, but they still manage to find time to take Nova around the block to collect free candy for them. Before long, it's time for Cate and Ty to say goodbye to the baby and Catelynn gets emotional. Tyler seems unfazed, and is proud of himself for not missing his kid's first Halloween.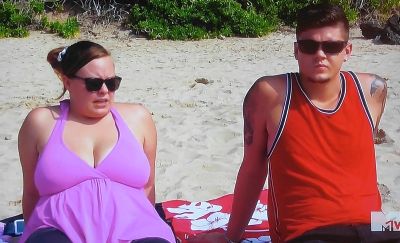 Soon, Tyler and Catelynn are in Hawaii. How freaking jealous do you think the camera crew that got stuck filming Farrah this week are of the crew that got to go to Hawaii with Cate and Ty? One crew is stuffed into a PortaPotty listening to Farrah melt down (again), while the other is lounging on the beach. I feel sorry for whoever drew the short straw on that one!
Anyway, Cate Facetimes April to say hello to Nova. After talking to the baby, Cate shows April the ocean view from their porch and April tries her best to act excited for them. Poor April hasn't been on a vacation since she went upstate to visit Butch in the pen, so she's surely a bit jealous.
The rest of the week is spent swimming, horseback riding and enjoying their honeymoon. Catelynn is happy to see that she has no anxiety while on the trip.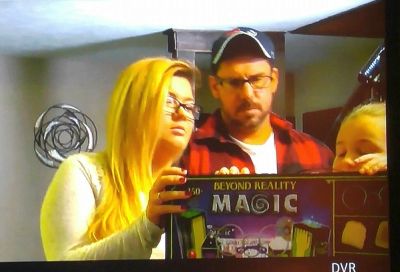 Meanwhile, Amber and Matt are heading over to Casa de Gary to give Leah her presents. Matt's agreed to go inside Gary's house, even though he's not happy. They arrive at the house and give Leah her gift, which is a magic set. Matt tells Leah that it will help her learn 150 different tricks.
Ol' Matt is already a pro at the disappearing act, as we (and his kids) know…
Matt's trying to ease the tension by making small talk. He compliments Gary on his renovated kitchen and you can just tell that Gary hates this guy. He tries to be nice, and starts talking about carpeting his steps.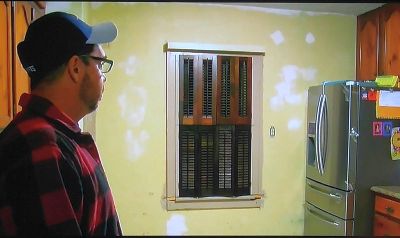 "If someone falls, it would hurt," Gary explains. "Or if someone decides to kick someone down the stairs with their foot, it would hurt."
Oh my God…Gary for the win!!!!
Amber tries to pretend that she has no clue what Gary meant by that comment, but she's obviously mad. Matt and Amber leave, and Matt says that he bets that Gary doesn't watch the magic trick DVD that came with the magic set with Leah for at least a month.
Um…you guys do know that you could watch the DVD with Leah, right? You wouldn't even have to leave the couch!
On the car ride home, Amber scolds Matt for being too nice to Gary.
"I really did think his kitchen looked nice!" Matt protests. (To be fair, Matt is probably used to cooking on portable stoves that he finds in whatever campground he's sleeping at, so a kitchen like Gary's is fine-class livin'!)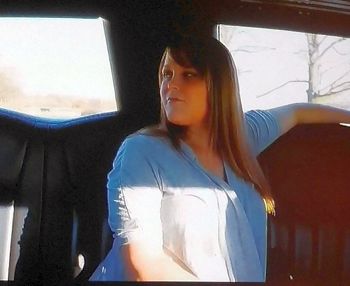 Later that week, Amber decides to throw her own birthday party for Leah. She orders a limo to surprise Leah. (Farrah must have given her driver the day off?)
Of course, Matt the Mooch and Cousin Krystle have piled into the limo as well. Krystle's assortment of children are crawling all over the seats as the limo pulls into Gary's driveway to pick Leah up. Leah seems only a little impressed by the limo, but she climbs in and they head to a restaurant that's having a magic show. Well, to be fair, it's just an overly excited guy who's doing ball tricks for their group, but, hey, it's still a good effort by Amber!
In Texas, it must be Halloween because Sophia's dressed up as a princess and Debra's dressed up like Hannah Montana. Farrah, Deb and Michael are taking Sophia out to dinner. Farrah regales her parents of her experiences in London.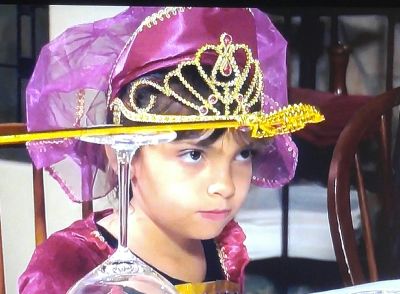 Later, Debra tells Farrah about a situation she had at Sophia's school. Apparently, the principal of her elementary school wasn't thrilled when Sophia showed up to school with a face full of makeup. (Go figure!)
Sophia ended up getting teased by some of the other little girls because of her makeup, but Debra told the school principal that it doesn't matter if Sophia gets teased, she's wearing makeup, damnit! Farrah and Debra both agree that a six-year-old should be able to decide if she wants to wear a face full of makeup to Pre-K or not.
I…can't….
Farrah then announces to her parents that she's planning to move to California. Debra seems thrilled, but Michael is unhappy, as he's currently living in Austin near Farrah, and this move will mean he won't get to be on TV see Sophia as much as he's used to.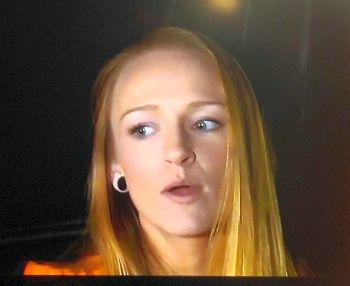 In Tennessee, it's morning so, naturally, Maci's pouring herself a great big glass of OJ…and champagne. She's still harping about how horrible Ryan is. She worries that Ryan's poor parenting will have a negative effect on Bentley eventually.
Next week, Gary doesn't want Leah to go on vacation with Amber and Matt, while Farrah doesn't want anyone to live a peaceful life, especially her ex-boyfriend, Simon.
To read The Ashley's recap of the previous episode of 'Teen Mom OG,' click here!
(Photos: MTV)