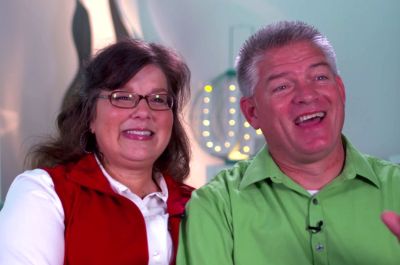 Despite the scandals that have surrounded several super-size reality TV families over the past few years, America still can't get enough of watching giant religious families on their TVs. Because of this, the UP Network has announced that it is bringing back Bringing Up Bates for yet another season!
The Bates family, or as some like to call them "the knock-off Duggars", have spent six seasons on reality television and have yet to have a scandal, unlike the Duggars. However, there are many similarities between the Tennessee-based Bates family and their pals the Duggars, including having a reality show that revolves around courting, marriage and babies.
The network released a press release this week to tease all of the things happening next season.
"With 19 Kids (plus spouses!) and six grandkids, each day brings new opportunities and challenges full of life's emotional and humorous moments," said UP Network's Timothy Kuryak. "This summer will be no different as the ever-growing family continues to pursue new activities, dreams and relationships."
The press release went on to state that there may be more courtships coming for some of the Bates kids.
"In the new season of 'Bringing Up Bates,' it's a summer of love for the family. From Carlin's blooming relationship (will it become a courtship?) to Tori's deepening bond with Bobby (will it end in a proposal?) to someone getting married in the premiere (who will it be?), love is blooming for the Bates."
Other things we can expect to see in the new season include Erin and Chad getting pygmy goats, Jeb and Judson taking martial arts classes and Jackson getting his learner's permit.
Try to contain your excitement.
"Meanwhile, Bobby graduates from college and contemplates moving from Florida to Tennessee to be closer to Tori, and Nathan pursues his dream to be a pilot instructor," the press release states. "Lead by devoted father Gil and his loving wife, Kelly Jo, the Bates do everything in bulk while staying true to their values and rules for the family."
How much more exciting can a family get? Someone is getting courted! Someone is getting a couple of goats! What more could you ask for in entertainment?!
The fifth season of 'Bringing Up Bates' is currently airing, and the network has ordered 13 all-new episodes which will premiere June 1 on the UP Network.
(Photo: UP Network)