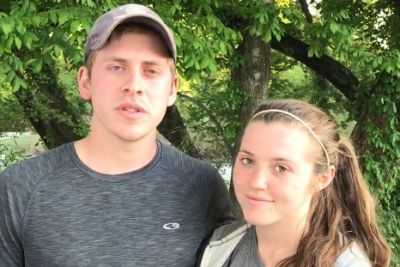 Although a Duggar bachelorette party sounds about as fun as watching paint dry, TLC will still be airing footage from the most-recent one anyway!
This weekend Joy Anna Duggar and her fiancé Austin Forsyth celebrated their upcoming marriage with a joint bachelor/bachelorette party. Of course, because this is the Duggars we're talking about, the festivities were quite different than the penis-straw-filled, wild party night that many brides-to-be have for their bachelorette party.
The couple decided to head to the great outdoors for their parties. The fun included camping, kayaking and marshmallow roasting, which was much more up the Duggars' alley than partying and drinking into the wee hours of the night. What better way to celebrate your last period of singlehood than a hot dog roast with all of your siblings?
And, naturally, because this is the Duggars, a TLC film crew was on-hand to capture the "parties" for the family's reality show, Counting On.
"I think I like doing outdoor activities because I grew up doing that," Austin told TLC, while staring straight into the camera with dead eyes. (He really needs to work on his Jim Bob-style charisma if he's going to make it in this family.)
Throughout the entire interview, Joy and Austin side-hug each other and sway back and forth in one fluid motion. (Is there some kind of contractual obligation with TLC that all engaged and married Duggar couples must be tethered together during all their on-camera interviews? They never separate from the side hug position.)
Joy Anna says wedding planning is going great so far.
"I think Austin has been helping out more than I ever thought he would be," she says.
Joy recently went with her mother, grandmother and several sisters to purchase her wedding dress for the upcoming wedding, which will reportedly take place on in late October in Arkansas. (Wanna see their registry? Of course you do!)
Austin calls Joy Anna a "beautiful young lady" and says he's "so excited to marry the woman of my dreams."
In the bachelorette party video, Joy reveals that she's never really been one for outdoor activities, but, judging by the couple's wedding registry, that will soon change. Joy and Austin have registered for plenty of camping and wilderness gear, including sleeping bags, tents and camp cookware.
We'll get to see the footage of Joy and Austin's wild weekend in the wilderness, as well as more of their wedding prep when 'Counting On' returns to TLC this summer.
Watch the video below:
(Photo: TLC)